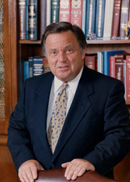 Richard A. Brown '56
Read an Interview with Richard A. Brown.
On June 1, 1991, Judge Brown was appointed district attorney of Queens County by Governor Mario M. Cuomo. He was then elected to a full four-year term as district attorney at the general election held in November 1991 and has been re-elected three times since. Under Judge Brown's leadership, the Queens County District Attorney's Office has attained a reputation as one of the finest prosecutors' offices in the state.
Since graduating from the NYU School of Law in 1956, Judge Brown has spent nearly all of his illustrious career in public service. Prior to becoming a member of the judiciary in September 1973, he spent nine years serving in various important legal positions on behalf of the leadership of the New York State Senate and Assembly and at the 1967 New York State Constitutional Convention. Judge Brown also spent four years as New York City's Legislative Representative in Albany where he managed the City's Albany office and supervised its legislative program.
After serving as a judge of the criminal court for less than two years, Judge Brown was appointed the supervising judge of the Brooklyn Criminal Court and assumed full administrative responsibility for the operation of that court and supervision of all judicial and non-judicial personnel. In January 1976, Judge Brown was designated an acting justice of the Supreme Court of the State of New York.
In November 1977, Judge Brown was elected a justice of the Supreme Court in Queens County. At the end of the following year he returned to Albany as counsel to Governor Hugh L. Carey where he served as the governor's chief legal advisor. On March 3, 1981, Judge Brown returned to the Supreme Court and the following year was designated by Governor Carey as an associate justice of the Appellate Division, Second Department. He was thereafter twice re-designated as a member of the Appellate Division by Governor Mario M. Cuomo.
Judge Brown is a past president of the New York State District Attorneys Association and a member of the New York State Bar Association, the Association of the Bar of the City of New York and the Queens County Bar Association, among others.
Interview with Alumnus/Alumna of the Month
Richard A. Brown '56
1. What is your area of specialization and how did you come to work in this area?
As district attorney of Queens County, I am the county=s chief law enforcement officer and am responsible for the investigation and prosecution of all crimes committed in this county of almost 2.3 million people. We handle over 64,000 arrest cases each year. We prosecute all misdemeanors and felonies from petit larceny to homicide cases, as well as investigate organized criminal activity such as insurance fraud, identity theft, racketeering, narcotics trafficking and gun interdiction, among others. Since Queens County is also home to two major airports, La Guardia and JFK International, our office is involved in the investigation and prosecution of airport related crime as well.
I have served as district attorney since June, 1991 when I was appointed by Governor Mario M. Cuomo. I was thereafter elected to a full four terms. Prior to my appointment as district attorney I served for almost ten years as an associate justice of the Appellate Division, Second Department.
2. What has been the biggest challenge that you have faced since being appointed district attorney of Queens County and how did you overcome it?
In the fifteen years since becoming district attorney, we have been able to significantly elevate the level of professionalism of our assistant district attorneys and to accomplish dramatic changes in the day to day operations of the office. We have instituted a plea policy that allows for better and earlier screening and improved processing of cases. We have built one of the finest investigative teams in the state. We have established a domestic violence program that is a national model. We have significantly reduced auto theft in the county and violent crime has decreased to levels not seen since the 1960s. Our county now has a child advocacy center, felony and misdemeanor drug treatment courts and has just launched a mental health court.
The biggest challenge that we have faced in recent years has been to maintain these gains and to move forward in the face of serious and repeated budget cuts that we have suffered on the city, state and federal levels since September 11, 2001. These cuts have strained our resources to the breaking point at the same time that we have taken on significant counterterrorism responsibilities and put new initiatives in place to attack such criminal activity as fraudulent identification mills and computer fraud. We have faced this challenge by cutting costs, reducing staff, reorganizing investigative and prosecutorial functions, seeking alternative funding wherever possible and working twice as hard, but I must say that it has been enormously frustrating to know how much more we could be doing if only additional resources were available.
3. Your entire career has been in the public sector. Has there been a time when you have considered switching over to the more lucrative private sector?
I have spent virtually all of the 50 years since I graduated from law school in public service. At one time or another, I served in every branch of government. I worked on behalf of the leadership of both the New York State Senate and the Assembly, served as New York City=s Legislative Representative in Albany during the Lindsay administration, and was counsel to Governor Hugh L. Carey. I was appointed to the Criminal Court where I later served as supervising judge of the Brooklyn Criminal Court. I was elected as a justice of the Supreme Court and went on to serve on the Appellate Division.
Public service has been intellectually stimulating, deeply rewarding and exciting. Where else could you be involved in some of the most important issues and events of the day and have input into and an impact on the lives of New Yorkers in such a real, concrete and lasting way? Every day brings new challenges and keeps life varied and interesting. While those of us in public service sometimes do look regretfully at our paychecks, we know at the end of the day that we are very fortunate to have jobs where we can make such a difference in improving the lives of New Yorkers.
4. What were the challenges of leaving the bench and becoming a prosecutor for the county of Queens?
The position of district attorney is very fast paced. Criminal activity may occur at any time, 24 hours a day, seven days a week. The days can be very long. It is not unusual that I will find myself at a crime scene in the middle of the night or early in the morning, work all day at the office, and then go to a series of community meetings in the evening. And everything we do and every decision that we make may become the subject of subsequent litigation in court or turn up on the 11 o'clock news.
But when all is said and done, the district attorney shares the same goal as my former colleagues on the bench—to see to it that justice is done in each and every case.
5. What role (if any) does the sometimes intense scrutiny of the media play in today's trials? Does the media ever impact the way you handle a case?
District attorneys are ultimately accountable to the residents of their counties, who are the ones who decide every four years whether to re elect them. Consequently, it is important that the people be kept informed about what their district attorney is doing, what priorities he or she is setting and what impact their activities are having on reducing the level of violence and improving the quality of life. For this reason district attorneys are constantly in touch with members of the community in order to listen to their concerns and provide information.
The media plays a vital role in this process of communication. While it may sometimes get very intense, it comes with the territory.
6. What do you believe is your most important role as a district attorney?
Clearly, doing justice is first and foremost. Determining what justice is in any particular case can be a more difficult call than most people think. The cases at the extremes are somewhat easier to handle, but there are many cases that tend to be very challenging. Over the years, it has been very gratifying to me to see my assistant district attorneys struggle so nobly in an effort to do the right thing in every case. In some cases, we take pride in seeing a vicious murderer or rapist or child abuser convicted after a fair trial and sentenced to a deservedly long prison term. In others, we get much satisfaction in watching an offender whose criminal activity was motivated by drug or alcohol addiction successfully complete a residential treatment program and have his or her case dismissed. In yet others, we may find that going the extra mile in investigating a case helps us to secure the evidence to prove that an individual was wrongly accused.
7. What is the most rewarding aspect of your job?
There are a great many aspects of my job that are very rewarding. Seeing justice done in the kinds of cases mentioned above is certainly very rewarding. As you can imagine, prosecutors deal every day with some of life=s most tragic and horrific crimes. It can be painful and difficult to see the physical and emotional pain inflicted on crime victims. In addition to our efforts to aggressively investigate and prosecute crimes that have already occurred, we put a lot of time and energy into crime prevention and education.
We have treatment and alternative-to-incarceration programs to help offenders receive needed substance abuse, mental health and other counseling and treatment that may enable them to stop committing crimes and lead productive, law abiding lives. We also run a number of youth violence prevention programs to help at risk youth stay in school, avoid drugs and gangs and resolve conflicts peacefully and find constructive activities for both recreation and employment. These include Operation Summer Fun, STAR TRACK school anti violence program and our Summer Youth employment program. We also run a Boy Scout Explorer's program and a Student Advisory Council for young people interested in law enforcement.