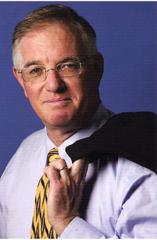 Phillip Margolin '70
Read an Interview with Phillip Margolin.
Phillip Margolin hasn't argued a case in a courtroom for a while. Instead, he's been wielding his imagination and legal knowledge to convince readers, not jurors that he's got a compelling story to tell. Margolin has written eleven novels, all of which have been New York Times bestsellers. His first novel, written while still practicing law, Heartstone, was nominated for an Edgar for best original paperback mystery of 1978 by the Mystery Writers of America. His second novel, The Last Innocent Man, was made into an HBO movie. Gone, But Not Forgotten has been sold to more than 25 foreign publishers and was the main selection of the Literary Guild. The list goes on and on: After Dark, The Burning Man, The Undertaker's Widow, Wild Justice, The Associate, Ties That Bind, and Sleeping Beauty were all New York Times bestsellers and major book club selections. His newest novel, published in March 2005 is called Lost Lake and is a featured selection of the Literary Guild, Doubleday Book Club, and Mystery Guild. In addition to his novels, Margolin has published short stories and non-fiction articles in magazines and law journals.
Before switching to a career as a full-time writer in 1996, Margolin practiced law for more than twenty years, specializing in criminal defense at the trial and appellate levels. As an appellate attorney he appeared before the United States Supreme Court, the United States Court of Appeals for the Ninth Circuit, the Oregon Supreme Court and the Oregon Court of Appeals. As a trial attorney, he handled all sorts of criminal cases in state and federal court and represented approximately thirty people charged with homicide, including several who have faced the death penalty. Margolin was the first Oregon attorney to use the Battered Women's Syndrome to defend a woman accused of murdering her spouse.
Since 1996, Margolin has been the President and Chairman of the Board of Chess for Success, a non-profit charity that uses chess to teach study skills to elementary and middle school children in some of the most poverty stricken schools in Portland.
Interview with Alumnus/Alumna of the Month
Phillip Margolin '70
You transitioned from a career as a criminal defense attorney to writing best selling novels. How have your years as an attorney informed your writing?
My legal training and twenty five years practicing criminal defense have been useful in my writing career in several ways: I am able to make my legal thrillers seem realistic because I've actually done most of the things I talk about in my books in real life. When I describe a murder trial I know how people act and what the dialogue should sound like because I've handled thirty homicide cases and hundreds of other kinds of criminal cases. I've also collected a lot of war stories over the years that I'm able to put into the books to make them more fun.
How did your years at NYU School of Law prepare you for the career you have had thus far?
I wanted to be a criminal defense attorney since I was in the seventh grade and going to law school was, for me, like going to heaven. About a quarter of my practice was appellate law and the training in research and legal analysis prepared me to excel in this area. I've also found that legal training is very useful in my career as a writer. Lawyers have to analyze problems unemotionally and objectively. A good writer can't let his ego get in the way of his work. My legal training gives me the ability to criticize my work and make it better.
In your fiction writing, how heavily do you draw from actual cases you have been involved in?
I've published eleven novels. Only two were fictionalized accounts of real cases. Heartstone, my first novel, was based on a famous Oregon case and my fifth novel, The Burning Man, was based on a murder case I handled in the mid-eighties. All of my other books come from my twisted imagination, but I have used incidents and things I've learned in practice in my writing. For instance, I used neutron activation analysis in a real attempted murder case and it was so interesting that I put it in After Dark. In a book I'm working on now I introduce my main character by showing her trying a case that is exactly like one of my funniest trials.
During your years as a criminal defense attorney, you must have tried some pretty interesting cases. Can you describe a case or matter that you worked on that you found particularly challenging or rewarding?
My legal career was very exciting but the high points came in two completely separate murder cases when I was hired to handle the appeals of innocent men who had been sentenced to prison for life. I won both appeals then won acquittal at the retrial of one defendant and a dismissal for the other. Other high points were pioneering the use of the Battered Woman's Syndrome as a defense in Oregon in cases where battered women were accused of killing abusive spouses and arguing in the United States Supreme Court.
You are the president of an organization called Chess for Success. Can you tell us about the organization?
Chess for Success is an amazing educational program that was started in Portland in 1992. I have been its President and Board Chair since 1996. Our non-profit pays teachers in Title I elementary and middle schools—the poorest schools in the cityto run an after school chess program that is open to every child in the school. We are not interested in the competitive aspects of chess. We use chess to teach children study skills that will help them in school and life and to raise self-esteem. We are currently in 42 schools and are expanding at a rate of roughly five schools a year. The program is free to the approximately 2000 children who participate in it each year. The United States Congress has funded a study of our program because it appears to have a significant impact on academic performance and only costs Chess for Success $75 dollars per child per year. Anyone who wants to learn more about Chess for Success can look at our website: www.chessforsuccess.org.
What was your first job out of law school?
My first job after law school was a clerkship with Herbert Schwab, the Chief Judge of the Oregon Court of Appeals. He was a fabulous judge and I benefited tremendously from the experience.
How do you balance work and life?
I made a conscious decision when I started to practice that my family came first. If work started to interfere with my obligations to my wife or children I took fewer cases. I found that by being efficient I was able to be a successful lawyer without suffering quality of life. My father gave me a great piece of advice when I was starting out. He told me to always have one day a week where I didn't work. I've found that a rested, happy lawyer is a smarter lawyer because you have more energy and enthusiasm for what you're doing. Throughout my career, I rarely worked nights or weekends, spent loads of time with my wife and kids, and still won a lot of cases.
If you could chose another profession to be in, what would it be?
I have been very lucky to have two careers that I love. I can not think of anything I would rather do than practice criminal defense and write novels.
What advice would you give to current students?
The most important thing I learned in twenty five years in the courtroom is that law is not an adversarial profession—it is a teaching profession. There is no excuse for being mean or petty, regardless of how another lawyer behaves. We have free speech in this country and the other side can make all the silly or mean spirited motions or objections it wants to. Never forget that the other lawyer does not decide who wins or loses a case. Your job is to teach the judge or jury why your client's point of view is superior to the position of the other client's. This job is the same whether you like or hate your opponent. And remember, judges and jurors like, and are more likely to trust, nice people than mean people.