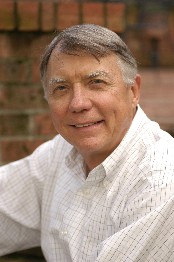 The Honorable James G. Exum Jr. '60
Read an Interview with the Honorable James Exum Jr.
Since 1996, Judge James Exum Jr. has been Counsel to Smith Moore (formerly Smith Helms Mulliss & Moore), a 112-lawyer firm with offices in Greensboro and Raleigh, North Carolina, and Atlanta. He heads the firm's Appellate Practice Team of five lawyers.
After receiving an AB in English from the University of North Carolina and an LLB from New York University School of Law, Judge Exum was a clerk for a year on the North Carolina Supreme Court. In 1961, he began law practice with Smith Moore Smith Schell & Hunter (a predecessor to Smith Moore). He was elected to the North Carolina General Assembly in 1966, appointed to the Superior Court bench in 1967, elected to the North Carolina Supreme Court in 1974, elected to be Chief Justice of that Court in 1986 and retired from the Court in 1994.
Interview with Alumnus/Alumna of the Month
Honorable James G. Exum Jr. '60
Counsel, Smith Moore
What is your area of specialization and how did you come to practice in this area?
My specialty is appellate litigation, state and federal. I head our firm's Appellate Practice Team of five lawyers. We were the first North Carolina firm to offer this specialized service. Much of our work comes from small firms which specialize in trial litigation, but which look to us when a cased is appealed. Having served for twenty years on the North Carolina Supreme Court, eight as Chief Justice, I did not know how to do anything else.
What were the challenges of leaving the bench and returning to work in a law firm?
Like I said, I knew little about practicing law except for my knowledge of appellate practice and a fairly decent understanding of North Carolina law as it had developed over several decades. I had to learn about time sheets and billable hours (which I still don't like), marketing (which I like even less), firm administration, dealing with clients (which I really enjoy), dealing with other counsel (which I also enjoy), trial court practice (for motions only, not jury work), and, truly, some of the intracies of the rules of appellate procedure, which, to me as a practitioner, look, and sometimes read, quite differently than they did to me as a judge.
Have you ever come across any law that you felt you were bound to enforce but which you thought was unjust? How would you suggest that judges faced with unjust laws comport themselves?
Well, I have always been opposed to the death penalty for policy reasons, having sought to abolish it when I was a member of the North Carolina legislature in 1967. But I have not believed the death penalty was unconstitutional. As a trial judge, I tried to insure that procedures for invoking this ultimate penalty were scrupulously followed. As an appellate judge, I scrupulously reviewed the record for any legal error which might have affected the decision. I wanted to be able to say with reasonable certainty that the law, fairly and dispassionately applied, not the court, and not I, invoked the death penalty in any particular case. My refuge was in the law, which I did not enact and which I fought when I had the chance. My duty as judge was to administer the law as given as fairly as I could. These cases were always particularly difficult for me, and they became more so the longer I dealt with them. Ultimately, I concluded that human beings are simply incapable of administering capital punishment rationally and evenhandedly.
As hard as legislators and judges have tried to fashion a system that would produce fair and rational results in the administration of capital punishment, and for a time I thought we might succeed in doing so, I think we have not achieved what we set out to do following Furman v. Ga. One cannot divide along the lines of any acceptable legal principle those cases in which juries impose death from those in which they impose life. Looking at a cohort of hundreds of capitally tried cases from the vantage point of a judge charged with reviewing them, I could not in the end say that the death sentence was being reserved for the most heinous murders committed by the most blameworthy defendants. Too many times there was just no rational justification revealed in the record for a given sentence of death or life, if the object of the enterprise was to reserve death for the worst murders and murderers and life imprisonment for those deemed not among the worst.
Studies suggest that legally immaterial factors, like race, the skill and industriousness of counsel and the locale from which juries are chosen, too often unduly influence these life and death decisions. The real problem, though, as I came to understand, is that whether a given individual should live or die is the most subjective decision the legal system ever asks juries to make. It is, indeed, too subjective to be controlled or guided by legal principle. Why should we expect rational results to flow from such decisions?
So, rather late in my judicial career, I concluded that man's laws are and will always be incapable of making any sense out of the administration of capital punishment. Our legal system should have done away with deciding who should live and who should die and leave those decisions to God.
Could judges opposed to capital punishment serve as judges in capital cases?
I have made the same mistake answering this list of questions that I used to make on law school exams. I have answered each question in order before reading them all.
I don't think there is a categorical answer to this question. The question might better ask, "Should judges opposed to capital punishment sit as judges in capital cases? For me, the test was whether I could still sleep at night after pronouncing and signing a judgment of death as a trial judge when a jury decided to impose that sentence and, as an appellate judge, after voting to affirm a judgment of death entered below. For almost all of my judicial career, I could still sleep. After all, the jury, not I, made the decision; and the decision was authorized by the law, not me.
Late in my career I began to despair of the law's ability fairly to administer capital punishment. And when a judge loses confidence in a law which the judge is called on regularly to apply, then I think it is time for the judge to consider other work or retirement. When I retired from our Court in 1994, the Court was spending about 65 to 70 % of its time reviewing capital cases. I believe this percentage still holds. I'm glad I retired when I did.
Who are your role models in the legal profession?
For me, the question is who were my role models, for all of them are now deceased except for McNeill Smith and Sandy McKinnon. They are, in no particular order: Associate Justice William Brennan; McNeill Smith and Beverly Moore, two of the senior partners in Smith Moore Smith Schell & Hunter, the law firm I joined in 1961; Joseph Branch, my predecessor as Chief Justice of the North Carolina Supreme Court; North Carolina Governor Dan Moore, who appointed me to the bench in 1967 and with whom I later served on the North Carolina Supreme Court; North Carolina Governor Terry Sanford; L. Richardson Pryer, North Carolina Congressman and US District Court Judge; Braxton Craven, Judge, Fourth Circuit Court of Appeals; James McMillan, United States District Court Judge; John McConnell and Sandy McKinnon, North Carolina Superior Court Judges.
What was your first job out of law school?
Law Clerk for Emery Denny, Associate Justice, North Carolina Supreme Court.
How do you balance work and life?
It depends on who you ask. Judy, my wife, thinks I don't balance them very well. My children think I'm doing a better job if it now than when they were growing up. I think I've done it pretty well most of my life. I enjoy work and I enjoy play. I have several hobbies that I engage in regularly and with various members of my family. Judy and I enjoy movies, dinner out and jazz music (we still prefer our vinyl records and our 25-year-old record player for great sound.) My second son and I own a sailboat and sail together in North Carolina's coastal waters. My first son and I motorcycle together, occasionally taking long trips. My daughter is a lawyer and we enjoy lawyerly things. I play tennis and "work out."
If you could choose another profession to be in, what would it be?
I have no doubt about it. I would want to be a print media columnist, or pundit. I have several friends who were in this line of work, one still is, and I have always secretly envied them. What fun it would be to devour the daily news as part of your work and, several times a week, pick out a topic that interests you and hold forth on it with great wisdom for all to see. You tell everybody what's wrong with everything and have no responsibility for setting it right. That's got to be a good life.
What advice would you give to current students?
Brief your cases. It's the only way to understand them. Concentrate on the facts; they dictate the decision. Pay attention to what courts do, not what they say. Enjoy New York. It's the greatest city in the world. Enjoy your classmates. Be their friends, not their competitors. Get to know your professors. Know how privileged you are to be at one of the great law schools of the world and take advantage of this once in a lifetime opportunity.