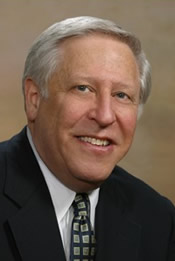 A. Thomas Levin '67, LLM '68
Read an Interview with A. Thomas Levin.
A. Thomas Levin is a partner in the law firm of Meyer, Suozzi, English & Klein (Mineola, NY), where he concentrates his practice in the fields of local government law, land use regulation and commercial litigation. Mr. Levin is President of the 70,000 member New York State Bar Association (NYSBA), the largest voluntary state bar association in the nation, and is a past president of the Nassau County Bar Association, a permanent member of that Association's Board of Directors, a Fellow of the New York Bar Foundation and the American Bar Foundation, member of the American Bar Association House of Delegates and the National Conference of Bar Presidents, and past Chair of the New York State Conference of Bar Leaders.
Mr. Levin is a 1964 graduate of Brown University, and holds two law degrees from New York University School of Law. He is admitted to practice law in New York, Florida, the US Virgin Islands, the US Supreme Court and various other federal jurisdictions, and is the Editor of New York Bench Book for Trial Judges, published by Westgroup.
Interview with Alumnus/Alumna of the Month
A. Thomas Levin '67, LLM '68
Partner, Meyer, Suozzi, English & Klein, PC
President (2003-2004), New York State Bar Association
What is your area of specialization and how did you come to practice in this area?
My principal areas of concentration are local government law, land use regulation and commercial litigation. Even while in law school I developed an interest in these areas, and have been fortunate enough to be able to spend a substantial part of my career working on matters related to my interests.
How has your career path prepared you to become President of the New York State Bar Association (NYSBA)? Did you ever think about the possibility while you were in Law School?
Through my particular practice areas, I have been exposed to many different disciplines, and this has given me a great appreciation for the breadth of the law and the legal profession. I have also spent a lot of time working in support of professionalism, which I believe is very important to every lawyer. I was very active in my county bar association, and served in several positions there, including President, which led to my involvement in the NYS Conference of Bar Leaders, where I eventually served as Chair. All of these interests enabled me to pursue a broad range of interests and took me into leadership positions in NYSBA. Nothing could have been further from my mind while I was in law school.
What do you believe is your greatest responsibility as NYSBA President?
The most daunting part of the position is being the spokesperson for more than 73,000 New York lawyers, to represent the interests of the profession and also to do what is appropriate for the public. The greatest responsibility is to try to improve the public's understanding of the role of lawyers, and the rule of law.
On the NYSBA web site you state that during your one-year term you will focus your efforts on several initiatives, such as: "increasing access to civil legal services for the poor, making legal services more affordable for middle income consumers, enhancing the state bar's outreach to other professional organizations, and improving the public's understanding of the law and the legal system." How do you decide which issues to tackle and with whom do you work to get these initiatives accomplished?
These goals are set in part by me personally, and in part as policy established by the NYSBA Executive Committee and House of Delegates. As President, I don't have the authority to make policy on my own, but I can select the issues which are consistent with NYSBA policy where I think I can make the greatest difference.
Why should NY attorneys seek to get involved with the NYSBA? What importance is there for students to be involved in the SBA?
NYSBA is the largest voluntary state bar association in the nation. It is the voice of the New York legal profession, and a strong force for improvement of the legal system. Every lawyer has a professional obligation to seek to improve the legal system and to insure justice for all. NYSBA presents unique opportunities to every lawyer to improve her or his ability to practice law, to serve clients, and to make the world a better place. Involvement in NYSBA activities permits lawyers to act in the public interest, and to improve their profession. Most important, it gives opportunities for self-fulfillment which will increase immensely the satisfaction which one can get from practicing law. This applies as well to law students, who can join as law student members for only $10, which entitles them to participation in our various sections and committees, and gives them a unique opportunity to learn about the practice of law, and network with their future colleagues.
The NYSBA is chartered as a private, nonprofit corporation with a budget of approximately $21 million. Where do the funds come from?
Our funds come from membership dues, including dues for section membership, and from the proceeds of our extensive continuing legal education programs. We are a self supporting institution, and it is our goal to make sure that our members receive value from their membership well in excess of the cost they incur to join and participate.
How has being NYSBA President impacted your role at Meyer, Suozzi, English & Klein? How do you balance work and life?
My partners have been very gracious in permitting me the opportunity to pursue this venture, and my clients have been generous in their understanding of the commitment which is involved. During my year as President-Elect, approximately 40% of my time was devoted to NYSBA, and during this year as President it has been about twice that. I have been involved in extensive travel around New York State, the nation, and internationally, and the never-ending stream of meetings and events requires a great deal of time, and some personal sacrifice. The balance between work and life has been difficult to achieve this year in particular, but I hope to return to normal conditions in June after the end of my term.
If you could chose another profession to be in, what would it be?
If I could do it all over again the same way, I would. I have enjoyed my career in the law and cannot think of any profession that would give me as much satisfaction, enjoyment, and personal fulfillment.
What advice would you give to current students?
Take the law seriously, but maintain a balance in your life. Don't focus only on financial benefits in the legal profession; also use your skills and knowledge for the benefit of others, and for the improvement of the legal system. Seek and do justice.