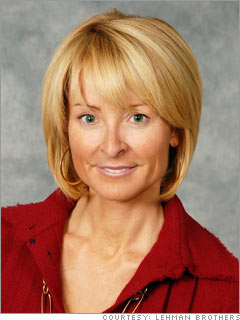 Erin Callan '90
Chief Financial Officer,
Lehman Brothers Holdings Inc.
Ugly Monday, March 17, began with the shocking news that Bear Stearns—which closed at $30 per share the Friday before—had been sold to JPMorgan Chase over the weekend for a mere two dollars a share. As the news was being absorbed throughout Manhattan's financial district, all eyes turned next to Lehman Brothers. The 188-year-old investment bank that had made its reputation in bonds, Lehman shared some of the same vulnerabilities that had brought Bear Stearns to its knees. But, just three months into her coveted C-suite job as chief financial officer, Erin Callan '90, has helped steer Lehman into calmer waters—no doubt with help from the Fed.

These first months have been a trial by fire, but Callan has managed to gain the confidence of Wall Street by disclosing Lehman's assets when it counted and showing some humility by borrowing from the central bank. In the 24 hours after the Bear Stearns sale, the firm's make-or-break period, Lehman's stock rose an impressive 46 percent and dipped only modestly thereafter. A UK Times article the next day credited Callan's announcement that it had $30 billion in cash and $64 billion in liquid assets as a key to soothing investors made jittery by a perceived "liquidity issue" at the firm. Callan also immediately pounced on the opportunity to borrow two billion dollars through the discount window opened by the Federal Reserve, which afforded investment banks a lower interest rate.

"The Fed was really encouraging people to [borrow]. So we thought we'd take some leadership," Callan said in an interview with Maria Bartiromo on Businessweek.com. "We had a strong day…People knew our liquidity position, and so they wouldn't think of it as a sign of weakness. It was a little bit bold on our part, but I think it was the right call."

That boldness, aided no doubt by an ability to quickly assess complicated situations, is what Lehman got when it made Callan the first woman in its history to join the bank's executive committee. Callan took the financial reins of Lehman Brothers in December 2007. As CFO, she oversees the firm's treasury, tax and financial control and reporting.

Callan, who started at Lehman Brothers in the mid-'90s, has been a fast riser within the global firm. She first encountered Lehman Brothers as a corporate tax associate at Simpson Thacher & Bartlett. As one of the bank's tax lawyers, she handled not only the tax and legal implications of a key player in the financial sector, but picked up essential lessons on the commercial allure of various deals and how to manage risk.

But after five years at Simpson Thacher, Callan realized she wasn't going to gain the kind of management or interpersonal experience she desired if she stayed in corporate tax law. "The human element was important to me," Callan said. In 1995, she decided to take her first steps to change careers. "I remember calling up my client at Lehman and saying, 'would it be weird for someone like me to work on Wall Street?'"

The answer was a resounding no, but the transition wasn't seamless, at least not in Callan's mind. She had neither an M.B.A. nor a facility for the jargon typically heard on the Street. She recalled how she would continually disrupt meetings to ask what unfamiliar financial terms and sayings meant. "I remember they used to call me Erin the Interrupter," she joked. "But eventually I realized that it was perfectly OK that there were things I didn't know since there were important things I knew that others didn't." Her prior experience with tax, transactional and securities law eventually led her to become the head of the global finance analytics group in investment banking.

The symbiosis has paid off for Callan and the firm. In 2006, Callan started the firm's Investment Banking Global Hedge Fund Coverage Group, where she guided the successful initial public offerings of companies like Blackstone Group and Fortress Investment Group, which soared in value from $634 million in February 2007 to $11 billion that June.

An article in the April issue of business monthly Portfolio, detailing the scarcity of top-level female executives on the Street predicted Callan's ultimate ascent to C.E.O. In the article, Gerald Beeson, the C.F.O. of Citadel Investment Group, who worked with Callan on his company's $500 million bond offering in 2006, credited Callan's financial acumen as her greatest strength, and the key to her success. "Creativity, urgency, and execution—with Erin you get the whole package," he said. "She's a real asset when you're tackling complex situations that require quick and clear thinking and fast action." —Graham M. Reed