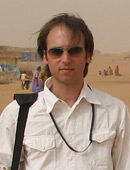 David Pressman '04
Read an Interview with David Pressman.
David Pressman is a civil and human rights lawyer, currently working with civil rights/criminal defense attorney Ron Kuby in New York City.
Pressman recently led an advocacy initiative designed to focus international attention, raise awareness about and agitate for action on the continuing genocide in Darfur. After returning from Sudan, where he was working with the United Nations, Pressman devised, implemented and led a mission to smuggle actor/director George Clooney, his father Nick Clooney and a cameraman into the Darfur-region. Pressman then led an advocacy campaign that resulted in extensive international coverage (including George Clooney's address to the United Nations Security Council on September 14, 2006).
Prior to leaving for Sudan, Pressman worked at the American Civil Liberties Union (ACLU) in Chicago, where he managed a diverse docket including litigation, public speaking/education and advocacy. A member of the Lincoln Center Theatre Directors Lab, he received a fellowship from the Society of Stage Directors & Choreographers to assist opera director Beth Greenberg on her production of Turandot at New York City Opera.
Pressman served as special assistant to Secretary of State Madeleine K. Albright. At the State Department, he worked directly with the Secretary, developing and implementing communications strategy, managing special/sensitive projects and facilitating the Secretary's policy and diplomatic initiatives as one of her traveling advisers (a task that included extensive travel with the Secretary to a wide variety of regions and inter-governmental forums including, among others, Brunei, Belfast, Bangkok, Columbia, Croatia, the Middle East Peace Summit at Camp David and sessions of the United Nations General Assembly). Prior to arriving at the State Department, Pressman served as a press lead for the Clinton White House.
Pressman has clerked for the Supreme Court of Rwanda and the Southern Poverty Law Center. At the Southern Poverty Law Center in Montgomery, Alabama, he was involved in the Center's, ultimately successful case challenging the constitutionality of State Chief Justice Roy Moore's placement of a two-and-a-half ton monument of the Ten Commandments in the rotunda of the State Judicial Building. In Rwanda, Pressman's work focused on evaluating post-genocide transitional justice initiatives, including the Court's controversial Gacaca program (localized criminal tribunals designed to foster healing through retributive justice).
Pressman was a member of the Wesley Clark 2004 National Security Working Group, and worked on the Kerry/Edwards presidential campaign.
David Pressman graduated magna cum laude and Order of the Coif from New York University School of Law and received his undergraduate education at Brown University.
Interview with Alumnus/Alumna of the Month
David Pressman '04
What is your area of specialization and how did you come to practice in this area?
I'm a civil rights lawyer. I became a lawyer because I saw the law as a language of power that I wanted access to in order to work on the issues that are closest to my heart.
You are currently working with the famed civil rights/criminal defense lawyer, Ron Kuby. What is the most important thing you have learned from working alongside him?
Don't always look for answers in the rule book and don't be afraid to "own" the courtroom. Ron has a history of taking on tough cases, thorny issues and unpopular clients. He is fearless, clever, smart and kind. We have our political differences but share a deep commitment to justice.
You recently completed a much publicized trip to the Darfur region of Sudan. What motivated you to take action and bring this attention to the continuing genocide in Darfur, and what do you think this mission accomplished?
Having worked in Rwanda on post-genocide transitional justice issues, as well as in the Clinton administration as special assistant to Secretary of State Madeleine K. Albright, I remain deeply disturbed by what all of us allowed to happen in 1994. For some time, I have been haunted by the ghosts of Rwanda. Those ghosts drove me to Darfur.
When I arrived in Darfur for the first time (with the United Nations), it became immediately apparent that the last thing the people in Darfur needed was me—a civil rights lawyer from New York. They needed guys with guns who could protect them from being starved and slaughtered.
I will never forget leading a discussion at Zam Zam Internally Displaced Persons Camp in North Darfur. An elder man interrupted the discussion and asked, "Mr. David, when will the international police arrive and end our suffering?" It was not a hypothetical question. Part of me wanted to reply bluntly: "There are no international police. There is no political will to do anything. No one is coming to help you. You are on your own." But, all people in Zam Zam have left is hope, and even that's a scarce resource. Instead, I replied, "I don't know when help will arrive. I do know that I will make sure people hear your stories, see your suffering."
Two weeks after returning home from Darfur, I was on a plane with George Clooney, his father Nick Clooney, and a cameraman headed back to the region.
The media has been a dismal failure in telling the story of the first genocide of the twenty-first century. While Darfur can't generate news, George Clooney can. Wherever he goes, cameras follow. I wanted to get Darfur into the news, to build political capital for our political leaders to take action. However uncomfortable one may be about celebrity interaction with political/humanitarian causes, the people I met in Darfur needed a voice and George Clooney has a powerful one.
Our trip, and subsequent advocacy, resulted in some significant political developments and a lot of media attention to an often neglected subject, but, at the end of the day, the situation in Darfur is worse than ever. Public attention is not a substitute (though it may be a prerequisite) for political action.
We must stop kidding ourselves with silly sayings like "never again" — something that was almost a mantra in my Jewish home— and begin to acknowledge that "it" is happening again, and again and again.
I'm still struggling to understand what the words "never again" mean. I am still struggling to tell the story of Darfur.
How has your experience in Darfur impacted you both as a human being and as a civil and human rights lawyer?
We may not be able to change the world. We may not have the moral authority, political will, or the plain courage to stop the slaughter, but it is high time for us to recognize that genocide is not orchestrated and executed in savage lands by savage people. Genocide is not the work of the devil; it is a human phenomenon. Khartoum is not that different than Kansas. To me, that is scarier than the men with the Kalashnikovs.
If we can't muster the energy to protect the people of Darfur, then at the very least we owe ourselves the courage to look within our own souls and our own United States for the deadly building blocks of genocide: the marginalization of people who are from different places, value different things, or love different people. Unfortunately, we don't have to look very hard.
The road paved by those who marginalize others is a comfortable and well-tread one. It can be built here, there, or anywhere. Our comfort during, and complicity with its construction doesn't change where that road leads. For some time, I've been staring at the dead-end that is Darfur.
The story of Darfur contains many lessons, one of which is to underscore the urgency, importance, and necessity of engaging with, and working on, domestic civil rights issue..
What is the greatest challenge you faced upon entering into a war-torn country where crimes have been committed and justice systems are non-existent or weakened, and how did you deal with the stress of being in such a dangerous situation?
Danger is a relative term. The Darfuri lawyers I worked with are some of the most courageous people I have ever encountered. They risk their lives daily. Many simply disappear.
At the end of the day, I get to hop on a plane and head home to New York City. They do not. It's hard to feel scared when you're in the company of such courage
After experiencing the situation in Darfur first-hand, what do you think people need to know about the situation that they may not be aware of?
Three years after this all began, the people in Darfur still have absolutely no meaningful protection. The African Union (AU) peacekeeping mission has been an overwhelming failure. AU troops charged with protecting camp residents lack cars that work on the terrain. They often don't have access to two-way radios. They may have satellite phones but lack phone cards, so they can only receive calls from base, but can't make calls for backup. They also lack interpreters. The end result is that the people charged with protecting the war-affected population in Darfur cannot move around the camps, cannot communicate with the people they are charged with protecting, and if they do run into trouble they lack the means to call for help.
No matter how complicated, complex or convoluted the situation in Darfur may seem, some things are very simple. There are millions of people who have fled their homes and are struggling to subsist in makeshift camps where everyday they face the terror of annihilation. We don't have to figure out how to "make peace." Right now, we just have to figure out how to make "not war." A U.N. peacekeeping mission must be deployed to stand in front of these camps and stop people from being killed.
The people in Darfur tell hauntingly similar stories and have one, singular message: protect us.
We are all responsible. At the very least, we should feel guilty now, not in ten years at some Academy Award speech for "Hotel Sudan."
Do you think you will go back to Darfur, and if so, in what capacity?
It was very clear then, and remains so now: the last thing the people of Darfur need is a New York lawyer. They need guys with guns who will stop them from being raped, starved and slaughtered.
I have no interest in being a voyeur to genocide. If there is something I can accomplish there, I will go—although, I doubt the Sudanese government will allow me back in the country.
What was your first job out of Law School and what is the most valuable thing you learned there?
My first job out of law school was at the ACLU in Chicago. I learned that winter in Chicago is tough.
What has been the most rewarding aspect of your career thus far?
Working with people I admire on a diverse array of issues that matter. Every day is different.
What drives you to be a political activist and what advice would you give to current law students who are interested in pursuing a similar path?
Don't listen to anyone's advice. Find people you admire and work with them, learn from them. Seek out faculty who want to challenge your ideas by incubating them rather than rejecting them. Professor Peggy Cooper-Davis played a profound role in my time at NYU—I came to her with the crazy idea of starting a theatre that impacted civil rights litigation. She didn't laugh. She spent a semester helping me think it through.
How do you balance work and life?
Balance is overrated.
If you could chose another profession to be in, what would it be?
A theatre director. It's the same work I do as a civil rights lawyer and a political strategist—trying to render the invisible, visible.