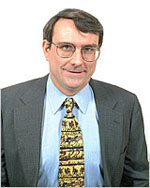 Derek Gilman LLM '97
Read an Interview with Derek Gilman.
In May of 2003, Mr. Gilman began working for the Office of the General Counsel for the United States Government. Within that office, he worked for the Department of Defense and the Coalition Provisional Authority; the latter took him to Baghdad, Iraq, where he worked with other coalition nations to develop the economic and commercial reform initiatives for Iraq, and draft legislation to implement these initiatives including: company law reform, anti-money laundering law, public debt law, national budget law, and revision of the tax law, customs law, securities law, banking law, bankruptcy law, intellectual property law, secured transactions law, and labor law. Additionally, Mr. Gilman provided legal advice regarding strategies for transitioning from a planned to a market economy and acted as interim chief of the Iraqi Special Tribunal support team. Mr. Gilman was the principal US representative in the drafting of the statute establishing the Iraqi Special Tribunal, which will be used for the trial of Saddam Hussein and certain other Ba'athist leaders accused of genocide, war crimes, and crimes against humanity.
Upon his return from Iraq, Mr. Gilman accepted a position as counsel at Day, Berry & Howard. His practice there focuses on the tax aspects of both domestic and international transactions involving both taxable and tax-exempt entities.
Mr. Derek Gilman began his education at the United States Military Academy where he earned his BS in National Security. Mr. Gilman then worked as a Captain in the US Army until 1988. After serving in the Army he traveled to England where he undertook an MA in Law at Cambridge University. Returning to the United States, Mr. Gilman enrolled in the University of Connecticut's JD program, graduating in 1992 with honors, having been the Associate Editor of the Connecticut Law Review.
The summer following his JD program, Mr. Gilman worked as the Operational Law Officer of the Office of The Judge Advocate General. Soon thereafter, Mr. Gilman began work in the private sector as an Associate at Curtis, Brinckerhoff & Barret, P.C., focusing on business and individual matters involving state, federal, and international tax issues, including mergers and acquisitions, estate planning, and state and federal tax controversies. During this time, Mr. Gilman attended NYU School of Law and received an LLM in Taxation in 1997.
Interview with Alumnus/Alumna of the Month
Derek Gilman LLM '97
What is your area of specialization and how did you come to practice in this area?
In private practice I specialize in business transactions with an emphasis on tax. About 80% of my practice involves international transactions. In my capacity as an Army Reserve JAG Officer, I specialize in public international law. My specialization in tax is the direct result of my obtaining an LLM in tax from NYU. My practice in the area of public international law is the result of my study of international law at Cambridge, and my experiences in the Army JAG Corps.
You recently served 10 months in Iraq as the deputy general counsel (commercial law reform) for the Coalition Provisional Authority. What was the general attitude of your Iraqi colleagues towards Americans such as yourself who were brought in to rebuild Iraq's government and economic systems?
My Iraqi colleagues were, in general, very receptive to the ideas brought by Coalition members, (including Americans, British, Australians, Italians, Romanians, and many others who are supported by the IMF and the World Bank) that assisted in the movement of Iraq from a planned to a market economy. Many Iraqis worked very hard to ensure that those changes that were made to Iraqi law were built upon existing Iraqi law to the extent possible, and would be accepted by the Iraqi people as a whole in the long term. While some in the Ministry of Planning were concerned about the movement away from a planned economy, protracted discussions among the Iraqis themselves and with Coalition advisors eventually resulted in a consensus on the reforms. My Iraqi colleagues and my Coalition colleagues who are still in Iraq inform me that the reforms have in principle, been largely accepted by the Iraqi people, and are being used to rebuild the Iraqi economy. They also report that the private sector is quietly growing at a significant rate. Implementation in certain areas is not as fast as some would like due to the security situation, and the attention of many government actors on the building of the fledgling Iraqi democracy.
How did you manage the balance between respecting the laws already in place, while at the same time creating a new economic framework in Iraq?
We worked very closely with Iraqi lawyers, business people and ministry officials, as well as with the Iraqi Governing Council, to identify existing Iraqi law and to ensure that changes would be acceptable to the Iraqi people. In many cases, the Iraqis had provisions in place that addressed economic issues. However, some of this law was old and had been overlaid with Ba'athist decrees that eviscerated pre-existing market economy principles. To the extent changes had to be made in order to conform to modern standards, those changes were made, although in some cases an interim solution was provided. The changes were also drafted in concert with and ultimately agreed upon by the IMF, the World Bank, the UK Government, the Australian Government, the US Government, the Iraqi Governing Council, and the affected Iraqi ministries.
What was an average day in Iraq like for you and how did you deal with the stress of being in the middle of a war zone?
On the average, we worked 18 hour days. An average day could involve traveling downtown to meet with Iraqi businessmen or ministry officials. When traveling out of the Green Zone, I would carry my Army issue 9mm pistol and travel with a security escort. Every day involved extensive discussion and coordination with the governments of the United States, the United Kingdom, and Australia, as well as the IMF and the World Bank. Additionally, I would meet with CPA Advisors, particularly in the Ministries of Finance, Trade, Planning, Justice, Labor, Industry and Minerals, and Interior, as well as with CPA Advisors in the Private Sector Development and Governance sections. Twice a week I met with the Finance Committee of the Governing Council to discuss proposed CPA Orders. I routinely wrote memoranda for Ambassador Bremer, and had the privilege of meeting with him on a few occasions.
Once in a while (and almost every day during Ramadan) we were subject to sporadic mortar and rocket fire. The worst for me was when 27 rockets from a multiple rocket launcher hit the Al Rasheed Hotel where I was staying. However, on most days, I was not witness to any violence. The key to handling stress, I found, was camaraderie and a good sense of humor.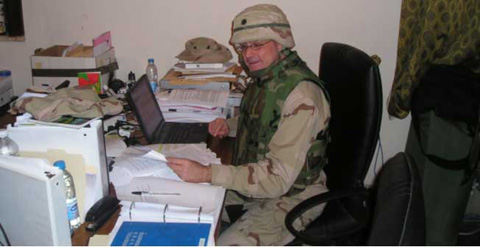 What is the most rewarding aspect of your job?
Helping an entire nation become free and prosperous.
Who are your role models in the legal profession?
The lawyers I admire most are those who have high standards of integrity, and have effectively combined the practice of law in the private sector with participation in the public sector — and have been successful in both worlds.
How do you balance work and life?
There is no easy answer. You just have to make a commitment to do it and use your time effectively. Flexible hours, as well as Citrix, Blackberry, and cell phone technology, of course help a lot.
If you could chose another profession to be in, what would it be?
The two things I have wanted to do in life are to work in the field of international law and to be a soldier. I have been fortunate in being able to do both. I also find structuring transactions and operations to be economically efficient and to be very interesting, and I am fortunate that practicing tax law allows me to do that. I found working with economic policy makers in Iraq immensely satisfying, and it may be interesting to do that again sometime. Again, I find myself fortunate to be a tax practitioner, as it may afford me these opportunities.
What advice would you give to current students?
Never give up your dreams, but learn to be patient and persistent. Be imaginative in finding professional opportunities that you find personally rewarding in whatever situation you find yourself in.