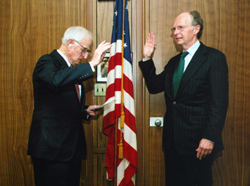 Douglas Liebhafsky ('64)
Read an Interview with Douglas Liebhafsky.
Soon after retiring from Wachtell, Lipton, Rosen & Katz in 2004, Douglas Liebhafsky was appointed Special Assistant District Attorney in the office of New York County District Attorney Robert Morgenthau. With more than 35 years as a litigation partner at Wachtell, Lipton, Rosen & Katz, Mr. Liebhafsky's litigation experience has been broad and varied. Trials have ranged from accountants' liability to First Amendment "obscenity" issues and from corporate-control contests to bankruptcy-statute solvency determinations. Mr. Liebhafsky was lead counsel for the plaintiffs in a seven-and one-half month securities-fraud marathon, believed to be one of the longest civil jury trials ever conducted in the Southern District of New York. More recently, he was lead defense counsel in the litigation surrounding approval of the State of New York's participation in the nationwide settlement of the "Attorney General" cases against the tobacco industry. One of the most personally satisfying career highlights for Mr. Liebhafsky was a post-conviction proceeding that freed a wrongfully convicted felony-murder defendant (coupled with a follow-on 1983 action that made his client financially secure for life).
Prior to joining Wachtell Lipton, Mr. Liebhafsky served as law clerk to the Honorable Warren E. Burger from 1964 through 1965 at the United States Court of Appeals for the District of Columbia Circuit. He then spent four years as an Assistant United States Attorney for the Southern District of New York (Criminal Division), during the last of which he was Assistant Chief Appellate Attorney (Criminal Appeals).
Mr. Liebhafsky received his B.A. magna cum laude from Harvard College , where he was elected to Phi Beta Kappa and was a Detur Prize recipient. As a Root-Tilden Scholar at NYU School of Law, Mr. Liebhafsky earned his LL.B. degree cum laude and was awarded the Order of the Coif. During his years at the Law School , Mr. Liebhafsky served as Editor-in-Chief of the Law Review, and received the Frank Henry Sommer award. Mr. Liebhafsky is a member of the Association of the Bar of the City of New York , and has twice served on the Association's Judiciary Committee. He is also a member of the New York State and American Bar Associations, and of the bars of several federal courts.
Interview with Alumnus/Alumna of the Month
Douglas Liebhafsky ('64)
What is your area of specialization and how did you come to work in this area?
I have always done litigation in one form or another. Judge (later Chief Justice) Warren Burger, for whom I clerked on the D.C. Circuit, strongly encouraged me to join the Justice Department in order to get some good trial experience at a very early stage in my career. I took his advice and became an Assistant U.S. Attorney in the Southern District of New York immediately following my year with Judge Burger. During the four years I spent in that office, I tried approximately 15 criminal cases to verdict, almost all of them before a jury, and argued a substantial number of appeals in the Second Circuit. During my last year in the office, I served as Assistant Chief Appellate Attorney for Criminal Appeals.
You have recently transitioned from the private to the public sector. What prompted the change?
I "flunked retirement," as the saying goes. I retired from my law firm last December 31, and found myself without intensive activity for the first time in 40 years. Computer chess, travel and grandchildren were great, but not enough. At the end of March, I joined the Manhattan District Attorney's Office as a Special Assistant DA. For me, this was like going home again: forty years ago, when I went to work as a federal prosecutor, it was in the office of U.S. Attorney Robert Morgenthau; I am now in the office of New York County District Attorney Robert Morgenthau. How many people, I wonder, have the same boss 40 years later?
Can you tell us about your new job?
I am assigned to Investigation Division Central (IDC), a small unit within the DA's Office. IDC conducts Grand Jury investigations relating to money laundering, financing of terrorism and other significant financial crimes. Because of Grand Jury secrecy, I'm afraid I can't get into any of the particulars of what I am working on at the moment.
What was your first job out of law school?
My D.C. Circuit clerkship with Judge Burger. I was his last "solo" law clerk (after my year, he had two clerks while he remained on the Circuit; on the Supreme Court, he had four).
Have you had a role model, or a significant mentor, in the legal profession?
I wouldn't say I've had a role model as such, but certainly Judge Burger was a mentor, and one who had a strong influence on my career path. Absent the Judge's guidance, I'm sure I would have gone straight from my clerkship to a large Wall Street firm without giving the matter a lot of thought. And a corollary of that course (had I kept at it) would likely have been a number of years of "bag carrying;" it would have been quite a while, I'm sure, before any of the major Wall Street firms would have allowed me a really significant role in the cases I was working on. In the U.S. Attorney's Office, on the other hand, I very rapidly had my own docket of cases to run and (with guidance from the Chief and Assistant Chief of the Criminal Division) to take full responsibility for. And, after four wonderful years of trials and appeals that were really my trials and appeals, it was clear that I would not be happy moving to any firm where I could not enjoy major case responsibility early on. Accordingly, I did not consider any of the large Wall Street firms when I was ready to start private practice. Instead, in September 1969, I joined a young (four years old), rather small firm (about a dozen lawyers) that few back then had heard of: Wachtell, Lipton, Rosen & Katz. Somewhat ironically, in light of the two firms' customary roles as adversaries in the "takeover wars" that were to burgeon years later, the other firm in my "final two" was Skadden Arps. Skadden was then about 35 lawyers, which I thought was just too big!
What was your single most rewarding experience as a lawyer?
Freeing a wrongfully convicted defendant who had served many years for a felony murder he had nothing to do with. Through evidence obtained under New York 's Freedom Of Information Law -- and more than a little good luck -- we were able to show that prosecutors and police had suppressed material exculpatory evidence. A follow-on Section 1983 damages action we brought gave rise to a leading case in the area of municipal liability for failure to train and supervise law-enforcement personnel ( Walker v. City of New York , 974 F.2d 293 (2d Cir. 1992)). More importantly, it yielded a substantial financial settlement for our client. It caused a few chuckles, and probably raised some eyebrows, when the Walker settlement propelled Wachtell Lipton, never known for its "PI" expertise, into the New York Law Journal's annual "top ten" list of plaintiffs' firms achieving tort recoveries against the City.
If you could chose another profession to be in, what would it be?
Probably the theater. I've always been captivated by good live dramatic performances. My wife and I usually go to London every six months or so to binge on the latest theatrical offerings. And I've always thought that well-done plays and well-done trials have a lot in common.
What advice would you give to current students?
The legal marketplace is large and diverse. There are interesting and fulfilling positions for lawyers in both the public sector and the private sector, as I can testify firsthand. Find out what you really like to do as a lawyer, and go in that direction. The important thing is to be happy in your day-to-day job activity because that will be a large part of your life.