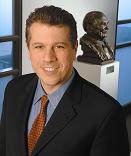 Michael Waldman '87
Read an Interview with Michael Waldman.
Michael Waldman is the executive director of the Brennan Center for Justice at the NYU School of Law, one of America's preeminent legal policy organizations that focuses on democracy and justice. Waldman was director of Speechwriting for President Bill Clinton from 1995-1999, and was responsible for writing or editing nearly 2,000 speeches, including four State of the Union speeches and two Inaugural Addresses. Previously, he was special assistant to the President for Policy Coordination (1993-1995), and was the administration's chief policy aide on political reform. He is the author of several books, including My Fellow Americans: The Most Important Speeches of American Presidents (Sourcebooks, 2003); POTUS Speaks: Finding the Words that Defined the Clinton Presidency (Simon & Schuster, 2000); and Who Robbed America? A Citizens' Guide to the Savings and Loan Scandal (Random House, 1990). He was the director of Public Citizen's Congress Watch, then the capital's largest consumer lobbying office (1989-92), a lecturer in Public Policy at Harvard's John F. Kennedy School of Government (2001-03) and a partner at the firm of Cuneo, Waldman and Gilbert (2003-2005).
Interview with Alumnus/Alumna of the Month
Michael Waldman '87
What is your area of specialization and how did you come to work in this area?
I haven't really thought of myself as having a specialization, but looked at broadly, I have worked in public policy nearly my whole career—in government, as a public interest lawyer, teaching, writing and now at the Brennan Center. As for issues, I have focused on democracy, on trying to open our political system to greater and more effective citizen participation. My first job out of college (even before I went to law school) I helped write a book on campaign finance reform. I had the chance to lobby for it, write about it, and to help lead the fight for it as a White House aide. (Unsuccessfully, unfortunately. I joke it's why I became chief speechwriter—I needed something else on my resume.) I really think the struggle for democracy is the heart of the story of America, so it's been a treat to be part of it for (gasp) a quarter century.
The Brennan Center recently celebrated its 10th anniversary. What do you consider its most significant achievements since its founding?
We have built one of the nation's preeminent legal and policy groups. Uniquely, we combine a think tank, a public interest law firm, and an advocacy group. Our broadest achievements are intellectual and legal advances in the area of democracy—times when we have been able to help transform people's understanding of the issues. For example, when the Brennan Center first got started, there was a very arid debate between reformers and civil libertarians. Burt Neuborne and his colleagues helped craft a new way of looking at Buckley v. Valeo, arguing that reform, done right, could help boost speech. That helped clear the way for the McCain-Feingold campaign finance law. And then the Brennan Center was co-lead counsel in the landmark Supreme Court case that upheld the statute. It's a good example of how we try to turn ideas into action.
What do you think is the main legacy of Justice Brennan?
We think about Justice Brennan's legacy every day. He once wrote, "The genius of the Constitution rests not in any static meaning it may have had in a world that is dead and gone, but in the adaptability of its great principles to cope with current problems and present needs." That vision of the living constitution doesn't mean it is a purely flexible document, but it is a charge to every one of us to try to apply its values to new challenges. Often if feels like his ideas are still being contested and are at the heart of ongoing legal challenges. When I hear Justice Scalia, it sounds to me like he is debating the spirit, at least, of Justice Brennan's vision of the Constitution.
What are the main issues you see keeping The Brennan Center busy in the next year? The next five years?
We focus on democracy and justice. There are three great challenges in the fight for democracy: Fixing our voting systems, reforming campaign finance to boost the power of small contributors, and reforming redistricting to stop the wave of partisan gerrymandering that has made few elections competitive. We are working in all these areas, through legislation, lawsuits, reports and public education. In our work on justice, we are focused on restoring Constitutional checks and balances to the fight against terrorism, widening access to the courts for the poor, and devising creative laws to help protect the working poor.

We are very lucky to be able to draw together the intellectual firepower of NYU School of Law faculty and students, and Brennan Center staff and allies. We're a convener and a fulcrum. Institutionally, we're focused on bringing our approach to a much wider audience, which will give the NYU School of Law community an even better audience for its work.
Can you describe the early days of being a speechwriter when the Clinton administration first took office? Do you ever look back and miss the excitement?
Working in the White House for seven years was a thrilling, nerve-wracking experience. Speechwriting is where policy, politics and presidential personality all come together— especially working for Clinton. He was intimately involved in writing (and rewriting) his speeches. You had to be prepared for the 1:00 a.m. phone call asking you to come over to rewrite the speech the night before delivery. Clinton reveled in showing us how he was thinking, what FDR speech to quote to make a liberal point or a conservative point, which faction of Congress would cheer or boo each word. I worked with him to write four State of the Union speeches, and he would do little else but prepare for weeks. Standing on the floor of the House, watching the President deliver the speech, and watching the lawmakers cheer or grimace was a remarkable experience.
Do you have a favorite speech from your years with President Clinton?
The 1998 State of the Union had the biggest impact. It was one week into the Monica Lewinsky scandal, and Clinton's whole presidency hung in the balance. He reminded people what they liked about him and his policies. It was an aggressive defense of progressive government, and it basically saved his presidency. But my favorite speech— as a speech—was probably his address at Little Rock Central High School, where black students had been jeered by whites four decades earlier. I was very proud that it was included in the New American Library collection of great American speeches.
How, if at all, did your years as a Presidential speechwriter inform the work you do at the Brennan Center?
Recently I came across a quote from Abraham Lincoln that perfectly sums up my views. "With public sentiment, nothing can fail; without it, nothing can succeed. Consequently he who molds public sentiment goes deeper than he who enacts statutes or pronounces decisions. He makes statutes and decisions possible or impossible to be executed." We work to translate the research and policy analysis into terms that can mold public opinion.
What led you to the NYU School of Law and how did your experience here influence your career path?
It's tremendous to be back as part of the NYU School of Law community. When I was looking at law schools, I wanted a school that was dynamic and gave me a chance to study public law. It was NYU School of Law's reputation—even in 1984—as a public interest focused school that brought me here. I loved my time at the Law School. The intellectual caliber was high, the teaching was inspiring, and the people were energetic and fun. Most important, perhaps, I met my future wife, Liz Fine, in the courtyard of Vanderbilt Hall during the second day of orientation. I turned to the person next to me and said, "That's the kind of woman I came to law school to meet."
How do you feel about the prospect of having Bill Clinton back in the White House, as First Man?
I can't take the bait on that one! The Brennan Center is happily nonpartisan. Having said that, I think any president would be lucky to have someone as creative and strategic as Bill Clinton hanging around the house.
Who are your role models in the legal profession?
I have a picture of Justice Louis Brandeis in my office. He was a top lawyer, esteemed in the profession, and he used those honed skills for his vision of the public interest. He was very focused on creating systems so government could help preserve opportunity in what was then the new industrial economy. I have had the chance to work personally with a lot of people who have worked in that tradition, starting with my first boss and mentor, Mark Green. Today I am lucky to work with Fritz Schwarz, the Brennan Center's senior counsel. He has had an incredible career in private practice at Cravath, as NYC corporation counsel and chair of the city campaign finance board, and now as senior counsel at the Brennan Center. He even has a new book out. He's an incredible guide for me and a mentor to the younger lawyers. And he's in far better shape than I am.
How do you keep a balance between work and life?
The only way to keep balance is to keep hurtling forward. Both my wife Liz and I have full time jobs. Liz is now the general counsel of the New York City Council, so her life is even more hectic than mine. We have three children—ages 13, 12 and 9. So our lives are full, to put it mildly. I find I get a lot done between the hours of 11 p.m. and 2 a.m.