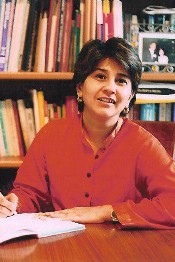 Mallika Dutt '89
Read an Interview with Mallika Dutt.
Mallika Dutt is founder and executive director of Breakthrough: Building Human Rights Culture. With affiliate offices in New York and New Delhi, Breakthrough uses media and popular culture to raise awareness about human rights and social justice. Ms. Dutt was formerly the Program Officer for Human Rights at the Ford Foundation's New Delhi office, Associate Director of the Center for Women's Global Leadership, and Director of the Norman Foundation. She has authored several articles on human rights, adjunct
taught "Women and the Law" at Hunter College and received several awards.
In addition to her JD from NYU School of Law, Mallika has a graduate degree in International Affairs from Columbia University and an undergraduate degree from Mount Holyoke College.
Interview with Alumnus/Alumna of the Month
Mallika Dutt '89
Executive Director, Breakthrough
What inspired you to choose a career that focuses on human rights, and how did you come to form your organization, Breakthrough?
I have been interested in social justice issues ever since I was a child in India. I grew up dealing with gender-based discrimination as well as violence within my family. These personal experiences were given political shape at Mt. Holyoke and I chose to go to NYU School of Law because of its reputation for being a leader in public interest law.
I have been engaged in human rights advocacy of various sorts ever since law school. While studying for the bar, I co-founded Sakhi for South Asian Women, which addresses violence against women. While at Debevoise & Plimpton, I worked on reproductive rights and immigrant rights, and I also set up a network of lawyers who represented battered women. Many years later, while I was a Program Officer for Human Rights at the Ford Foundation's New Delhi office, I began the work of establishing Breakthrough. This organization is an attempt to place human rights issues into mainstream public discourse. There are affiliate offices in New York and New Delhi.
Music and video play a major part of your organization's work; please explain why you decided to focus on this medium.
While law is a critical instrument for social change, it is difficult to implement without community and public support. The growing gap between the rhetoric of human rights and social justice policy and the actual implementation of those policies led me to search for ways to make issues more accessible to the general public. Popular culture has become a global language, particularly for young people today, which is why I decided to focus on using culture and media as tools for education. Breakthrough is about building a culture of human rights – where all of us are committed to ensuring human dignity globally. What better way to do that than through cultural expression?
What is the greatest challenge that you face in your work? How do you measure success?
The mainstream entertainment industry is tightly controlled and hard to break into with pluralistic voices - especially in the United States. In India, we were able to go mainstream more easily and ended up with an MTV nomination for our first music video. Because of satellite television, we reached millions of people around the world with our message on women's human rights. However, it is much harder to get those kinds of music videos on mainstream television in the U.S. Therefore, in the U.S., we have used different kinds of collaborations with performance artists like Sarah Jones, authors like Alice Walker, and bands like Junoon to raise human rights issues.
Success for us is measured through the public response to our work. We get an enormous amount of feedback from audiences who see our productions as well as from the educational workshops we do in schools and colleges.
What is the most rewarding aspect of your job?
Combining my legal background with creative and innovative techniques for public education is very challenging and rewarding.
Who are your role models in the legal profession?
Mary Robinson, former UN High Commissioner for Human Rights and former President of Ireland, has been an important role model for me. She has exemplified courage and integrity as a leader in her role as President of Ireland as well as High Commissioner. There are very few people who command respect with heads of state and civil society leaders. Despite her status, she continues to take the time to listen and to learn, and she brings her deep commitment to human rights to every forum that she participates in. Her new work in looking at how to integrate human rights values and principles into international economic and trade regimes is essential to creating a global equity. She is also an amazing speaker!
What was your first job out of law school?
I worked in the Litigation and Trusts and Estates divisions of Debevoise and Plimpton in New York when I first graduated from law school.
How do you balance work and life?
I was a complete workaholic until a few years ago when I discovered yoga and simultaneously acquired my two dogs. I am far more conscious of taking time out for family and friends (and my dogs) now.
If you could chose another profession to be in, what would it be?
I would have loved to have been a VJ (video jockey) on a music show—or had my own television show like Oprah!
What advice would you give to current students?
Enjoy every moment and don't sweat the details. A law degree opens all kinds of doors for you. If you had told me even five years ago that I would have been producing music videos, I would have thought you were insane. But seriously, my legal background enables me to take risks and pursue dreams. Stay true to yours.