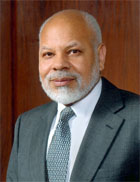 Kenneth G. Standard LLM '71
Read an Interview with Kenneth G. Standard.
Kenneth G. Standard LLM '71 is a member of Epstein Becker & Green (EBG) in the labor and employment practice. In addition to his duties as a member of the firm, Standard serves as general counsel and heads EBG's national diversity committee that includes members from each of its 11 offices nationwide. He is the immediate past president of the New York State Bar Association (NYSBA), the largest voluntary state bar association in the country. During his one-year term as President, Mr. Standard focused on maintaining and improving access to justice for all, maintaining the independence and accountability of lawyers and judges-including speaking out for the need to maintain the separation and independence of our three branches of government-increasing pro bono awareness, adding to the diversity of the profession, examining the challenges of leading a balanced life in the law, preservation of and respect for the rule of the law and our constitutional rights and the efficacy of the bar exam in measuring lawyer competency.
Prior to joining EBG, Mr. Standard was special counsel at Morgan, Lewis & Bockius in New York City, and before that he served as assistant general counsel, Labor Relations, Environmental and Benefit Plans, at Consolidated Edison Company of New York City. Standard is also a former director of the Office of Legal Services of the New York City school system, and was vice-president and senior counsel of the products division of the Bristol-Myers Company. In addition to his extensive counseling experience, Standard has handled as lead or sole counsel more than 40 matters to decision in federal, state, and local trial and appellate courts and administrative agencies.
Standard serves as a director of the Visiting Nurse Service of New York City and as a member of its Board's executive, finance and audit, and governance committees. He has served on numerous other committees during his time as a board member and currently is the chairman of the board of the VNSNY Family Care Services sub. The Visiting Nurse Service of New York is the largest not-for-profit home health care provider in the nation, with approximately 10,000 employees serving over 25,000 patients annually with acute or chronic health care needs. Standard has also served as a director of the United Seamen's Service and is a former vice-chairman of the board of the Aspirin Foundation of America. He is a former director of the Harvard Club of New York City Foundation.
Standard is a former member-at-large of the New York State Bar Association's Executive Committee, former vice-president and former treasurer. He has also served on numerous NYSBA committees, including: Judicial Selection, The Law Governing Firm Structure and Operation (MDP), Association Governance, and Executive Director Search. Along with his duties as chair of the House of Delegates during his year as president-elect, Standard co-chaired the President's Committee on Access to Justice, formed to help improve access to the courts for all members of our society. As a member of the New York City Bar Association, Standard has served as chair or member of various committees, and he is a former voting member of Empire Blue Cross-Blue Shield.
Crain's New York Business named Standard one of the "100 Most Powerful Minority Business Leaders in New York" in its most recent compilation. Standard also is a popular public speaker, both nationally and internationally.
Interview with Alumnus/Alumna of the Month
Kenneth G. Standard LLM '71
What is your area of specialization and how did you come to work in this area?
I work at Epstein Becker & Green (EBG), which is a national general practice firm of about 375 lawyers in 11 offices spanning the US. I am EBG's general counsel, a position I previously filled in both the corporate and government sectors prior to1989 when I began to concentrate in labor and employment counseling and litigation. My other principal roles at EBG are to lead its national diversity effort and assist in our client and practice development efforts. At present, I spend limited time working with EBG clients on labor and employment matters.
You have worked in-house, at a firm, and in the public sector. What kind of learning curve can an attorney expect when moving from one sector of the industry to another?
A very steep one, which is challenging, sometimes stressful, and always stimulating!
How has the labor and employment field changed over the past 10 years?
The substantive law continues to evolve through statute and through judicial interpretation. As in other areas of the law, trials are increasingly rare.
What are some of the benefits of diversity in law firms?
In my experience, the benefits are the same as in all other human endeavors: diversity of background is accompanied by diversity of experience and thinking, which leads to broader and more varied analysis and better problem resolution.
How did the LLM program at NYU School of Law prepare you for the career you have had?
When I enrolled in the NYU School of Law LLM program, I was transitioning from a pure litigation background to a position as a counselor at Bristol-Myers, a pharmaceutical that researched, developed, manufactured and marketed products for hospitals and other institutions, physicians, and individual consumers. All phases of developing and bringing the products to market were regulated by various federal, state and local agencies. My Law School courses in food, drug and cosmetic law, anti-trust law, the Robinson-Patman Act, government contracting, and unfair competition, among others, helped me make the transition from litigator to counselor in a company operating in heavily-regulated industries of which I had little previous knowledge. In fact, at Bristol-Myers I advanced within 3 years from Staff Attorney to Division Counsel and then to Division Counsel and Vice-President.
Can you tell us about the importance of maintaining the separation of the three branches of government and why you are so passionate about this?
Too often we forget the importance of the basic principles on which our nation was founded, and it leads to trouble. A recent example is the Terri Schiavo case that was so prominent scant months ago. The personalized attacks on judges performing their duties and the threats and attempts to punish the judiciary by reducing their funding and limiting their jurisdiction and discretion struck me as demagogic and short-sighted and required that I, and others with public voices, speak up in defense of our judiciary. Periodically, passions seem to overcome good judgment and many among us resort to the pursuit of simplistic solutions to complex problems that, if followed, would have tragic consequences. Those of us who believe in the separation of powers principle must vigilantly defend it, and encourage others to join us, for this is a recurring issue.
What is the most rewarding aspect of your job?
The ability to practice law in a collegial atmosphere with a firm that is open to new ideas and has a strong commitment to maintaining and increasing its unusually high level of diversity.
Who are your role models in the legal profession?
My late sister, Muriel, who was almost 16 years my senior, spent most of her adult life working for the national office of the NAACP and from my early school years I regularly heard about and/or met NAACP lawyers like Thurgood Marshall and Charles Hamilton Houston. I was always led to believe that I could follow in their footsteps. My legal career has taken a different route from theirs and my professional opportunities, while limited, have nonetheless been greater than theirs, thanks in great part to their efforts. In my own way, however, I have, through my hiring practices and my mentoring and volunteer life, worked towards making our profession and society a more open and just one, focused on individual merit rather than heritage or preconception.
How do you find the time to participate in so many civic and professional volunteer activities while managing a very busy work load at your firm?
It's at great sacrifice to my personal life. I believe, however, that if one is given the ability to improve the lives of others, along with that goes an obligation to use that ability. Fortunately, my wife and I married in the interim between my graduation from Harvard College and my entering Harvard Law School and she is very understanding and supportive. In addition, our three children are adults now and need less of my time. I will say that my heaviest public service did not occur until our youngest child became an adolescent. Thus, I did have time to participate in our children's school and scouting activities, to coach their baseball and basketball teams, and to participate in a variety of their other events. In addition, I usually made it home for dinner and was able to help with school work one or two nights a week. I also was able to spend several weeks over the course of the year on family vacations, as well as occasionally taking the whole family with me on business trips.
If you could choose another profession to be in, what would it be?
I find it difficult to imagine myself in another profession. However, I have discovered that I am an effective communicator and leader and enjoy being with young people, so I might have enjoyed being a teacher. In fact, I had been a regular volunteer lecturer at many historic black colleges and universities before I became so heavily involved in leadership positions at the Harvard Club of New York City, and the New York City, New York State, and American Bar Associations.
What advice would you give to current students?
Be sure practicing law is what you want to do. Law is a demanding profession and requires great commitment. That commitment, I believe, should include going beyond giving clients good and loyal service and encompass seeking to preserve and strengthen the rule of law and seeking to improve our society in general. If you have that commitment you can make a great difference in many lives and earn terrific psychic rewards as well as enjoy financial security.