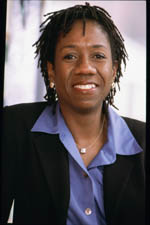 Sherrilyn Ifill '87
Read an Interview with Sherrilyn Ifill.
Sherrilyn A. Ifill is an associate professor of law at the University of Maryland School of Law where she teaches Civil Procedure, Constitutional Law, and a variety of seminars on civil rights law. Professor Ifill also teaches in the clinical law program, where she most recently helped develop a clinic on Legal Barriers to Re-entry of Ex-Offenders.
Prior to entering the legal teaching field in 1993, Professor Ifill served for five years as an assistant counsel with the NAACP Legal Defense & Educational Fund, Inc. in New York where she litigated voting rights cases throughout the South. Professor Ifill is a nationally recognized expert on voting rights and judicial selection. She is also a frequent commentator on matters related to reparations and racial reconciliation efforts. She is currently completing a book about lynching and racial reconciliation in Maryland.
Interview with Alumnus/Alumna of the Month
Sherrilyn Ifill '87
What is your area of specialization and how did you come to practice in this area?
Civil rights law and litigation. My first job out of law school was a one year fellowship with the ACLU in New York. From there I was lucky enough to get a one year position at the NAACP Legal Defense Fund, which turned into a permanent job. After I left the Legal Defense Fund to teach full time in Maryland, I began to litigate environmental justice cases on behalf of minority communities. Lately I've begun to work on issues related to legal barriers facing ex-offenders. My principal focus for the past 4 years has been an investigation of several lynchings that took place on the Eastern Shore of Maryland in the 1930s. I am completing a book about how local communities where lynchings occurred can develop their own reconciliation and reparations mechanisms to address historic hate crimes that devastated their communities.
When you were in law school, did you already have a strong interest in race and civil rights issues? What drew you to that area of the law?
Yes, very much so. I was an active member of BALSA. I took the Race and Law seminar offered by then-adjunct Professor and LDF lawyer, now Judge Ron Ellis. Later I moved into the office next to his at the Legal Defense Fund. I clerked for Judge A. Leon Higginbotham my first summer of law school and at the United Nations Centre for Human Rights in Geneva, Switzerland my second summer. I wanted to be a civil rights/human rights lawyer since I was 9 or 10 years old. My father was very political, very knowledgeable— a social worker, but also a brilliant political commentator (albeit in our living room). So I was very socially conscious from a young age and always felt that my calling would be in the social justice area.
Describe a case or matter that you worked on that you found particularly challenging or rewarding.
For many years I litigated a case that originated in Texas, challenging the way judges are elected. The case was brought on behalf of black voters and challenged the at large system of electing judges. We showed that black judicial candidates could not win in the at large system. We showed that a majority of white voters would give their support to black candidates. I worked with some of the most talented and dynamic clients, witnesses and experts in the south. Ultimately the case went to the Supreme Court. I was only 4 years out of law school by then, so I couldn't even argue my own case! We won on a critical issue before the Supreme Court, but on remand we lost our effort to change the way judges were elected. It was a tough blow. And I never really felt that we had a chance to articulate why it's important to have racial diversity on the bench. I took these matters up in my scholarship once I entered the academy. The issue of diversity on the bench has become my lifelong project.
What is the most rewarding aspect of your job?
I love teaching students. Sometimes I can barely wait to get into the classroom. When it's right and all the teaching cylinders are open, it's just a wonderful feeling. I especially enjoy compelling students to think about how the law is experienced in the lives of poor and traditionally underserved communities. That the law doesn't "work" for everyone is the 800 lb gorilla sitting in the middle of the room that most professors, especially in first year classes, don't talk about. I do. And I think that most students appreciate it.
How do you think the current political atmosphere in this country affects affirmative action?
What a question! The current political atmosphere in this country affects everything! We are in a dangerous time—of silence, fear and the biggest political power grab we are likely to witness in our lifetime. How does it affect affirmative action? Well, in a time in which Americans are encouraged to think solely in terms of us vs. them, to experience ourselves as especially deserving of God's favor, in which we are increasingly xenophobic and nationalistic, and when at the same time we are discouraged from facing our country's unsavory historical (and in many cases contemporary) treatment of racial minorities, foreign nationals and countries in the non-European world, it's hard to "sell" affirmative action as our obligation to correct past wrongs. But it is our obligation. In fact, it's the least we can do. It is also the only hope America has of remaining a legitimate and competitive global force, not only economically, but morally. But I also hope that our over-emphasis on affirmative action will not keep us from addressing the many other areas in which inequality in our society contributes to the persistence of unacceptable living conditions for many black people, whether it's police brutality, lack of public housing, lack of a living wage, disparate criminal sentencing, gentrification, etc.
Who are your role models in the legal profession?
Well I think for a woman, especially a black woman of my generation, it's often true that our role models come from outside the legal profession. For me, as a child, my role models were Brooklyn Congresswoman Shirley Chisolm and Texas Congresswoman Barbara Jordan. When I was a child in 1972 and 1973, these two women were unlike any other black women I'd ever seen on TV. They weren't "decorative" like Diahann Carroll, or entertainers like Leslie Uggams or Barbara McNair, but they commanded a room with the just the force of their voices. My father and my older sister made me watch the Watergate hearings all summer, when I was only 9 or 10 years old, and that was where I saw Barbara Jordan. I was absolutely mesmerized by the sheer uncompromising power and moral force of the woman. Even as a kid I could tell that these white guys in the hearing room didn't necessarily want to be still when she spoke, but they simply had to be still.
Shirley Chisholm was amazing to me. She wore these terrible wigs and floral dresses, but she was awesome. Plus, she was West Indian, as is my family, so she put together a lot of possibilities for me. When she spoke, you just knew it was the truth. She also talked explicitly about being a woman. I was aware of the feminist movement in those days, but had really only heard (at least on TV) white women talk about their rights as women and access to power for women. But Shirley Chisholm was a black feminist. Because of these women, I actually thought I'd eventually end up as a politician. Because of them, I knew I wanted to speak truth to power. And they let me know that it was possible for an ordinary black woman to do it.
How do you balance work and life?
For years, poorly, I confess. I have a husband and 3 children and I think that only in the past 4 or so years have I started to get the balance right. When I was litigating full-time, and even in the 6 or 7 years of teaching I just worked too much; or if I wasn't working I thought about work too much. In fact, I probably spent more time with my children than most (one of the great things about teaching is the flexible schedule and the summers off), but I was often double-minded, thinking about articles I was trying to write or cases or something. So I didn't enjoy the time with my family as much as I do now. Now I'm at the point where I want to enjoy myself with my children and where I can put work in some perspective. I've noticed that I just don't have the kind of limitless energy I had in my 30s. When I turned 40 two years ago, I just started to slow down—and it's great. I'm still pretty stressed a lot of the time, but not as often or as greatly as in the past.
If you could choose another profession, what would it be?
Acting, acting, acting! On the stage.
What advice would you give to current students?
Try to find out why you want to enter this profession. If you don't know why, consider getting out now. It's a major investment and not one to be taken lightly. If you know why you want to be a lawyer, then hold on to that. Forget about student loans, and ornery professors, and late nights studying, and just press forward. Do the work. There's nothing like being happy and fulfilled in your work. It helps makes all the other pieces of your life stay together.