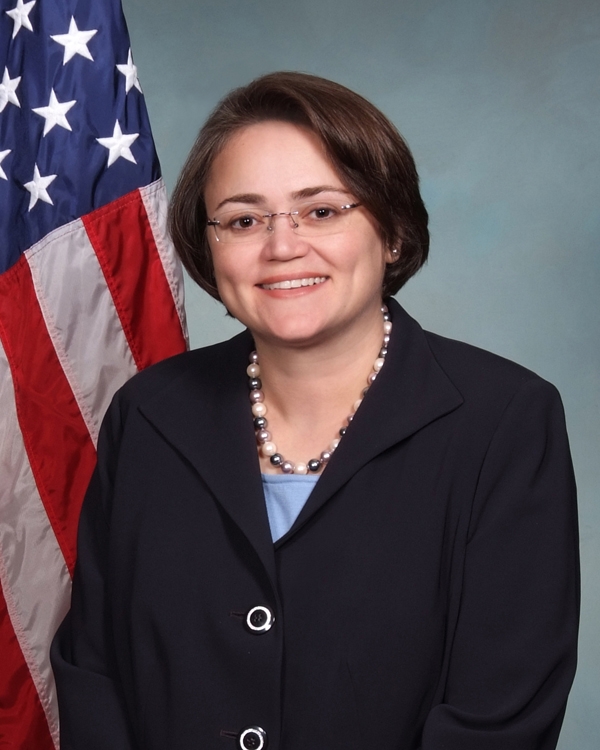 Heather Howard '97
Commissioner, New Jersey Department of Health and Senior Services
The New Jersey Senate early this year confirmed Heather Howard '97 as commissioner of the state's Department of Health and Senior Services. Howard, 40, now manages 2,000 employees and a departmental budget of $3.6 billion. She also serves as the department's public face, speaking out on issues ranging from the lead hazard posed by certain artificial turf fields to cuts in state hospital funding. Ms. Howard's appointment by Governor Jon Corzine is the latest step in a 15-year career devoted to public policy.
How did you become interested
in public policy?
After graduating from Duke University, I spent four years working for Congresswoman Nita Lowey (D-NY). I was working for her in 1992 when record numbers of women were elected to Congress. It was a very exciting time to be a female staffer working for a female member of Congress. For example, women's health issues had been on the backburner for a long time—but during that period we passed the Women's Health Equity Act, which among other things meant that women would be included in clinical trials. That's when I got bitten by the policy bug.
What made you decide to attend law school?
I was actually inclined to remain a Congressional staffer forever, but I knew grad school would give me skills and tools that I could put to use in making effective public policy. NYU really broadened my horizons. I particularly appreciate the time I spent with Marty Guggenheim in the Family Defense Clinic, which represents parents in abuse and neglect proceedings. I learned about the importance of advocacy—and about the power of the state for both good and bad.
After earning your J.D., you spent a few years working on healthcare anti-trust cases for the Department of Justice, and then served as a senior policy advisor for First Lady Hillary Clinton and associate director of President Bill Clinton's Domestic Policy Council. In 2001 you went to work for then-Senator Jon Corzine. What made you interested in following him back to New Jersey when he was elected governor in 2006?
There's an old adage that states are laboratories for reform—and it turns out to be true. There is so much happening at the state level, particularly when it comes to making policy. As the governor's policy counsel, for example, I was able help protect NJ FamilyCare, the state's health insurance program for low-income children and families, from federal cuts. We also expanded the Earned Income Tax Credit (EITC), which helps working families. 
Now, as a member of the governor's cabinet and commissioner of such a large department, what are your days like?
They vary a great deal. This morning I did a ribbon cutting at a new community health center in Paterson. The city has tremendous health care needs: The teen pregnancy and infant mortality rates are much higher than the state and national averages, and almost 40% of the patients seen at this health center are uninsured. Nearly a third of Paterson's residents are immigrants, and the community health center is able to deliver care in ways that are appropriate for their cultures. Now the Paterson center will have a new, modern building.

I've also been working on our budget. The state has faced dire fiscal constraints, and to address our structural deficit we cut funding across state government.  At the same time, the health care delivery system in New Jersey is in distress. A number of hospitals are losing money,  and we cut funding for the charity care  they provide, but targeted the remaining funds to the safety net hospitals serving the most uninsured. So I've been testifying before the state legislature and essentially defending the budget.

I also speak directly to the public about health issues. A couple of months ago, scientists in the Department of Health discovered that blades of "grass" in some artificial turf fields in New Jersey contain high levels of lead. We had to alert the public to the danger and recommend that artificial turf fields be tested for the presence of lead. If a lead test does come back positive, we recommended that access to the field be limited, especially for children under age seven.
How does your legal training affect your work?
When I was a student at NYU, we talked a lot about the role of a lawyer as an advocate. Although I'm not writing legal briefs every day, I'm an advocate for the health of the people of New Jersey. I certainly learned how to be a traditional lawyer, but more than that I learned about negotiating and working with people. Both of those skills are really useful in politics.
How do you balance your work with your personal life?
There's no easy answer. I have a five-year-old son, and it is definitely tough. You have to have a supportive partner or spouse, and good childcare is key. I feel fortunate that I have a good childcare arrangement, because not everyone does. And I rely on my BlackBerry to stay in touch from home or the road.
What advice would you give current students?
Be willing to pursue alternative career paths, and experiment with those choices through your summer jobs and internships. Also, a lot of people overlook this, but there are amazing opportunities in state government for internships and post-graduate jobs. Finally, don't ignore the importance of public policy making, where you can affect change on a macro level.
—Michaela Cavallaro