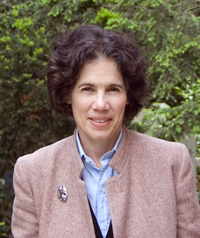 Judith Resnik '75
Arthur Liman Professor of Law, Yale University
Judith Resnik's body of work is devoted to such far-reaching questions of social justice that it defies neat summation. As a litigator she has argued for women's rights in front of the Supreme Court. As a scholar she has published books on subjects including migration, citizenship, and gender, and recently published a unique analysis of the relationship between courts and democracy. As a law school administrator she is the architect of the preeminent Arthur Liman Public Interest Program at Yale Law School. These accomplishments, however, only scratch the surface of her work, which encompasses occasional appearances before Congress and mentoring several generations of law students at Yale and the University of Southern California Law School. But when asked to define the governing philosophy of her career, she has a concise and powerful answer: To be as useful as possible.
Indeed, for Resnik usefulness is both a core mandate and a measure of her deeply felt sense of social responsibility. It's an idea that can be traced to one of her earliest role models, Norman Dorsen, Stokes Professor of Law and co-director of the Hays Civil Liberties Program at NYU. Dorsen selected Resnik for the prestigious Hays Fellowship in her third year at NYU. He says that he recognized not only a student who had already advocated for the rights of mentally ill criminal defendants and immersed herself in an initiative to ensure that prisoners received adequate healthcare, but also a young lawyer dedicated to protecting civil liberties and a superior and energetic legal mind at work.
"Of all the fellows we have had, Judith is without exception the most outstanding scholar that the Hays Program has produced," says Dorsen. "She pressed more than the other fellows about the underlying reason for a position—no matter if it was for, neutral, or against civil liberties."
Dorsen tasked the young Resnik with drafting a chapter of his seminal book Political and Civil Rights in the United States. That experience no doubt shaped Resnik's scholarly ambitions. But she was equally impressed by Dorsen's commitment to putting his ideas into practice, most notably during his time as general counsel to the American Civil Liberties Union.
"Norman is a remarkable example of a person who is utterly engaged in thinking about how to help the world flourish," says Resnik. Indeed, Dorsen's philosophy that one must integrate theory with practice in one's efforts to advocate for social justice is an idea that has defined much of Resnik's career.
After graduating from Bryn Mawr College in 1972 and from NYU Law in 1975, Resnik clerked for Judge Charles E. Stewart of the US District Court for the Southern District of New York and taught for a year at NYU. Then in 1976, she was offered a clinical lecturer position at Yale, where she taught classes related to post-conviction remedies and worked with law students who represented inmates at the federal prison in Danbury. She relished the tangible impact of the work, but classes, students, and clients did not give her enough time for writing.
Then in 1980 she joined the faculty of the University of Southern California Law School, where, over the next 17 years, she built an international reputation as a leading scholar of procedure, large-scale litigation, the federal courts, and gender. Her extensive writings on both federal courts and women's rights in the criminal justice system—alongside her occasional work as a litigator–brought her to testify before judicial committees or Congress, where she discussed issues ranging from Robert Bork's Supreme Court nomination to federal procedural rules and women prisoners' access to minimum-security facilities.
But it wasn't until she was asked to join the Yale Law school faculty in 1997 as the first Arthur Liman Professor of Law that she was given the opportunity to build a program that—like the Hays Fellowship—would enable students to join scholars, lawyers, and judges focused on the civil and criminal justice system and access to justice.
In Resnik's first year as the founding director, the Arthur Liman Public Interest Program and Fund supported one postgraduate law fellow. With the help of many and Yale Law School's significant contributions, the program has grown and now supports seven to 10 fellows a year. It also runs classes, hosts colloquia, sponsors fellowships for graduates of Yale Law School to provide legal services to diverse communities, and supports summer fellowships for students at Barnard, Brown, Harvard, Princeton, Spelman, and Yale. At the 15th anniversary this past March, 60 of the 77 fellows returned and joined current and former chief justices of California, Texas, Indiana, Alabama, New York, and Connecticut to talk about the challenges of scarce resources and heavy demands on courts.
Resnik traces the program's DNA to the Hays Program at NYU Law. Dorsen says with evident pride that "the Liman goals and many of the techniques are similar to ours, but their program is much bigger, more organized and, in some ways, more ambitious." For example, the Liman Program coordinated with a New Haven social worker, Joanne Goldblum, to co-host a conference on the right to diapers. Goldblum had calculated that it cost families about $1100 annually to keep a baby in diapers. She founded a "diaper bank" to provide free diapers to needy families, thereby helping to keep children healthy as well as eligible for child-care programs. The Liman Program worked with volunteer lawyers to draft legislation on the right to diapers, now pending before Congress.
Meanwhile, Resnik has continued to devote her scholarly energy to thinking about the relationship between democracy and courts. Several years ago she and her husband, Yale Law emeritus professor Denny Curtis, began to write a book arguing that adjudication as we understand it today–with independent judges, obligations to be publicly accessible, and availability to women and men of all colors–is a modern invention, the product of egalitarian social movements. Further, while venerable, courts are also vulnerable, as efforts to limit access and privatize dispute resolution undermine the public dimension of courts. The decision to hold "commissions" at Guantánamo Bay, rather than try detainees in the extant public system, is a dramatic illustration.
In one respect, their book, Representing Justice: Invention, Controversy, and Rights in City-States and Democratic Courtrooms, which was published last year by Yale University Press, is exactly what one would expect from a leading federal courts scholar. But she and Curtis have taken an entirely novel approach to their analysis by telling the story through the lens of the art and iconography of justice. The premise of the book is that the changing imagery reflects the impact of democracy on courts.
The book has been a critical and scholarly success, prompting profiles in the New York Times and talks around the world. Resnik and Curtis began their research long ago at the Warburg Institute at the University of London. Resnik now returns regularly to London, where she holds an appointment as an Honorary Visiting Professor at the University College London's Law Faculty. Asked why they took such an idiosyncratic approach to this classically themed project, she says most tellingly, in her direct and unpretentious way, that it simply interested her. In a sense, that answer captures a philosophy of social responsibility that takes as its precept that one's work must ultimately be authentically integrated with the practice of one's life.