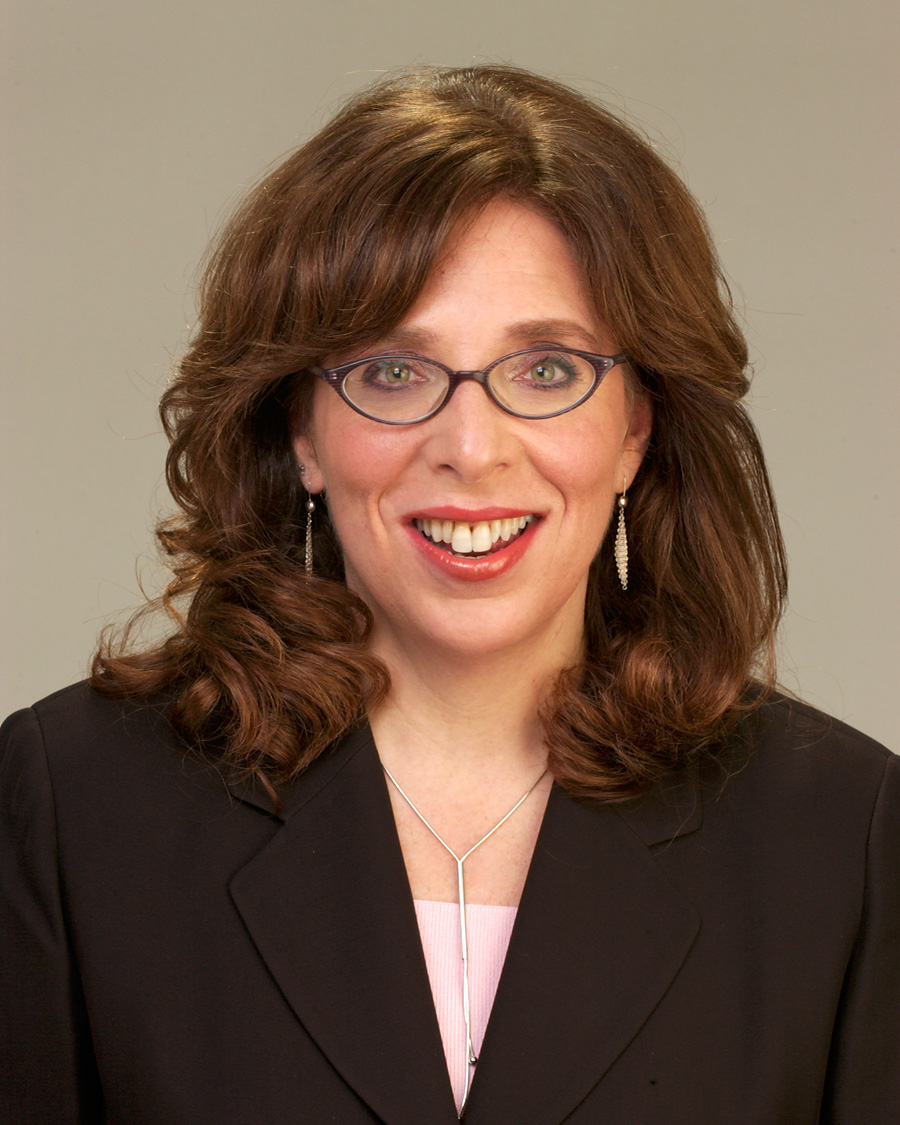 H. Gwen Marcus '81
Executive Vice President, General Counsel, Showtime Networks Inc.
Unlike the many people who go to law school with political aspirations or dreams of emulating Clarence Darrow at trial, Gwen Marcus '81 saw studying law as her way into show business.
"My father told me when I was young that if I wanted to work in the entertainment industry, as a woman my career options would be limited unless I went to law school. This was in the 1960s," explains Ms. Marcus, 52, who has risen to the rank of executive vice president and general counsel at Showtime Networks Inc., the premium cable television company she joined in 1984.
Indeed, the pragmatic advice from her father led Ms. Marcus to enroll at NYU Law in 1978, after she completed her undergraduate studies at Brandeis University. She dove into entertainment law-related coursework, including classes on copyright, antitrust and labor law.
Among her favorite courses was a contract law class taught by Professor Charles Knapp '60. The class appealed to Ms. Marcus because she saw that the parties negotiating a contract largely make their own rules—unlike other areas of the law. "They create the parameters of their relationship," she says. "And drafting a contract and making it work is like using a foreign language to solve a puzzle."
Between her second and third years at NYU Law, Ms. Marcus put her training to work at the New York law firm of Paul, Weiss, Rifkind, Wharton & Garrison, where she landed a summer associate position, and made her preference known for assignments from the entertainment department. "I was very lucky," she says. "Entertainment law is not an easy field to break into compared with other parts of the legal business."
After graduating, Ms. Marcus took a full-time entertainment law position at Paul, Weiss, where she focused on theater law. But in 1984, she was offered an assistant counsel position at Showtime. The network was eight years old at the time, and she joined her new department as the number two, in what was then a department of two. Despite the potential risk of hitching her wagon to a relative start-up, Ms. Marcus reveled in the experience. "It was an exciting time to be part of a fairly new industry, at a network with programming that already made a difference. Shortly after I joined Showtime, we aired The Biko Inquest about the circumstances surrounding the death of South African anti-apartheid leader Stephen Biko, which we premiered at the United Nations. In the years since, we've made many films highlighting important legal issues—ranging from Mr. and Mrs. Loving about the US Supreme Court's overturning Virginia's ban on interracial marriage, to Strange Justice about the Clarence Thomas/Anita Hill Supreme Court confirmation controversy, to Dirty Pictures about a Cincinnati museum's First Amendment rights to exhibit Robert Mapplethorpe photographs, to After Innocence about the Innocence Project's use of DNA to free people who've been wrongfully imprisoned. I'm immensely proud of our product."
Ms. Marcus describes the network's original programming as "very socially progressive." "Even our scripted series like Weeds and Dexter—where the main characters are a pot-dealing single mom providing for her kids, and a serial killer with a code of honor and a heart of gold—feature flawed yet on some level heroic souls, who dispense their own brand of justice." She explains, "We're a premium subscription-based network, and that gives us more creative freedom than advertiser-supported basic cable and broadcast television. We can tackle controversial issues in a fairly direct manner."
Last October, Ms. Marcus married Nancy Alpert, her partner of 26 years, who works as an in-house lawyer for A&E Television Networks. Ms. Marcus notes that Showtime's inclusive corporate culture allowed her in the early 1990s to come out as a lesbian for the first time in her professional career. "We were one of the first companies to undertake a big diversity initiative," she says. "Because I was in senior management, if I couldn't be out in such a welcoming environment, then shame on me."
Showtime's programming also has affected Ms. Marcus' life outside the office. Groundbreaking Showtime series such as Queer as Folk and The L Word, which centered on gay, lesbian, bisexual and transgender characters, led to several non-profit organizations inviting Ms. Marcus to speak on LGBT issues. "I became a quasi-political activist as a result of my tenure at Showtime," she says.
In the past 25 years at the network, Ms. Marcus has worn several different hats—often at the same time. As part of a small senior management team, she has been actively involved over the years in everything from standards and practices program review, business affairs, human resources, to dealing with the technical side of the business—helping the network transition to high-definition and usher in video-on-demand.
She credits her time at NYU Law for helping her navigate the day-to-day complexities of her job. That training has allowed her to climb the ranks in the entertainment industry—just as she hoped. And despite the allure of the footlights and show business glitz, Ms. Marcus remains happy making her creative contributions behind the camera—as a lawyer.