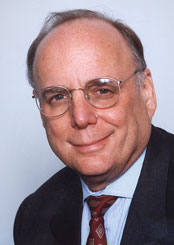 Stephen R. Greenwald '66, LLM '95
Read an Interview with Stephen Greenwald.
Stephen R. Greenwald is president of Metropolitan College of New York. He has represented capital defendants in post-conviction proceedings in North Carolina and Alabama for over 10 years. Mr. Greenwald was instrumental in obtaining clemency for his client, Robert Bacon, in North Carolina in October 2001. He is a member of the Board of Governors of the American Association of Jewish Lawyers and Jurists and is a trustee of the Commission on Independent Colleges and Universities in New York.
A graduate of Rutgers University and NYU School of Law, where he finished first in his class, Stephen also received his LLM degree from NYU School of Law in 1995. He has taught at Temple University Law School, the Benjamin N. Cardozo School of Law and Hebrew University.
Interview with Alumnus/Alumna of the Month
Stephen R. Greenwald '66, LLM '95
President, Metropolitan College of New York
What is your area of specialization and how did you come to work in this area?
In the early years of my practice I specialized in tax law. Since resuming practice on a limited basis in the early 1990s, I have specialized in the representation of capital defendants in state and federal post-conviction proceedings. I came to this area because of my long-time interest in the death penalty issue (always strongly anti-death penalty) and the influence of my studies in legal philosophy, jurisprudence and Jewish law in the course of the LLM program at NYU School of Law, which I completed in 1995. In particular, my master's independent research thesis (under the direction of Professor Derrick Bell Jr.) was on the subject of racism in the criminal justice system, with a special emphasis on the drug laws and capital punishment. My research led me to a deeper understanding of how seriously flawed and unjust the death penalty system was, and compelled me to become an active participant, rather than merely a passive supporter.
Describe a case or matter that you worked on that you found particularly challenging or rewarding.
Without doubt my most challenging and rewarding case was that of Robert Bacon, a capital defendant in North Carolina. I represented Robert for about eight years. He was scheduled to be executed on May 18, 2001.
We had exhausted all state and federal appeals and collateral proceedings. In a final attempt to save Robert's life, I and my co-counsel expanded on a somewhat novel legal theory that had previously been tried unsuccessfully, based on a claim that the governor of North Carolina had a conflict of interest in ruling on clemency for Robert. We commenced an action one week before Robert was scheduled to die and just a few hours before the execution the North Carolina Supreme Court granted a stay in order to hear our claim. I was with Robert at the time we received news of the stay. It was the moment I was most proud that I was a lawyer and that I could use whatever skills I had to save a life. Subsequently the governor granted Robert clemency. Had we not received the stay, it was highly likely Robert would have died that night.
What do you see as your most important role as a college president? What are the unique challenges that face a college president in a city like New York?
My most important role as a college president is to define and articulate a mission for the College's future and then to develop the resources, both human and financial, to achieve that vision. A corollary to that is to bring the best people I can to the College, both staff and faculty, and to support them in every way I can, publicly and privately, for they are the ones who will carry out the mission and achieve the vision.
The unique challenge a president of a relatively small college (1800 students) faces in New York is that of competition—for students, for recognition, for resources, etc. There are about 70 colleges and universities in the New York area, including some giants like my alma mater NYU School of Law, and it is difficult to carve out a niche and be recognized and noticed for it. But we keep trying and we will prevail!
How does your legal education and experience inform your work as a college president?
Fortunately or unfortunately, depending on how you look at it, running a college is an enterprise that, like many other businesses, is carried out in a highly regulated and legally-driven environment. Therefore, just as I believe that legal training and experience is of benefit in virtually every enterprise, so it is in higher education. Also, the traits and skills one hopefully acquires and hones as a lawyer—of analysis, identification of issue priorities, effective advocacy and communication—are extremely useful in the work of a college president.
What is the most rewarding aspect of your job?
Presiding at graduation, where I have the immensely rewarding privilege of awarding college degrees to extraordinarily deserving students, many of whom have overcome difficult life circumstances and backgrounds to reach that moment. At MCNY we serve a diverse group of students, the majority from communities of color and from the lower end of the economic scale; students who work, most full-time, while they study, most with families and most the first in their family to graduate college. Helping them achieve their dreams is what it's all about for me and it culminates at graduation.
How has your pro bono work affected your life and what advice would you have for others with respect to engaging in pro bono work?
As I mentioned before, my most rewarding moment as a lawyer came in a pro bono death penalty case. And I would venture that that is true for many lawyers who do pro bono work. You do it not because you have to (in most cases) but because you want to—and the very fact that it is pro bono adds an element of personal pride and satisfaction that elevates the experience above that derived from the usual work all attorneys do. Pro bono work reinvigorated me as a lawyer; reaffirmed my belief in the legal system (while still recognizing its flaws) and reconfirmed my choice of vocation.
My advice about pro bono work is—do it. Not only will it reward you in the ways I suggest, but it will have a salutary effect on how the public views the profession, and we can use all the help we can get on that score.
As a member of the Board of Governors, American Association of Jewish Lawyers and Jurists as well as someone who lectures on Jewish law, what role do you believe that religion can or should play in legal work or scholarship in general?
I consider myself a secular Jew. While in recent years I have been drawn back to the organized religion in various ways, my interest in Judaism, particularly as it relates to law, is primarily as a moral and ethical system; a system that in my view is highly humanistic and embodies the best values of modern civilization—tolerance, fairness, a respect for life and the primacy of the rule of law. In my case, there is a definite link between my death penalty work and Jewish law. If I, or others, sometimes question the value or rightness of this work, I find in the Talmudic edict, "Justice, justice shall you pursue," and in the exegesis of that edict which, in its effort to ensure the utmost fairness and absence of doubt before society could take a life, made capital punishment essentially impossible in Jewish law, affirmation that this work is right and worth the effort.
So I would say that religion, and religious thought and principles, can play a role in affirming or reaffirming one's thinking about fundamental legal issues.
Who are your role models in the legal profession?
My role models in the legal profession are Justices Oliver Wendell Holmes, Louis Brandeis, and William Brennan, and my favorite and most influential law professor at NYU, the late Edward Bloustein, who helped kindle my love of law which burns to this day.