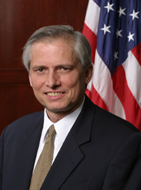 Jeremy Travis '82
Read an Interview with Jeremy Travis.
Jeremy Travis is the President of John Jay College of Criminal Justice, The City University of New York, and author of the recently published book But They All Come Back: Facing the Challenges of Prisoner Reentry. Prior to his appointment as President in 2004, Travis served four years as a Senior Fellow affiliated with the Justice Policy Center at the Urban Institute in Washington, DC, where he launched a national research program focused on prisoner reentry into society and initiated agendas on crime in a community context, sentencing and international crime.
From 1994-2000, Travis directed the National Institute of Justice, the research arm of the US Department of Justice. Nominated by President Clinton and confirmed by the Senate, Travis reinvigorated the agency, managing the growth of its annual budget from $25 million to $120 million and placing it at the cutting edge of research. He established major initiatives to assess crime trends, evaluated federal anti-crime efforts, fostered community policing and new law enforcement technologies, advanced forensic sciences—including DNA testing—and bolstered research on counter-terrorism strategies.
Prior to his service in Washington, Travis was Deputy Commissioner for Legal Matters for the NYPD, Chief Counsel to the US House Judiciary Subcommittee on Criminal Justice, Special Advisor to New York City Mayor Edward I. Koch, Assistant Director for Law Enforcement Services for the Mayor's Office of Operations, and Special Counsel to the Police Commissioner of the NYPD.
Before joining city government, Travis spent a year as a law clerk to then-US Court of Appeals Judge Ruth Bader Ginsburg, currently a member of the United States Supreme Court. He was the Marden and Marshall Fellow in Criminal Law at NYU School of Law, Executive Director of the NYC Criminal Justice Agency from 1977-79 and served six years at the Vera Institute of Justice.
Travis has taught courses on criminal justice, public policy, history and law at Yale College, the NYU Wagner Graduate School of Public Service, New York Law School and George Washington University. In addition to his recent book, Travis has co-edited two books and published numerous book chapters, articles, and monographs on constitutional law, criminal law and criminal justice policy.
Travis earned a JD, cum laude, from the NYU School of Law, and an MPA from the NYU Wagner Graduate School of Public Service. He received a BA cum laude in American Studies, from Yale College.
Interview with Alumnus/Alumna of the Month
Jeremy Travis '82
What is your area of specialization and how did you come to work in this area?
Criminal justice research, public service, and government administration are areas where I have hands-on experience. In the last five years, I have been researching issues surrounding the return of prisoners to communities around the country. The result is a recently published book, But They All Come Back: Facing the Challenges of Prisoner Reentry.
What is your most important role as a college president?
Our goal at the John Jay College of Criminal Justice, which is part of the City University of New York, is to be the world's premier research institution in criminal justice as well as a top notch teaching institution. My role is to provide leadership to assemble and marshal the people and resources needed to realize this goal. We are building on a 40-year tradition of accomplishment at John Jay. We have a deeply talented faculty and benefit from the energy of the 14,000 students who attend the college. My aim is to take the College to the next step, into a new era of excellence in the classroom, in research and scholarship, and in valuable service to a diverse community that is centered in New York but extends throughout the world.
What was your first job out of law school?
My first job was serving as a law clerk to Judge Ruth Bader Ginsburg when she sat on the Court of Appeals for the District of Columbia Circuit. Following that wonderful experience, I returned to New York City and to NYU School of Law as the Marden and Marshall Fellow in Criminal Law in the newly-established Center for Research on Crime and Justice. This step in my career was a pivotal moment; it brought me back to my two loves - New York City and criminal justice research and policy. And, most importantly, I met my wife, Susan Herman, during my fellowship year - she was a writing instructor at the Law School.
Has the post 9/11 climate in New York City (as well as the rest of the country) and subsequent focus on terrorism affected the mission of John Jay?
The nation's focus on terrorism underscores the central mission of John Jay College and has made us rethink our role as an institutional citizen of the City of New York. Among the victims of the terrorist attacks on 9/11 were 67 members of the John Jay family who lost their lives, many of them heroically as they saved others. We are absolutely committed to do more to bridge the gap between research and practice and to help provide the best practical means to counter terrorism. Since becoming President, I have worked to strengthen our ties with the Police Department, Fire Department and Office of Emergency Management to see where we can be of better service in the wake of 9/11. We have initiated a partnership with the private sector to ask leaders in a variety of critical industries in New York, including the securities industry, banking, real estate and communications fields, how John Jay can play an even more significant role in helping them protect New Yorkers in the face of what we all view as some very real threats and a changed landscape.
What is the most rewarding aspect of your job?
I feel privileged to lead the college, especially in the wake of 9/11. Our mission concerns the basic questions of how we, as a democratic society, face the challenges of crime and justice while respecting the dignity and freedom of each individual. John Jay is uniquely positioned at the crossroads of research and practice. We can help agencies of justice improve the way they operate, and we can help shape the way the public views our criminal justice system. At the same time, we are helping to educate and train the next generation of leaders in law enforcement and public service.
In your research on prisoners' reentry into society, have you found specific differences between those that are successful in acclimatizing and those who return to prison?
Virtually everyone who goes into prison eventually comes out. An estimated 630,000 prisoners are released from state and federal prison each year- four times the number coming out of prison twenty years ago. As a nation, we have made a policy choice to significantly increase the use of prison as a response to crime. Now we need to focus on the consequence of that decision, the challenge of reintegrating hundreds of thousands of our fellow citizens. This includes a renewed focus on providing services while people are in prison, as well as new approaches to the period of transition from prison back home. We have a solid research basis now for identifying the individuals, conditions, and time periods that provide the highest risk of failure during this journey home. Now we need to devote our energy to developing policies and programs that will reduce those risks. Our failure to do so means higher crime rates, lower productivity, and an increasingly marginalized group of former prisoners.
How do you think your education at NYU School of Law prepared you for the career you have had thus far?
NYU School of Law provided both an excellent education and wonderful opportunities to experiment with different ways to engage in the practice of law. This mix of first-rate classroom education and real world experience was invaluable to me as I have pursued a career mixing research and practice.
Who are your role models in the legal profession?
I have been fortunate to work closely with some brilliant and truly wonderful people in the legal profession who have helped shape my career. I was a law clerk to Ruth Bader Ginsburg when she was a judge on the US Court of Appeals for the DC Circuit. Justice Ginsburg spoke at John Jay's 40th Anniversary Convocation this past December. I also served under US Attorney General Janet Reno when I was Director of the National Institute of Justice. Ms. Reno and I continue to work on ways to improve the operations of the criminal justice system based on lessons learned from the DNA exoneration cases. Finally, one of the most important role models in my life was Benjamin Ward, the city's first African-American Police Commissioner, whose insights into policing, crime, and justice had a profound impact on my career.
How do you balance work and life?
I have a wonderful family. Susan and I have two teenage daughters who are enjoying our return to New York City and are growing up to be remarkable young women. My family has been my inspiration and my grounding, reminding me why I do what I do, and reminding me that I am not who I am because of what I do.
If you could choose a different profession, what would it be?
At one point in my career I considered being a law professor, but I am now firmly committed to my work at John Jay.
What advice would you give to current students?
Work hard on your studies. Take full advantage of the opportunities provided at your institution both in the classroom and in extracurricular activities. That includes attending as many lectures, panels and cultural events as possible. Try to find what interests you most and follow your passion. Seek internships in the fields you want to explore. Test yourself and don't be afraid to take risks. Talk to as many knowledgeable people as you can about your area of interest. Find a mentor— someone you can talk with about your goals and plans. Soak it all in, and never forget what a great privilege it is to be at an institution of higher learning.