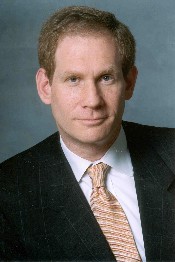 John N. "Janno" Lieber '90
Read an Interview with John Lieber.
As senior vice president of World Trade Center Properties, John ("Janno") Lieber is responsible for management of all aspects of the Silverstein organization's efforts to rebuild at the World Trade Center site.
Prior to joining the Silverstein organization, Mr. Lieber served as Senior Vice President of the Lawrence Ruben Company. In this capacity, Mr. Lieber headed the company's public-private development efforts, including the planned redevelopment of the Port Authority Bus Terminal as part of a 1.45 million square foot retail and office space project.
From 1999 to 2001, Mr. Lieber was an independent consultant specializing in transportation and infrastructure issues. Among other projects, he helped create the financial and legal structure for the $700 million-plus conversion of the James A. Farley Post Office Building into a new terminal for Penn Station.
From 1994 to 1998, Mr. Lieber served at the US Department of Transportation, first as Deputy Assistant Secretary for policy, and later rising to Acting Assistant Secretary.
Earlier in his career, Mr. Lieber practiced law at the New York firm of Patterson, Belknap, Webb & Tyler, and served in the office of New York City Mayor Ed Koch and on the staff of The New Republic magazine.
Mr. Lieber is a graduate of Harvard University and New York University School of Law.
Interview with Alumnus/Alumna of the Month
John N. "Janno" Lieber '90
Senior Vice President, World Trade Center Properties
What is your area of specialization and how did you come to work in this area?
More by accident than design, I have developed a specialty of sorts in large, complex public-private real estate projects. In 1999, when I returned from Washington after a stint in the Clinton Administration, I became involved with the effort to build a new train terminal in the Farley Post Office, across 8th Avenue from the current Penn Station. Subsequently, I was hired by a development team that had won the rights to redevelop a portion of the Port Authority Bus Terminal and construct an office building on top. Those two experiences – along with some other work with public agencies like Chicago Transit Authority and New Jersey Transit and more than a little luck – landed me in my present position.
Until 2001, people typically viewed the World Trade Center as representing New York's lead position in the financial world. What do you believe the new WTC site will represent?
The rebuilt World Trade Center will be a global commercial center with state-of-the art office buildings. But it will also be different from the first WTC in certain ways. Most important, it will always be a place of remembrance, and a large portion of the site will be dedicated to the memorial gardens. Second, consistent with the Libeskind site plan, it will include some of the largest and most significant open spaces in New York City. Also, it will include many other things that will help the transformation of downtown into an exciting 24/7 community, including dynamic destination retail and a major cultural facility.
How do you manage the emotional component that is so heavily entwined in the WTC project?
There is no way to "manage" the emotional component of the project: it must be accepted and integrated into every aspect of our work. However, I personally do find it inspiring to work to create a place that will honor the memory of those who were lost on 9/11 – not merely by creating a memorial, but more broadly by bringing into being a great new area that all New Yorkers will benefit from and view with pride.
How has your legal education and experience prepared you for your role at Silverstein Properties?
I have always found the core skills of legal practice – analytical thought, persuasive oral and written argument, negotiating – to be transferable. In addition, many of the issues I deal with are explicitly legal matters – especially our litigation to get the insurance companies to make good on Silverstein's policies.
Who are your role models in the legal profession?
John Zucotti, who today serves as Chairman of Brookfield Properties, as counsel to Weil, Gotshal & Manges, and as Chairman of the Real Estate Board of New York, is a giant for anyone who has chosen to make a career at the intersection of law, government and development. He also happens to be one of the smartest, most decent people I've ever met.
What was your first job out of law school?
I was an associate attorney at Patterson, Belknap, Webb & Tyler.
Following the completion of the WTC site, what would be your dream project?
It's hard to see that far down the road. But I'd love to be somehow involved with rebuilding downtown Brooklyn.
If you could chose another profession to be in, what would it be?
Arts or academia.
What advice would you give to current students?
Follow your interests: you never know where you'll end up.