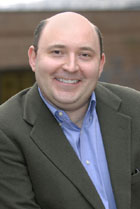 Nicholas R. Baldick '95
Read an Interview with Nicholas R. Baldick.
Nicholas R. Baldick is the President and founder of Hilltop Public Solutions, a consulting firm in Washington , DC that specializes in campaign solutions. Prior to forming Hilltop, Baldick served for five years as a principal at the Dewey Square Group, focusing his efforts in grassroots and public affairs strategies. With nearly fifteen years of experience in the political arena, Baldick brings his nationally recognized expertise and reputation to current business and political concerns.
Baldick has successfully managed several grassroots and state and local campaigns on behalf of a number of Fortune 100 companies. These efforts have included nationwide campaigns on behalf of the nation's largest financial services firm, the world's largest private healthcare provider, one of the world's largest airlines and a major fast food retailer.
In 2003, Baldick served as the national campaign manager for Senator John Edwards' presidential campaign. In his role as campaign manager, Baldick developed, refined and oversaw the execution of the campaign's strategic plan and day-to-day operations, while managing the campaign's 150 employees and roughly $33 million in expenditures.
Baldick held a leading role in Vice President Al Gore's 2000 presidential campaign. As the New Hampshire primary state director, he was responsible for developing, refining and executing a campaign plan that brought the candidate back from a 15-point deficit to a four-point victory, despite being outspent by $1.5 million. This follows previous work with Vice President Gore, where he directed and managed the Vice President's political action committee, Leadership '98.
In 1997 Baldick served as the eastern political director within the White House Office of Political Affairs. In 1996, Baldick directed Florida 's Democratic coordinated campaign, winning the state for a Democratic presidential candidate for the first time in 20 years. During the 1996 primary campaign, he served as a state director in New Hampshire, Wisconsin and New Jersey. Baldick also served as the campaign director of the 1994 Rhode Island coordinated campaign, as the northeast political director at the Democratic National Committee during the 1993 elections and as a field director in the 1992 Clinton primary campaign.
Interview with Alumnus/Alumna of the Month
Nicholas R. Baldick '95
What is your area of specialization and how did you come to work in this field?
I manage political campaigns-some are for candidates running for office and others are public policy campaigns.
The summer between my first and second year at NYU School of Law I interned with the Alliance for Justice which was, at that time, opposing the Clarence Thomas nomination. After the hearings ended I wanted to help elect a better president than we had at that time so I asked a friend whom I should work for. He told me to go work for Bill Clinton. So I did.
Which campaign(s) have you worked on that have been particularly challenging and/or rewarding and why?
In 1992 I began as an unpaid field organizer for Bill Clinton traveling from primary state to primary state. Eleven months later I was the Election Day coordinator in Colorado . It was a great ride working for a great candidate and helping in a very, very tiny way to defeat an incumbent president.
Twelve years later, I was campaign manager to Senator John Edwards' presidential campaign. Senator Edwards was an incredible candidate, who was so dedicated to his belief that we can build one America where anyone who works hard and plays by the rules has a chance to get ahead.
With money driving political campaigns on all levels, is there still room for the idealistic activist?
Money is still the mother's milk of politics, but there are plenty of candidates that win who are outspent by their opponents. In 2004, the presidential candidate with the most money did not win the Democratic nomination. Money helps to amplify a candidate's message, but if the public doesn't like a candidate, trust that candidate, or think that he or she cares, then it doesn't matter how much money a candidate has.
After the ballot counting controversy in Florida in the 2000 Presidential elections, many people became cynical about the voting process that is currently in place in the U.S. How do you maintain your passion for a system that has been described as deeply flawed?
I agree with those who say that our voting process is deeply flawed, but I don't think that means we can give up hope in our country because of concerns about voting machines. I think that each election is about my two kids living in a better country when they are my age. I don't believe we can let the problems we face today get in the way of trying to solve those problems.
What do the Democrats need to do to be serious contenders in the 2008 presidential campaign?
Democrats need to stand up and fight for what we believe in. We believe that all Americans should have the opportunity to achieve the American dream. We need to stand up and fight for people who don't have a voice. The American people are looking for real leadership.
Where do you see the political landscape in 5 years?
Five years ago I had never heard of a blog, so there's no way I can say what the political landscape will be in 5 years. However, I do think that Americans will likely be in search of some of the same things as now, like affordable healthcare, better schools, and a government that rewards work rather than just wealth.
How did NYU School of Law prepare you for the career you have had?
NYU School of Law helped me to develop a process for thinking about and solving problems that has been a part of everything that I've done since graduating.
How do you balance work and life?
Like millions of Americans I balance work and life through compromise. Luckily I have an amazing wife who also worked in the Clinton Administration, so she is understanding of the demands in this business.
If you could choose another profession to be in, what would it be?
I enjoy what I do, but if I had to pick another profession I think it would be fun to be the general manager of a major league baseball team.
What advice would you give to current students?
I've been lucky enough to find something I enjoy doing. I've had the opportunity to work for candidates and clients who have challenged me; I've also managed to surround myself with people who enjoy hard work as much as I do. My advice is probably not anything current students haven't heard before: Find something you love doing and pour yourself into it. Never stop striving to be better at what you do.