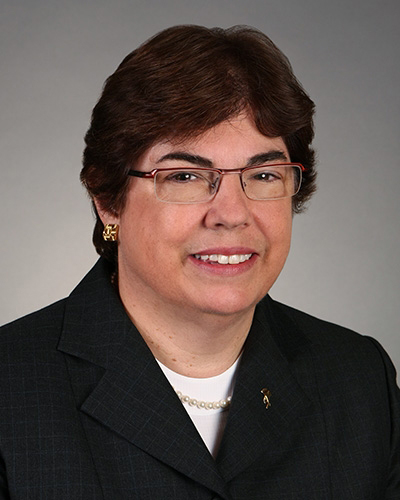 Patricia Martone '73
Partner, Ropes & Gray LLP
When she entered Washington Square College at NYU in 1964, Patricia Martone '73 figured she would spend her career puzzling over theoretical chemistry problems in some well-scrubbed laboratory. But after a one-year master's program at Johns Hopkins University in the late 1960s, Ms. Martone realized research chemistry just wasn't her calling. "The pursuit of science was very theoretical and unworldly," she says. "I wanted something that had more impact and was more keyed in to real world issues."
That "something" turned out to be a trailblazing law career. But Ms. Martone didn't have to sacrifice her interest in science. Indeed, 37 years after receiving her JD from NYU Law, Ms. Martone, a Manhattan-based partner at the law firm of Ropes & Gray, has flexed her intellectual capacity for understanding hugely complex scientific issues to become a formidable intellectual property and patent lawyer. "To be a good patent lawyer, you have to love science," she says. "You need the ability to argue about issues of technology as well as the same skills any good trial lawyer needs."
A summer associateship while she was a law student at NYU set Ms. Martone firmly on her path. At the venerable boutique IP firm Fish & Neave, whose first patent clients included technological pioneers Thomas Edison, Alexander Graham Bell and the Wright Brothers, Ms. Martone found herself drawn to the way IP and patent law mixed technical know-how with courtroom skills. After graduation, she decided to focus on commercial litigation for three and a half years, practicing at the New York firm of Kelley Drye & Warren before rejoining Fish & Neave in 1977.
During the 1970s IP law was a little known specialty practice. What's more, it was almost entirely the dominion of men. When she was named partner at Fish & Neave in 1983, Ms. Martone became the country's first female partner in an IP law practice. "The firm always treated me well, but clients often treated me skeptically," she said. "I think clients couldn't believe that women could be good trial lawyers."
Ms. Martone certainly dealt that idea a blow in the 1980s when she served as trial attorney in the headline-making, 15-year-long patent infringement battle between Polaroid and Eastman Kodak. Ms. Martone represented Polaroid, which sued Kodak after Kodak developed and sold an instant-film camera. In 1985, the U.S. District Court of the State of Massachusetts blocked Kodak from selling its version of Polaroid's famous instant camera, and at the damages trial in 1990 the court awarded Polaroid nearly $1 billion—a record at the time. "This was the first case about patents that the public really heard about," says Ms. Martone.
Since then the practice of IP law has gone through seismic shifts as the volume of IP and patent infringement cases has risen dramatically with the advent of the digital age. The pace of innovation has speeded up tremendously, and more and more companies are trying to carve out market niches by keeping competitors away from their proprietary technologies. Today Ms. Martone, who joined Ropes & Gray when it combined with Fish & Neave in 2005, works with a wide variety of companies. Her recent clients range from multinational firms such as Sanyo Electric Co. and British Telecom to small tech companies including Plasma Physics and Solar Physics, which developed ground breaking technology for the manufacture of semiconductor wafers and flat panel displays.
The fast pace of technological breakthroughs has made the IP lawyer's job more challenging. These days, being an effective IP attorney requires fluency in the inner workings of anything from a new semiconductor design to the chemical makeup of a promising drug—and the ability to keep up when technology shifts. Fortunately, that part of the job is appealing to Ms. Martone, who specializes in semiconductor, electronics and telecom technology. "I'm not a gadget freak, but I love technology," she says. "That makes this job a lot more fun."
Still, Ms. Martone finds that doing pro bono work brings welcome variety. She is on the Emeritus Board of the New York Lawyers for the Public Interest and previously served on the Board of the Legal Services of New York. But she squeezes in downtime with her spouse, Barbara Rosen, a clinical psychologist whom she married in Toronto in 2006. The couple enjoy their subscription to the Metropolitan Opera and travel as often as they can. "I'm really focused on Italian culture and language," says Ms. Martone, who serves as a board member of the National Organization of Italian American Women.

Since becoming an IP and patent lawyer in the 1970s, Ms. Martone says the landscape for women in IP law also changed dramatically. Since her pioneering early days, women increasingly have trained in science and technology—and have applied those skills to the legal profession. Ms. Martone, who is an adjunct professor of patent law at NYU Law, sees the change in her firm and in the classroom. "There are many women in their 20s, 30s and 40s who studied electrical engineering," she says. "In my time, there were only a few in the country. Things have certainly changed."
One thing that's unlikely to change is the rapid pace of innovation in the technology world. That's good news for lawyers such as Ms. Martone, who have seen the practice of IP law emerge from obscurity in the past few decades. "IP law is a really popular field now," she says. "A lot of the high-stakes litigation these days is over technology, and that's really exciting for lawyers like me."