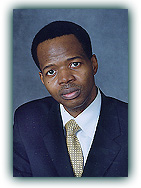 Kenneth Thompson '92
Read an Interview with Kenneth Thompson.
Read the court transcript from the Abner Louima trial.
Kenneth Thompson is a founding partner of Thompson Wigdor & Gilly. As an experienced trial attorney and former federal prosecutor, Mr. Thompson has litigated a wide range of employment discrimination cases and criminal matters in federal and state courts. He has also led both criminal and civil investigations and is the head of the firm's Trial Practice Group. Mr. Thompson's trials and investigations have resulted in a number of television and newspaper interviews on various legal matters and landed him on the front page of Newsday after he delivered the opening statement in the Abner Louima federal civil rights trial. He has also appeared on Good Morning America and the Fox News Channel. Mr. Thompson served as an Assistant United States Attorney in the US Attorney's Office for the Eastern District of New York for more than five years. Mr. Thompson's impressive record includes a number of convictions at trial and successful investigations and prosecutions of bank robbery, murder-for-hire, bribery, embezzlement, kidnapping and other offenses. He also received numerous awards from the FBI, the Commissioner of the New York City Police Department, and a host of other law enforcement agencies, and was recognized by the US Attorney's Office for his outstanding contributions.
Mr. Thompson's role in the successful investigation and prosecution of New York City police officers for the brutal beating and torture of Abner Louima—one of the most horrific cases of police brutality in the history of New York City—was just one of his career highlights while in the US Attorney's Office. His powerful opening statement at the Louima trial was considered by many, including a number of federal judges and news reporters, as one of the greatest opening statements ever delivered in the Eastern District of New York. Echoing the sentiments of many observers in the courtroom, newspaper columnist Jimmy Breslin reported that Thompson "delivered an opening statement that will be remembered." Most importantly, his formidable trial skills and dedication to the prosecution contributed to former Police Officer Justin Volpe pleading guilty in the middle of the trial and to the jury convicting former Police Officer Charles Schwarz of violating Abner Louima's civil rights. In addition to his trial work, Thompson assisted in briefing then FBI Director Louis Freeh on the status of the Louima investigation.
Thompson has participated in some of the country's most prominent, high-profile investigations. In 1993, he was a member of the Treasury Department's Waco Administrative Review, which conducted the investigation ordered by then President Bill Clinton of the raid on the Branch Davidian compound in Waco, Texas by federal agents, in which four agents were killed and 20 others shot and seriously wounded. Thompson was one of the attorneys who drafted the official report on the Waco incident, known as the "Waco Report, which has been praised as a model for government investigations. The Washington Post called it "[a] thorough and candid account of a .law enforcement disaster." The New York Times also weighed in, describing the Waco Report as "brutally detailed."
Thompson earned his law degree in 1992 from New York University School of Law, where he received the prestigious Arthur T. Vanderbilt Medal for outstanding contributions to the law school, and he earned a BA, magna cum laude, from John Jay College. Following law school, he served as a clerk for United States District Judge Benjamin F. Gibson, former Chief Judge of the Western District of Michigan. He also worked for United States District Judge Robert P. Patterson, Jr. in the Southern District of New York, for two New York State Supreme Court Justices, and at the New York State Legislature. He is admitted to the New York State Bar, the US District Courts for the Southern and Eastern Districts of New York and the US Second Circuit Court of Appeals.
Interview with Alumnus/Alumna of the Month
Kenneth Thompson '92
What is your area of specialization and how did you come to practice in this area?
Employment discrimination, general litigation, and criminal law. I learned the substantive area of employment law while at Morgan Lewis & Bockius LLP, and developed my litigation skills, particularly with respect to criminal matters, while in the US Attorney's Office and during my federal clerkship.
What qualities do you think are essential in order to be a great trial lawyer?
Credibility and standing with the jury, knowledge of the facts and law, thorough preparation, and an ability to look the jurors in their eyes and speak from the heart.
Describe a case or matter that you worked on that you found particularly challenging or rewarding.
Delivering the opening statement during the Abner Louima federal civil rights trial was one of my most rewarding moments as a lawyer. It was an honor to have been given the responsibility to present the case on behalf of the United States against police officers who had violated their oath to serve, their oath to protect, and their oath to uphold the law by sodomizing a helpless and badly beaten man with a broken broomstick.
Working as a criminal prosecutor, did you ever feel in danger during or after a case?
Once while I was on trial in a murder in aid of racketeering case involving the leaders of a violent Brooklyn armed robbery gang, associates of the defendants came to the trial and tried to intimidate me. However, after the defendants were convicted and received life sentences, I never saw their associates again.
What is the most rewarding aspect of your job?
Helping people who have had their rights violated.
You've worked on a number of cases that drew considerable media attention. Did the media impact the way you handled the case?
On occasion, media coverage has caused others who had been wronged in a similar manner to come forward and speak out.
You've transitioned from being a federal prosecutor to working in the private sector. What prompted the change and what are some of the notable differences?
Financial reasons and the desire to take on challenges in the private sector. The most notable difference for me is that I now have the freedom to pick the cases, both civil and criminal, that I want to work on. Private practice also allows me to help people from all walks of life, from women who were sexually harassed in the workplace to businessmen who are facing federal criminal charges.
Who are your role models in the legal profession?
Ted Wells of Paul, Weiss, Rifkind, Wharton & Garrison LLP
How do you balance work and life?
I keep in perspective that my wife and daughter are more important than any case that I'm working on.
If you could choose a different profession, what would it be?
Filmmaker
What advice would you give to current students?
Don't follow the crowd. Do what is in your heart and not what others want you to do; and try to help others along the way.