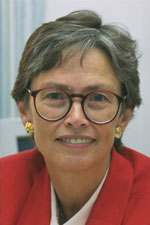 Carol Bellamy '68
Read an Interview with Carol Bellamy.
Carol Bellamy assumed the leadership of World Learning on May 16, 2005, having recently completed ten years as executive director of UNICEF, the children's agency of the United Nations.
A private, non-profit international organization, World Learning promotes international and intercultural understanding, democracy, social justice, and economic development through education, training, and field projects in over 100 countries on five continents around the globe.
During her tenure at UNICEF, Ms. Bellamy brought a compassionate yet pragmatic ethic to improving the lives of children. She stepped up UNICEF's work in emergencies, doubled its funding, put the issues of child exploitation on the global agenda and fought for health, protection and education as fundamental rights of every child.
Prior to joining UNICEF, Ms. Bellamy was Director of the United States Peace Corps. Having served as a Peace Corps volunteer in Guatemala from 1963 to 1965, she was the first former volunteer to run the organization.
Ms. Bellamy has had a distinguished career in the private sector. She was a Managing Director of Bear Stearns & Co. from 1990 to 1993, and a Principal at Morgan Stanley and Co. from 1986 to 1990. Between 1968 and 1971 she was an associate at Cravath, Swaine and Moore.
Ms. Bellamy also spent 13 years as an elected public official, including five years in the New York State Senate (1973-1977). In 1978 she became the first woman to be elected President of the New York City Council, a position she held until 1985.
Ms. Bellamy is a former Fellow of the Institute of Politics at Harvard University's Kennedy School of Government, and an honorary member of Phi Alpha Alpha, the US National Honor Society for Accomplishment and Scholarship in Public Affairs and Administration. Ms. Bellamy graduated from Gettysburg College in 1963. She was born and raised in the New York area.
Interview with Alumnus/Alumna of the Month
Carol Bellamy '68
You recently started a new job as President and CEO of World Learning. Can you tell us about that organization and why you chose it as your next step after serving two terms as UNICEF's Executive Director?
In the funds and programs at the UN you are allowed a maximum of two terms or 10 years. I served the maximum and it was an extraordinary 10 years - I loved it. So when it came time to move on, I saw that the position at World Learning was available.

World Learning is a non-profit, internationally focused organization that is anchored in both education and development. It focuses on expanding international understanding and cultural understanding and it largely focuses on young people. We have high school programs, undergraduate programs and graduate programs.So the main reason I chose it as my next step was that it allowed me to continue to be involved in my love of education, international issues and young people. I don't think there has ever been a greater need for international and inter-cultural understanding, and to the extent that World Learning can make a contribution in this area, I am really excited about it.
During your 10 years at UNICEF, you must have seen many, many nations in crisis. I know UNICEF was a big part of the Tsunami relief effort. Had you ever before seen a crisis of that scale?
When one considers that there were nine Asian countries and a couple of African countries affected; when one considers the loss of life, which was close to a quarter of a million people, no I had not. That being said, the impact of natural disasters is in my view getting worse. The world has always had natural disasters, but what we are seeing so often now is that it is the poorest people who live in the most fragile environmental areas who are affected. Because we've done such environmental damage in this world-whether because of de-forestation or other long-term environmentally negative actions-the impact is falling on people to a greater degree. So although I have never seen anything to the degree of the Tsunami, I worry about the increasing devastation of natural disasters because of what human beings have done.
After so many years "on the front lines" of relief efforts with UNICEF, as well as directing the Peace Corps, was it hard for you to be on the sidelines with our own country's devastation in the aftermath of Hurricanes Katrina and Rita?
You mean when I was screaming and kicking at my television? Within twenty four hours, we—meaning the global community—got fresh water to Banda Ache, which is not an easy place to get to. I saw people in New Orleans who could not locate family members, and I thought back to 1995 in Rwanda when the global community was able to help reunite families just by using Polaroid cameras. Katrina and Rita were huge, so even if the relief effort was perfectly run there would have been incredible devastation. But yes I was a little frustrated.
How did your years at NYU School of Law prepare you for the career that you have had?
I'm a strong advocate of NYU School of Law. What it did for me is it helped me make choices. I've been lucky enough to work in both the private and public sector. In the private sector I worked as a lawyer, which was a very important part of my training, and also as an investment banker. In the public sector I've been a politician, director of the Peace Corps, and director of UNICEF. I loved working in both the private and the public sectors. I think my education in law taught me to think strategically and in some way influenced all of my career choices.
What was your first job out of law school?
I was an associate at Cravath, Swaine, & Moore LLP, and I loved my time there even though it was brief.
You served as an elected public official from 1972 until 1985. Do you think politics/political campaigns have changed significantly since you ran for public office? Do you think the US is ready for a woman president?
I think politics have changed significantly in two ways: First of all, there were really very few women in political office when I first started running, and there is good and bad in that. In the early years it was probably a negative to be a woman running for office. Not too much later though, it could be a slight benefit because people would think that women were more honest—which they are not! It seems to have changed a great deal. I think generally gender is not such an issue in elections today.

The other way I think elections have changed is that politics in the United States are so incredibly money driven these days. The role of media—and therefore the cost of campaigns in elections today has grown quite dramatically from when I started.

Sure, I think the country is ready for a woman president—it's long overdue! I mean do people think that there has never been a woman who has been qualified? I wonder what those same people think of some of the men who have been elected!
After leaving public office you had a successful career in the private sector. What made you decide to go back to the public sector when you took a job with the Peace Corps in 1993?
I didn't want the job at first, but those smart people in Washington convinced me to come spend a day at their office. I think I called them back that same night and said I thought it must have been my evil twin who said she didn't want the job, because I was interested. I just fell in love with the Peace Corps.
How do you stay positive and motivated to keep fighting for social change when you see such overwhelming problems with our children of the world who have been affected by poverty, AIDS, and war? Have you ever felt 'burned out'?
I get asked this a lot, and I wonder if there is something wrong with me sometimes, because I have never felt burned out. I've been tired, angry, discouraged, but one of the great things about organizations like UNICEF is that even though I see really horrific things, I get to be around kids. I remember once I was asked if children in poor countries cry all the time, and the answer is no. They may get sick and too many may die before the age of 5, but they run around and play games and jump rope and laugh just like kids everywhere else. So I want to strangle some of the leaders of the world for their 'talk' about kids and their lack of 'do' about kids, but if anything it just gets me more motivated.
What advice would you give to current students?
Get some kind of practice under your belt even if you aren't ultimately intending to be a lawyer. I'm glad I did—I probably should have stayed a year more when I was at Cravath. Also, be a good student! Take law school seriously—do well. Law is something that will give you the opportunity to make choices, but you've got to take action and open those doors yourself.