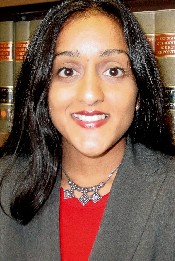 Vanita Gupta '01
Read an Interview with Vanita Gupta.
Vanita Gupta joined the NAACP Legal Defense and Educational Fund, Inc. (LDF) as a Soros Justice Fellow in September 2001. She is now an Assistant Counsel at LDF and works in the area of criminal justice and civil rights. Her work at LDF has centered on leading an effort to overturn the convictions of 38 defendants in Tulia, Texas, and to
promote more systemic reform of the criminal justice system. In August, 2003, under her coordination, the Governor of Texas pardoned the Tulia defendants.
Ms. Gupta received her law degree from New York University School of Law, where she served as the Colloquium Editor of the Review of Law and Social Change and was awarded a Vanderbilt Medal. During law school, she participated in a year-long capital defender clinic at LDF as well as a year-long trial clinic at NY Legal Aid, Juvenile Rights Division. She received the Anne Petluck Poses Prize for her clinical work. She attended Yale University, where she graduated magna cum laude in History and Women's Studies. Prior to attending law school, she worked at the Harvard School of Public Health as a community organizer and public policy coordinator for its Violence Prevention Programs.
Interview with Alumnus/Alumna of the Month
Vanita Gupta '01
Assistant Counsel, NAACP Legal Defense & Educational Fund
What is your area of specialization and how did you come to work in this area?
My area of specialization is criminal justice and civil rights law. I went to law school to do civil rights work. I did two clinics while in law school, one with the NAACP Legal Defense & Educational Fund, Inc. (LDF) that focused on the postconviction representation of indigent defendants who are on death row around the country, and another with the Juvenile Rights Division of the Legal Aid Society, where I had the opportunity to represent children who were charged with crimes. Those two experiences exposed me to the myriad problems, including racial bias, prosecutorial and law enforcement misconduct, and lack of adequately-funded indigent defense systems, that plague our criminal justice system and result in too many wrongful convictions. To me, the criminal justice system presents some of the most urgent and serious civil rights concerns today. I applied for a Soros Justice Fellowship with LDF during my third year of law school because I was committed to taking on these concerns and to working toward reform of a broken system.
You were a key player in the infamous Tulia, Texas cases, in which you coordinated attorneys from a dozen law firms in New York, Washington, D.C. and California to seek justice for the 38 people wrongfully convicted on drug charges. How did you get involved in these cases? As a young attorney, what was the biggest challenge for you?
I got involved in these cases after seeing a troubling documentary made about the 1999 drug "sting" by the William Kunstler Fund. The documentary presented facts that were almost too outrageous to believe. I then discussed the case with others at LDF, and was encouraged to make a trip down to Tulia to investigate the legal situation – who was represented and by whom, where were the defendants in terms of their legal challenges, etc. Just a month and a half after I joined LDF, I traveled down to Tulia and spent five days meeting with family members of the defendants, a local civil rights attorney, Jeff Blackburn, who was representing the last two defendants to go to trial, and others involved in the case, and also combing through and making copies of as many relevant documents as I could gather. By the end of my trip, I had collected so much information that I had to buy another suitcase from Wal-Mart to bring it all back. I spent the next month in New York organizing that information and charting out the legal picture for the defendants. The more I learned about the case, the more I knew LDF had to get involved.
I was initially apprehensive about going down to Tulia alone as a young attorney, but that feeling quickly evaporated once I was there on the ground. The need for assistance was too great to let appearances and age come in the way. And I think it helped that I was affiliated with a highly respected and nationally-renowned civil rights organization. Jeff Blackburn opened up his files for me and gave me lots of invaluable information about the cases, and the families opened up their homes to me.
My relative inexperience was mitigated by the fact that for the next year after my first trip down, I became completely immersed in all of the facts and legal arguments we needed to make to challenge the convictions. Thereafter, I was only conscious of my age when I would take a moment to step out of the work and note to myself that I had recruited very experienced attorneys at national law firms to assist LDF in challenging the convictions and was coordinating the postconviction legal relief in these cases. But none of the other attorneys I worked with or the clients and their families ever focused on the fact that I am young. Ultimately, the challenges I faced as a young attorney trying to right the travesty of justice that had taken place in Tulia were the same as those faced by attorneys and activists of all ages who confronted these cases, and my age seemed fairly unremarkable.
What impact has your experience in Tulia had on your views of the legal system and your work as an attorney?
I arrived at LDF after law school ready to do strategic criminal defense work because I was deeply troubled by the failures of the criminal justice system and the consequences that such failures have on very vulnerable segments of our population. So, I did not make my first trip down to Tulia with a rosy picture of the system. That said, I also did not expect that I could possibly become any more concerned than I already was about the flaws in the system.
Tulia took my pre-existing concerns to a whole new level. What disturbs me most about this case is that I now know of several other towns where similar events have taken place. Tulia is the tip of the iceberg. And while I could probably spend the rest of my life representing individuals who were wrongfully and too easily convicted without the most basic of procedural safeguards, there is a need for more systemic reform to prevent other Tulias from taking place.
Some people argue that the recent legal victory in the Tulia cases demonstrates that the system works. But how could a system that supposedly "works," wrongfully take away four years from so many people's lives, and require the mobilization of enormous resources by several national firms and civil rights organizations and intense media pressure to establish the obvious: that the Tulia convictions needed to be thrown out because they were based on nothing but the word of a completely unreliable police officer who had a long and troubled history in law enforcement?
That said, the Tulia cases have made me more committed to working for systemic reform of the criminal justice than ever before. I also understand now the power of skilled, careful, and creative lawyering in rendering justice more than I ever could in law school.
Is your career what you envisioned it would be while you were in law school? Where do you see yourself in 10 years?
I aspired to be a civil rights attorney when I first entered law school. When I received the opportunity to do criminal defense work at LDF thanks to a Soros Fellowship, I thought I had my dream job. But I could have never imagined devoting my first two years as a lawyer to as exciting a first case as that of Tulia.
From where I am now, I see myself continuing to do civil rights work. I wake up every morning excited about going to work. The day I stop feeling that way about how I spend my days, I will look for something else to do that I find meaningful and about which I am passionate.
Who are your role models in the legal profession?
My role models in the legal profession are those attorneys who are passionate about their practice and clients, and about working for social change, while at the same time have a fulfilling life outside of the profession. I have been very fortunate to have incredible mentors, including particularly NYU School of Law Professor Randy Hertz, guide me through law school and into my first job. I admire Professor Hertz for his tireless advocacy on behalf of his clients, his inspiring contribution to juvenile justice and criminal justice issues, and his permanent accessibility and ability to empower his students.
How do you balance work and life?
I am still learning how to balance work and life. I got married in May of this past year, and in the months prior to my wedding, I was traveling to Texas every other week for almost a week at a time. It was madness. But I happen to be married to another hard-working and passionate lawyer who is extremely supportive of what I do. Both of us help each other carve out more non-work time to enjoy life. I also run regularly to ease stress and maintain a healthy perspective on work and life.
If you could chose another profession to be in, what would it be?
I would be aspire to be a freelance writer or a newspaper columnist. I would want to be in a profession where both writing and advocacy are central. The Tulia cases have instructed me on just how critical it is for the media to be informed about situations that would otherwise go under the public's radar screen, and on the power of thoughtful media to be a force of social good. Of course, as a freelance writer, I wouldn't mind being able to throw in a few travel or restaurant critic
pieces on the side, since both travel and food happen also to be big passions of mine!