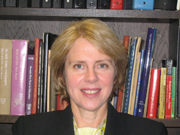 Ada Meloy '73
Read an Interview with Ada Meloy.
Ada Meloy is Deputy General Counsel of New York University. Before joining the University's Office of Legal Counsel in 1978, she was an associate at Cahill, Gordon & Reindel. Ms Meloy has served extensively on committees and spoken at conferences of the National Association of College and University Attorneys. In 2000, Ms. Meloy co-founded the Prisoners' Reading Encouragement Project (www.prisonreader.org) where she currently serves as a director and is an active volunteer. Ms. Meloy has been a member of the New York County Lawyers' Association Committee on Professional Ethics, the Departmental Disciplinary Committee for the Appellate Division First Department, and the Merit Selection Panel – Magistrates Screening Committee for the United States District Court for the Southern District of New York.
Interview with Alumnus/Alumna of the Month
Ada Meloy '73
What is your area of specialization and how did you come to practice in this area?
I am Deputy General Counsel of New York University. As an in-house lawyer in a relatively small office, I am probably less specialized than most attorneys. I have an expertise in the law of higher education and I have always been an active litigator in the state and federal courts in New York. As with many litigators, my expertise develops as necessary to represent the client in a matter. I am extremely fortunate to have the client be New York University. I began practice as a litigator at a large firm, Cahill, Gordon & Reindel. In the days before women were offered partnerships, I was considering my options when I saw an advertisement for the position of Assistant General Counsel of the University. I just couldn't refuse an offer that sounded like such a great opportunity.
Describe recent legal developments in your area; where do you see this field of practice in 5 years?
Practice in the area of laws pertaining to higher education means practicing in a constantly changing environment. The statutes and regulations affecting the institution and its operations are myriad. One of the most well-known areas of recent activity is in admissions (We all know about the University of Michigan decisions in the Supreme Court.) Other areas of changing law include the status of graduate teaching assistants, medical residents, and various different categories of faculty. In five years, this field of practice will be just as challenging as it has been for the past twenty-five years.
Describe a case or matter that you worked on that you found particularly challenging or rewarding.
While I would not want to highlight any single case, I have found it rewarding and challenging to defend academic decisions made by the University's faculty and administration from challenges that threatened the standards they seek to uphold. I have my share of "war stories" about cases I have handled over the years and try to resist the efforts to second-guess decisions best left to the academic and professional expertise that resides in the faculty.
What is the most rewarding aspect of your job?
The most rewarding aspect of my job is the gratitude I receive when I have succeeded in defending a faculty member who felt his or her good faith was being questioned. The ability to navigate the litigation process to a conclusion and not have to compromise principles that are held very dearly by serious educators is a skill that I am glad to be able to share.
Why did you create the Prisoners' Reading Encouragement Project (PREP)?
In 1999-2000, my good friend Annette Johnson, Senior Counsel for Medical School Affairs and General Counsel of NYU Hospitals Center, brought to my attention a program sponsored by the League of Women Voters of New York State. It was a series of study circles called Balancing Justice that was designed to get various members of the public to learn about and discuss the state of criminal justice in New York State. After reviewing the materials for that program, I became a group leader and ran two groups at NYU. I was impressed with the facts that came to my attention through this process. The shift in the whole theory of prisons and the drastic growth in the prison population concerned us. We decided that one way to help would be to see how we could use our abilities to bring some education and rehabilitative opportunities back into the prisons. We teamed up with three librarians and made contact with the New York State Department of Correctional Services. We began to develop the volunteer operation to provide books and educational opportunities to some of the 71 correctional facilities in New York State. Please visit our website at www.prisonreader.org.
What were your goals when you co-founded the Prisoners' Reading Encouragement Project?
PREP's mission is threefold: 1) to provide books and reading materials to prison inmates through gifts to prison libraries; 2) to educate the public of the need for and advantages of educating inmates; and 3) to provide scholarship funds for inmates who are engaged in independent study college or post secondary programs. While the problems in a system housing 70,000 inmates and releasing 28,000 per year back into the community are substantial, our goal is to affect positively as many inmates as we can.
How do you determine if you have been successful in making an impact?
We know that we are successful when we receive heartfelt letters of gratitude from prison librarians, program directors and inmates themselves. We try to visit the facilities we are serving to see first-hand the ways that our contributions are being used. We also recognize the success in getting our donors and volunteers to think about the great needs of the prison population and to think about the changes needed in the system and the laws.
Explain how reading has a positive impact on those incarcerated in our prison system?
Inmates have few opportunities for self-improvement. We provide reading that provides not only entertainment (mysteries, science fiction) but also education (history, biography, languages, literature, science, art) and self-help (parenting, health, relationships). We focus on books that will prepare the inmates to adjust to life on the outside: small business, trades, managing money, resume writing, technology. The books have become the centerpiece for reading groups in certain prisons. We are especially pleased with the Words Travel program; that allows an inmate to read a children's book onto a tape and send the book and the tape to his child or grandchild who is often hundreds of miles away. It has inspired the most touching expressions from inmates held upstate far from their children in the New York City area.
Who are your role models in the legal profession?
I do not have any one specific role model. I am a great admirer of NYU's General Counsel, S. Andrew Schaffer and I have high respect for all the colleagues in the Office of Legal Counsel. I must say that I am also very impressed with women who continue to actively litigate into their senior years at the bar—a rather rare phenomenon still.
What was your first job out of law school?
I was an associate in litigation at Cahill, Gordon & Reindel. I had an excellent experience in my five years there and gained skills that serve me and my clients even decades later. I am proud to note that three of my associates there have been named to the federal bench.
How do you balance work and life?
I have made certain decisions that have allowed me to have one of the best work-life balances that I have seen. Electing to come to NYU and staying here has allowed me to work fulltime throughout my career and to also feel close to home and in touch with the lives of my two children. Having my office, my home, and my children's schools all in the immediate vicinity has freed up huge amounts of time that would otherwise be spent in traversing the city or metropolitan area. Certain niceties, like a "Martha Stewart Living" environment, have been sacrificed for the better good.
If you could chose another profession to be in, what would it be?
I am one of the few lawyers I know who would not choose another profession. I feel that I am well served by the challenges of practice and the expertise I can share. Having a client that you feel deserves your attentions is one of the big plusses that I have had here at NYU.
What advice would you give to current students?
Don't think you have to have your whole life plan set out while you are in Law School. Be open to different opportunities that may come your way. When I was leaving the big firm to come to NYU, other associates asked me "Why would a university need a lawyer?" Well, I can tell you, the need for lawyers in higher education over the ensuing years has ballooned and the practice is one of the most interesting and rewarding there is. Don't let the pressure for monetary success obscure what really interests you, and live within your means so you can make the changes you may face a few years down the road of life. Enjoy your life, or change it. Find rewards in giving to those who need your help.