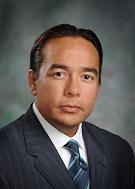 Keith Harper '94
Read an Interview with Keith Harper.
Keith Harper '94 is a partner in the Litigation department and heads the Native American Affairs practice group at Kilpatrick Stockton. Throughout his career, Mr. Harper has represented tribes and individual Indians before Federal Courts, the United States Congress, administrative agencies and international fora in matters involving enforcement of the trust responsibility, expansion and protection of tribal sovereignty, enforcement of tribal treaty rights, protection of land and natural resources, ensuring religious freedom for Native practitioners and development of international instruments guaranteeing the rights of indigenous people. Among other matters, Mr. Harper has represented the plaintiff class of 500,000 individual Indians since the inception of the case and continues to serve as class counsel in the landmark Indian trust funds lawsuit, Cobell v. Kempthorne.
Prior to joining Kilpatrick, Mr. Harper worked for 11 years as staff attorney with the Native American Rights Fund (NARF). Prior to joining NARF, Mr. Harper clerked for the Honorable Lawrence W. Pierce, US Court of Appeals, Second Circuit. A recognized expert on federal Indian law and policy, during his tenure at NARF, he also taught "Federal Indian Law" as Adjunct Professor at Catholic University Columbus School of Law and at American University Washington College of Law. In 2001, Mr. Harper was appointed Appellate Judge on the highest court of the Mashantucket Pequot Tribal Nation, where he continues to serve today.
Mr. Harper is a member of the Cherokee Nation of Oklahoma.
Interview with Alumnus/Alumna of the Month
Keith Harper '94
What is your area of specialization and how did you come to work in this area?
I represent Indian tribes and individuals in federal court and before federal agencies and congressional bodies. This area of law is ordinarily referred to as "Federal Indian Law"—that body of law which defines the relationship between three types of governments—state, tribal and federal.

I am a member of the Cherokee Nation of Oklahoma and always intended to spend my career representing Indian people. I came to NYU School of Law with the intent of working in Indian country. I decided to work in Indian Law because I strongly believe that the law can be utilized to achieve real benefit for our tribal communities through securing their common rights and protecting our lands and way of life.
Can you tell us about Cobell v. Kempthorne, and why this is considered a landmark case for the American Indian community?
It is a case we brought in 1996 on behalf of 500,000 individual Indian trust landowners. Most Americans own their land in fee simple. For many Indian people, our land is held in "trust" by the United States; in other words, the government is our "trustee." Parenthetically, Indian people opposed this system, which was imposed without our consent in the late 1800s and early 1900s. As trustee, the government has fiduciary duties to properly manage and account for its land management and the proceeds from our trust land. It is undisputed that the government has grossly, egregiously and continuously breached its fiduciary duties.

The Cobell case is an attempt to redress this dark stain on the country. It is a landmark case because it involves billions of dollars. The government's own experts say they owe between $10 and 40 billion. It involves 119 years of what one congressional report called "fraud, corruption and institutional incompetence almost beyond the possibility of comprehension." It involves the enrichment of oil, gas, timber and other well-heeled corporations at the expense of some of the poorest Americans. Three cabinet level secretaries have been held in contempt of court. There have been more than 80 published decisions and 3600 docket entries.

The case is mostly about one woman, Elouise Cobell, saying enough is enough—a trustee needs to be accountable and is not the boss but a servant. The unremarkable objective of the Cobell case is that Indian people should have a trustee who is as accountable for his conducts in managing Indian property, as any other trustee is held to.
You represent 500,000 American Indian individuals in this case. How do you withstand that kind of responsibility and pressure to ensure a fair settlement for your clients?
It is, indeed, a massive responsibility that we have. Any time you seek fundamental change, there comes with it a monumental duty to make sure you do it right. It is no different here.

So you do whatever it takes—work the hours and commit yourself fully to the endeavor. What makes it worthwhile is what I see when I visit our clients; we sit down with 200-300 at a time—some very poor and all well aware of the abuses and indignities that they have faced, that their parents and grandparents have endured and that their children and grandchildren will surely deal with unless we succeed. When confronted with this reality, you become energized to do whatever you have to.
You were a staff attorney at Native American Rights Fund (NARF) for 11 years before joining Kilpatrick Stockton. Can you tell us what prompted the move and describe some of the challenges of this transition?
NARF is a great institution, which I will always support. I joined Kilpatrick Stockton, because it gives me a multi-dimensional legal platform to represent tribes in more diverse ways. This is also the firm that joined forces with us on the Cobell case, and showcased its commitment to Indian country. At KS, I continue to litigate Cobell and other cases, but I have also gotten involved in project financing, telecommunications, environmental matters, labor issues and many other things that are important in Indian country.

In many ways, because of great sacrifice of our predecessors, Indian people are in the beginning stage of a cultural, economic and political renaissance. It is very exciting to partner with tribal governments in achieving their diverse objectives. At Kilpatrick Stockton we are creating a place where a tribe can come and know they will obtain top-notch legal services, which will rival any a corporation receives. In observing Indian country, I think this is the model for the future.
How has your own personal identity as a member of the Cherokee Nation been shaped by your work with Indian law?
It has been critical. As I previously mentioned, I decided the best way to serve Indian country was to work in Indian law. I find it heartening that many Indian people choose to work for our tribes or tribal organizations. We share a conviction that we, Indian people, do best when we decide for ourselves the normative framework, political institutions and societal structure under which we exist. This is what the right to sovereignty or self-determination is all about.
What was your first job out of Law School and what is the most valuable thing you learned there?
My first meaningful job after law school was my judicial clerkship with Judge Lawrence Pierce of the US Court of Appeals for the Second Circuit. I learned an inordinate amount of valuable things there, such as how to write better and with greater concision and how to articulate in someone else's voice. The demystification of the courtroom also proved to be quite valuable; however, by far the most valuable thing I learned was an understanding of the law and rules of decision from the judge's point of view. Appellate judges in particular, deal with knotty, complex and very close questions all the time. The no-brainers don't get appealed, or if they do, are addressed summarily. A judge has to think about how the rule of decision will impact any number of "next cases." My clerkship really brought that home to me, and it is a lesson I try to remember whenever addressing a legal question before a judicial tribunal.
What has been the most rewarding aspect of your career thus far?
It is working with American Indian people. There is nothing better for me than to meet with Native clients and figure out ways to solve the problems they confront. Indian people are poised for greatness and I feel very fortunate to be able to be part of the machinery that will permit us to achieve that.
What led you to the NYU School of Law and how did your experience here inform your career path?
Two things led me to NYU School of Law: First, the Root-Tilden-Snow Scholarship; second, I didn't choose this school because it had a great Indian law program, but rather, because it is simply a great law school. There is a great emphasis on public service at NYU School of Law. I can't help but think that pushed me in the direction of the public sector. Moreover, NYU School of Law and in particular the Root program opened all kinds of doors for me. I appreciate that as a grad of NYU School of Law, I really have a leg up; when coming out of law school employers came to me, not the other way around. Had I not gone to this school, I'm not sure I would have judicially clerked or worked at Davis, Polk & Wardwell. I definitely think my chances of getting the Skadden Fellowship to join NARF would have been greatly diminished.
Can you describe how it feels to work within a system that has committed such grave injustices to its native people? How do you keep your faith in our country's legal system?
It is critically important that while people know history and learn from it, they do not become encumbered by it. There are certainly many things in the history of this nation and its dealings with Indian people that are dishonorable; indeed, there continue to be injustices that we must address or are currently addressing. We cannot, however, be captives of history and permit ourselves to fall into hopelessness because of the prior failures of this nation. We cannot be captives of the many prior failures by the courts of the conqueror to treat us equitably.

It is sometimes a struggle to maintain faith in this justice system. The highest court has called Indian people "savages," "ignorant" and "heathen." It held in 1955 (not so long ago) that when Indians owned land they have always lived on, possessing so-called "Indian title" or "aboriginal title," it was merely a possessory right and did not afford 5th Amendment protection. There are plenty other decisions as well that seem to abandon all reason and replace it with judicial fiat.

So yes, adhering to the rules of this justice system is a challenge, but it is also a place where with good advocacy I think we can make a difference. That doesn't mean we will always obtain our fair and rightful objectives, but we will attain some of them. The alternative is despair, and I believe in the power of what Senator Barack Obama calls "the audacity of hope."
Who are your role models in the legal profession?
I have many role models in the legal profession. One is certainly Lawrence W. Pierce, the federal appellate judge I had the honor to clerk for right after law school. Among other things, Judge Pierce taught me the fundamental lesson that it is the obligation of lawyers and judges to clarify, not obfuscate. That may sound self-evident, but in my experience many in the legal profession do not heed this simple rule. In their writing and their oral discourse, lawyers often make things far more complicated then they need to be. This is not persuasive.

I also have many role models that have fought the good fight for the right reasons. I would count among them people in the tribal sovereignty movement—Browning Pipestem, Bunky Echohawk, Vine Deloria Jr., Charles Wilkinson, Suzan Shown Harjo, John Echohawk and Billy Frank Jr., to name a few. They took an unremarkable proposition that many non-Indians found quite astonishing three decades ago—that Indian people have the right to be self-determinative—and they enshrined it in the law. To be sure, there are still battles to be had on this front, but without their efforts Indian country would not be where we are.

Finally, I count among my role models, Elouise Cobell. While not a lawyer, she understands the importance of utilizing the law to obtain foundational transformation. She understands that oftentimes when you struggle to right a century old and continuing wrong, there is deep resistance to your efforts, and it requires unwavering courage. All lawyers can find important lessons in this.
How do you keep a balance between work and life?
My family and community are critically important to me. So is the work that I do. So I do the very best I can to ensure that nothing is neglected. I am not an organized person by nature, but these competing priorities force me to be more organized than I would normally be.

I also believe that a prerequisite to success—at least for me—is living a fulfilled life with family and friends around. I don't think I can do what I do without the love of my wife, children and other family members. Unquestionably, it would not be nearly as fulfilling.