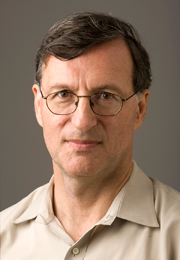 Steven Greenhouse '82
Labor and Workplace Reporter, The New York Times
Law school was a fallback plan for Steven Greenhouse '82. After attending Columbia University's Graduate School of Journalism and working for three years as a newspaper reporter in New Jersey, Mr. Greenhouse feared he had made the wrong career choice. "It turns out I wasn't very happy working for the newspaper in New Jersey," he says. "I thought I should prepare for another profession, and I was always interested in law."
So, drawn by NYU School of Law's reputation as a leader in public interest law, Mr. Greenhouse enrolled in 1979. Ultimately, however, he never became the ACLU lawyer he thought he'd become. Instead, NYU turned out to be a launching pad right back into journalism. In 1983, after a post-graduate clerkship for U.S. District Court Judge Robert L. Carter, who had helped Thurgood Marshall argue Brown v. Board of Education, Mr. Greenhouse landed a job as a staff reporter at The New York Times. "I worked very hard and spent a lot of money going to law school," he says. "So when I took the job at the paper, a lot of friends said, Are you crazy? But it was always my dream to work as a reporter at The New York Times and I thought that the work one does as a reporter is generally more interesting and more fun that what one does as a lawyer."
Still, Mr. Greenhouse, 57, doesn't see going to law school as a mistake. In fact, he says his legal background has informed his reporting on each of his beats at the Times. He spent three years as Midwest economics correspondent, filing stories on farming as well as the decline of Midwest manufacturing, although while based in Chicago he also wrote the Times' Business and the Law column for a year. He next served five years as the Times' European economics correspondent, based in Paris, covering everything from the European Union to the Velvet Revolution in Czechoslovakia. He next spent four years in Washington, D.C., covering the Federal Reserve and the State Department. In 1995 he requested–and was assigned–his current beat as the Times' labor and workplace reporter, writing about the state of the American worker.
Today, Mr. Greenhouse is one of just a handful of full-time labor and workplace reporters at major U.S. newspapers. As a result, he's become an important voice on U.S. labor issues. Last year, Alfred A. Knopf published his book, The Big Squeeze: Tough Times for the American Worker, an in-depth account of the pressures faced by the nation's workers as wage growth slows, employee benefits shrink, workloads increase and job security becomes a pipe dream for many individuals. "I saw that things weren't very good for the average worker, even though Wall Street was booming and corporate profits were soaring," he says. "The unfortunate fact was that many American workers were going nowhere economically, and the nation's policymakers and news media were hardly paying attention to this huge problem."  His book came out in paperback this past February, and this month The Big Squeeze is to receive the prestigious Sidney Hillman Award for a nonfiction book. The New York Review of Books described The Big Squeeze as "excellent and relentless," while E.J. Dionne, the Washington Post columnist, wrote, "Steve Greenhouse has written the essential economic book for 2008. Long before most analysts noticed the downturn, Greenhouse was reporting how troubled our economy looked from the bottom-up."
Mr. Greenhouse, a graduate of Wesleyan University, says a long-time interest in the civil rights movement and poverty issues helped interest him in covering labor and workplace issues. When he was growing up on Massapequa on Long Island, his parents–a teacher and a social worker–brought him along on civil rights marches and raised him to be concerned about racial discrimination, migrant workers and the less fortunate in general.  Once enrolled at the NYU School of Law, he dove into classes on constitutional law with Professor Norman Dorsen, who was then president of the ACLU, and on women, poverty and the law with Professor Sylvia Law. "You learned how to think on your feet and sort through very complicated material," he says of  those professors' courses. Professor Law's class, he says, "offered a refreshing picture of how the law could be used to aid disadvantaged groups."
Mr. Greenhouse's reporting has explored violations of federal wage and hour laws as well as strikes, labor negotiations, unionization drives and undocumented immigrant workers. Calling labor law "arcane" and "esoteric," he said the firm grasp of labor law that he obtained while at NYU has helped him cover some front-page labor disputes, including the 2005 New York City transit strike and the 1997 UPS strike. In The Big Squeeze, he writes about Wal-Mart managers locking in workers at night and Toys 'R Us managers illegally erasing hours from workers' time cards. He profiles a female worker at a Syracuse plastics factory, where four employees had fingers amputated in a 13-month period and where the female workers faced egregious sexual harassment. "Unfortunately, there are a whole lot of illegalities out there in the nation's workplaces," he says. "Why do I write so much about this subject? Maybe I'm naïve, but because I went to law school, I'm often surprised when people don't follow the law, and I'm especially surprised when big, respected companies violate the law."
Mr. Greenhouse lives in Pelham, New York, with his wife, Miriam Reinharth, the director of special events at the New York-based newspaper, The Jewish Week. Both of their children—Emily, a recent Wesleyan grad, and Jeremy, a sophomore at Tufts University—have expressed an interest in following in their father's journalistic footsteps. And though Mr. Greenhouse's early career took him on some twists and turns, he promises that he'll let his children figure out their own career paths. "I tell my kids that if they love it, they should pursue it," he says.