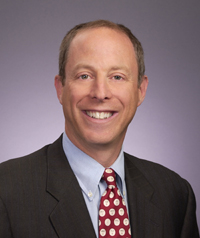 Randal Milch '85
General Counsel, Verizon

As general counsel to Verizon, Randal Milch '85 has one of the rare corporate in-house positions that involves questions of how people live and relate around the world. On a given day he might find himself staking out positions on cybersecurity, federal employment policy, or healthcare. Even now, four years into the job, he says he has moments when he feels as though he is just beginning to appreciate the degree to which the work transcends the communications industry. So how does one prepare for—and secure—a job that seems to boundlessly intersect with questions of global politics, economics, and law? Milch pauses before answering, and then says that if there is one lesson to be taken from his career it is that there is value in risk-taking.

Indeed, even for a man who assesses risk for a living, Milch has displayed an uncommon talent for anticipating and acting in advance of the paradigm-shifting moment. That ability has been critical not only in helping him navigate the myriad legal questions that spring from Verizon's global business interests, but also in explaining why he is at the forefront of helping to transform how pro bono services are offered across the United States.

Early in his life, though, Milch wanted nothing to do with the law. His brother was a rising star at Arnold and Porter, and Milch—a bearded, long-haired history major at Yale—had an altogether different challenge in mind for himself. "I wanted to be secretary of state," he says. So when he graduated in 1980, he passed the foreign service exam and moved to Washington to await his assignment. Then President Reagan put a freeze on all new foreign officer hires, and Milch found himself suddenly in need of a job. "It was not modern times," he says, "when kids come home to roost."

So he took a position as a paralegal at U.S. Synthetic Fuels Corporation, a government-chartered alternative energy company. Two features of that job shifted the trajectory of Milch's career: He was given a lawyer's responsibilities (which he relished) at a fraction of the salary (which compelled him to apply to law school).
Milch enrolled at NYU in 1982, and immediately loved the intellectual challenge of the program. He was particularly drawn to faculty like Professor Lawrence Sager—now dean of the law school at the University of Texas at Austin—who engaged students in questions raised by his own scholarship. For instance, Sager had recently written an article about the extent to which Congress could strip jurisdiction from the courts. So he routinely challenged his students to take and defend positions on the issue. Yet for all the energy Milch took from this kind of intellectual gamesmanship, he says that his fondness for law school was likely amplified by the fact that he was falling in love with his classmate and now wife, the environmental lawyer Amelia Salzman (who will be teaching a course on Public Interest Environmental Law Practice as an adjunct professor at NYU Law next fall).

After graduation, Milch clerked with Clement F. Haynsworth Jr., chief judge emeritus of the U.S. Court of Appeals for the Fourth Circuit, and then took a position as an associate in the litigation firm of Rogovin, Huge & Schiller in Washington. Milch thrived and quickly made partner at the influential boutique Washington firm, which was still run by Mitchell Rogovin, who had counted the CIA, IRS, and New York Times as clients. The firm merged with the storied—but struggling—Wall Street firm of Donovan Leisure Newton and Irvine. But by the early 1990s, he began to harbor doubts about the senior partners' ability to transfer leadership on to the next generation of partners. "How were they going to pass along these clients?" he remembers asking himself.

So he acted in 1993 when a former colleague asked him if he would be interested in moving in-house at Bell Atlantic to work on a critical deregulation case. The issue at hand was a small telephone company that was demanding that the government force Bell to allow the competitor to use its lines and switches. The telecom industry was pervasively regulated by the FCC and state regulatory commissions at the time, and the case presaged the 1996 Telecommunications Act, the landmark legislation that stripped away most government control of the industry and laid it wide open to competition.

In Milch's view, the competitive energy unleashed by the 1996 act directly fueled billions of dollars of investment in the broadband and mobile spaces, a floodgate of growth that laid the groundwork for such culture-changing innovations as FiOS, Facebook, the iPhone, and Google. Meanwhile, at Bell, it put him at the center of an effort to remake the company from stodgy regional carrier to global communications conglomerate.

"I was hugely lucky to catch the de-regulation wave," says Milch, who suddenly found himself litigating arguably the most important set of questions in the company's—and industry's—modern history.
Over the next several years, as Milch worked to achieve the first entry of a Bell company into the long-distance market, Bell merged with Nynex and then GTE to form Verizon. Milch, in turn, was offered the job of general counsel of Verizon Telecom. The position, he says, didn't appear to make sense for him. The job was newly created, and it promised to take him out of the klieg lights of the deregulation game that was still transforming the industry. But to Milch's eyes, that game was drawing to a close. If there were to be deregulation, it was time, he decided, to shift his energy to learning the business side of the company. Milch's acumen for the task was rewarded in 2006, when he was named general counsel of Verizon Business—Verizon's global enterprise arm—and then, in short order, to his current position of general counsel for the entire company in 2008.
One of the compelling features of the job, he says, is the degree to which he is expected as chief legal officer of one of the country's largest publicly traded companies to stake out positions—and perhaps wield influence—on major domestic policies like cybersecurity. Milch, though, quickly discovered an entirely novel opportunity to impact the social good. As general counsel, he was in charge of over 400 in-house lawyers. In those lawyers, he saw an untapped legal force that could serve as part of the solution to the national shortage of pro bono lawyers. So he went about setting up an in-house pro bono program.
The project, though, was immediately complicated by the fact that many state bars prohibit in-house lawyers—who often are not members of the bar in the states where they are stationed—from taking on pro bono cases without local sponsorship. The upshot is that many of the most highly trained attorneys in America are effectively excluded from providing pro bono services.
So Milch decided to join with the Pro Bono Institute to launch a state-by-state initiative to change the rules. They started in 2010 with a successful campaign in Virginia. Now they are focused on New York. Asked what compelled him to launch this campaign, he answers simply—and with characteristic modesty—that he recognized an inefficiency in the system and seized the opportunity to transform it.