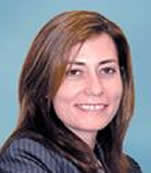 Anne Milgram '96
Read an Interview with Anne Milgram
Anne Milgram was sworn in as New Jersey's 57th attorney general on June 29, 2007 after serving 17 months as the first assistant attorney general. As the State's chief law enforcement officer, Ms. Milgram heads the 9,600-person Department of Law and Public Safety, one of the largest agencies in New Jersey state government.
The department is responsible for protecting the safety, security and quality of life of New Jersey residents and includes ten divisions as well as independent commissions and boards. The attorney general oversees the state's criminal justice system, the Division of State Police, and defends the state against lawsuits.
Ms. Milgram, 36, began her career as an assistant district attorney in the Manhattan District Attorney's office in New York in September 1997. She went on to work in the criminal section of the United States Department of Justice's civil rights division beginning in 2001, where she rose to become the lead federal prosecutor in the nation for human trafficking crimes. While at the Department of Justice, Ms. Milgram successfully prosecuted hate crimes, sex trafficking, forced labor and domestic servitude cases nation-wide. She also supervised attorneys and advised local, state, and federal prosecutors and law enforcement agents. Ms. Milgram was awarded the Department of Justice Special Commendation for Outstanding Service in December 2004 and the Director's Award in September 2006.
Ms. Milgram left the Department of Justice to become counsel to Governor Jon S. Corzine in 2005, during his last year in the United States Senate.
Ms. Milgram graduated summa cum laude from Rutgers College in 1992 with a degree in English and political science, and received a master of philosophy degree in social and political theory in 1993 from the University of Cambridge in England. She received her law degree from New York University School of Law in 1996 and clerked for US District Court Judge Anne E. Thompson in Trenton from 1996 to 1997.
A t the attorney general's office, Ms. Milgram has spearheaded investigations into college student loan rates, Internet safety, and consumer privacy rights, and has overseen compliance with state and federal election laws. She has testified before the Environmental Protection Agency for tougher enforcement of clean air laws and she launched an affirmative litigation section in the Division of Law to aggressively pursue legal action to protect the public and improve the quality of life in New Jersey.
Interview with Alumnus/Alumna of the Month
Anne Milgram '96
As the newly appointed attorney general of the State of New Jersey, what are some of the obstacles you see as you make your transition?
Right now, my biggest obstacle seems to be finding enough time in the day to juggle all of the issues we face. As the first assistant attorney general for over a year, I managed the day-to-day operations of the Department. As Attorney General, I am transitioning to performing a more public role and focusing on my specific priorities and initiatives.

What led you to pursue a career in criminal justice?
I took Criminal Procedure pass/fail at NYU and encouraged my friends in the class with me to do the same—I argued that none of us would ever practice criminal law. It turns out that I was the only one to take the course pass/fail and the only one to end up practicing criminal law. So I definitely did not attend law school thinking I would pursue a career in criminal justice. Rather, I decided to pursue this course while clerking for federal district court Judge Anne Thompson in Trenton, New Jersey. Judge Thompson was a former county prosecutor and had a passion for criminal justice. I found this aspect of my clerkship to be most interesting and decided that I wanted to pursue a career as a prosecutor. I also come from a family of law enforcement: my grandfather and great-grandfather were both chiefs of police in New Jersey.

What is the most rewarding aspect of your job?
Getting to make positive changes for the people of the State. Unlike other forms of government, where it can sometimes be difficult to make an impact, state government allows you to make policy decisions and to move immediately to implement them.

What do you see as the focus, or foci, of the New Jersey Department of Law and Public Safety over the course of the next year? The next five years?
My main priorities are prosecuting gang violence and corruption cases, working to develop greater tools to foster Internet safety, aggressively pursuing consumer protection initiatives, and working to ensure public safety and homeland security.

As New Jersey's chief law enforcement officer, who oversees a department that is 9,600 people strong, what does your day-to-day work involve?
It really varies day by day. I do a lot of meetings—for example, today I had a series of meetings, starting with a senior staff meeting and going on to a meeting with the head of investigations for the New Jersey State Police and then into internal meetings on a comprehensive crime plan that we are developing for the Governor to announce within the next couple of weeks – focusing on ways to direct government resources toward violence prevention, prosecution of gang and gun violence, and effective strategies for successful prisoner re-entry.

What led you to the NYU School of Law and how did your experience here inform your career?
I was not certain of what I wanted to do after college. I applied to the NYU School of Law but then deferred for a year to attend the University of Cambridge in England. I visited NYU before leaving for England and fell in love with the school. I knew instantly that if I went to law school, I wanted to go there. My experience at NYU was critical for my career—not in the conventional sense of taking courses that encouraged me along a certain path. But in the sense that I loved being at NYU and really got a sense of the limitless possibilities of the legal profession.

Who are your role models in the legal profession?
Judge Thompson, who was the first African-American county prosecutor and federal judge in New Jersey. She is a trail blazer who never stopped to notice that she was blazing a trail. She has been a tremendous mentor and friend. Another strong legal role model is my prior boss, former Attorney General and now Chief Justice Stuart Rabner. Chief Justice Rabner has an inspiring sense of justice, fairness, and commitment to the rule of law.

What is your favorite thing to do when you are not working?
Lately, it's sleeping. And I really enjoy cooking, running, reading, and spending time with family and friends.

How do you maintain a balance between your work and the rest of your life?
I'm still struggling with that equation. I just took a vacation, which is always a great way to regain some balance.

What advice would you give to current students?
I would say two things. First, always follow your heart. A number of lawyers told me, when I was graduating law school, that I should go to a law firm. Later, other lawyers said that I should only do federal and not state prosecution work. I was fortunate to have had other lawyers who told me the exact opposite, however—to find work that I enjoyed and go out and do it. That's the single best piece of advice that I have ever gotten. Second, only take jobs that you would like, right here and now. I often meet people who have planned their entire career for the next 15 years and they are not excited about any of it until the 15 year point. I turned down a lot of jobs that were far more prestigious that the ones I held (up until this one). I followed my own rule: I didn't take a job because it would get me somewhere down the road. I only took jobs that I wanted and I've ended up being very, very lucky.