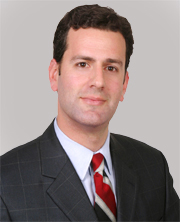 Jeremy Zucker '00
Partner, Hogan Lovells
Co-founder and Chair, Freedom Now
For years, Jeremy Zucker '00 lived a dual life: By day, Zucker worked in the international trade practice of storied Washington, DC law firm Hogan & Hartson—now Hogan Lovells—where he helped corporate clients stay on the right side of international trade and national security laws regarding export controls, economic sanctions, bribery, money laundering, and other such issues. But when he clocked out from his day job, Zucker kept working, offering his international legal training to an entirely different sort of client: prisoners of conscience held around the globe. "We represent these people because they're resisting government oppression, working to make their countries better places," he says.

The moonlighting wasn't a dalliance. Instead, it was nearly a second full-time job: By 2001, he was able to launch the non-profit group Freedom Now with a classmate from Harvard's Kennedy School of Government, where Zucker received his master's degree in public policy. The organization works with international groups and governmental agencies to free prisoners of conscience, ranging from a Pakistani Christian accused of blasphemy to a Cameroonian musician held for his political activism to Turkmen journalists seeking to expose official corruption. "All of these people have something in common," says Zucker. "They've been arrested for exercising fundamental freedoms that their governments are unwilling to honor."
Zucker traces his interest in international law and policies—whether pertaining to national security or human rights—to his upbringing in Washington, DC. There, Zucker's grade school classmates were the children of politicians and diplomats, who afforded him a wide understanding of different cultures. As an undergraduate student at Yale University and a graduate student at the Kennedy School, Zucker pursued international studies with zeal. "I arrived at Yale as the Berlin Wall fell and the Cold War was ending. The world was changing, and it was a time of great optimism."
Zucker enrolled at NYU School of Law in part because of the reputation of the school's public international law curriculum and its Center for International Studies, both led by the late Professor Thomas Franck. A widely published legal scholar, Professor Franck brought decades of high-level practical international law experience to his teaching. "I benefited tremendously from the opportunity to work alongside him" as editor-in-chief of the Journal of International Law & Politics and a Junior Fellow in the Center for International Studies.
NYU Law delivered more to Zucker than seminars and academic work. He gained practical experience as part of the first class of judicial clerks sent by NYU Law to the International Court of Justice in The Hague, Netherlands. "International law is intriguing—and maddening—because it is difficult to enforce. It was fascinating to see a multinational judicial body at work," he says. "It was a wonderful experience, and I credit NYU Law with making it possible."
The vagaries of international law have become a constant challenge for Zucker at Hogan Lovells, where he is now a partner in the international trade practice. He counsels his multinational clients to stay on the right side of laws governing their cross-border activities.
"The good news is that our clients generally demonstrate a strong commitment to compliance," he says. "I like to think I'm promoting the rule of law by helping companies understand and comply with these laws."
Nearly a decade after its founding, Freedom Now has established a permanent office in downtown Washington and has an executive director and other staff, with Zucker its chairman. That's left more time for Zucker to spend with his wife, Gretchen, executive director of Youth Venture, a social entrepreneurship organization associated with DC-based Ashoka, which pioneered this field, and their two children, Eli, 3, and Jonah, 2. The Zuckers live in the Capitol Hill area of Washington, and Zucker says the most frequent family outing of late has been trips to the pool to teach his sons to swim. "They're high energy until the moment they drop—they're definitely boys," he says.
While overseeing the growth of Freedom Now, Zucker also has devoted considerable time to leading individual cases, including that of Cuban human rights and pro-democracy activist Dr. Oscar Elias Biscet, who has been incarcerated multiple times, most recently since 2003, by the Castro regime. Zucker has worked for nearly six years on behalf of Dr. Biscet, making the rounds on Capitol Hill, in European capitals, and with U.N. contacts to rally support for his release. He also joined Dr. Biscet's family at the White House in 2007 when then-President George W. Bush awarded Dr. Biscet the Presidential Medal of Freedom. But Zucker says the Castro regime has remained unbowed in the face of international pressure, and Dr. Biscet remains incarcerated. "He's a man of tremendous principle," Zucker says of Dr. Biscet. "He refuses to be released if that means recanting his views or leaving Cuba. It's been a long struggle."
Zucker acknowledges that the work he does for Freedom Now can be frustrating. On the one hand, raising funds to support the organization has been particularly challenging given the recent economic downturn; on the other hand, dealing with governments that stubbornly refuse to be swayed by international pressure to release prisoners of conscience is a constant challenge. "At the same time, we have secured the freedom of some of our clients, permitting them to return to their valuable work and, in some instances, literally saving their lives," he says. "That's incredibly satisfying."