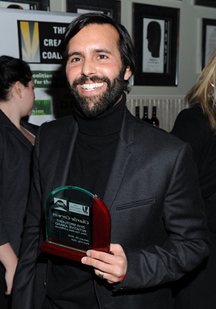 Charlie Corwin '99
Executive Producer and Co-founder, Original Media
Having already started a record label with some friends, Charlie Corwin '99 went into his first year at NYU School of Law without concrete legal career plans. "I went to law school for the education," he says. "I had an intuitive sense that it would be an integral part of my life experience, and that I would bring it to every decision or analysis I made."
Corwin's hunch was correct. In the decade since he graduated, his legal training has come to bear in situations ranging from venture capital deals to the sale of companies. But he's never actually practiced law. What's more, Corwin's background in intellectual property rights and copyright law helped establish his identity—and his credibility—in the cutthroat entertainment industry. "Now I'm known as Charlie Corwin, the producer," he says. "But before I had produced anything, I was Charlie Corwin, the lawyer. That was my angle, and it definitely helped me stand out."
Today Corwin stands out for another reason: the slate of successful films and television series he has produced. Corwin was among the early entrants in the reality TV genre, creating and producing series including Miami Ink (about tattoo art) and Storm Chasers. In recent years he's branched out into feature films. His company, Original Media, produced the well-regarded independent films The Squid and the Whale, starring Jeff Daniels and Laura Linney, and Half Nelson, which starred Ryan Gosling. The company's latest movie, Twelve, was one of the most talked-about premieres at Sundance early this year. The picture, which is directed by Joel Schumacher and features Gossip Girl star Chace Crawford, explores drug dealing among privileged Manhattan teens.
Corwin's legal training gave him the skills he needs to navigate the complex tangle of intellectual property rights that underlies the entertainment industry. This allows him to make a refreshingly blunt assessment about show business. "What I sell is intellectual property," he says. "Without understanding what you own, you don't know what you can sell."
He is an IP lawyer in Hollywood at an incredibly fortuitous time. The legal landscape of intellectual property has changed dramatically in the last 10 years, thanks to forces ranging from the ease of file-sharing to the rise of reality television. Reality TV broke new ground: unlike conventional sitcoms or dramas, reality shows were unscripted and thus beyond the purview of the unions that typically set the rules in Hollywood. This worked to his advantage, says Corwin. "It was up to the producers and the networks to work out what the rules were going to be: what rights the networks would have in return for underwriting the budgets of shows, what rights independent producers like me could hang on to and then monetize."

Corwin was raised on New York's Upper West Side, and displayed an entrepreneurial bent even before entering NYU Law. After earning a bachelor's degree in history at the University of Wisconsin, he came back to New York to work as a paralegal in the U.S. attorney's office and apply to law school. At the same time, he used some of his seemingly boundless energy to start a record label with some friends from high school. Corwin helped arrange financing for the startup, then left it behind when he started law school. (Later, the label was sold to MCA Records.)
Corwin found NYU Law to be a challenging place, full of intelligent, ambitious people. He also found a role model, in NYU President John Sexton, who was dean of the law school when Corwin attended. "He was such an inspiration to me," Corwin says. "He has a really dynamic personality, and was fantastic at raising money, which became a really important skill set for me in starting companies."
While Corwin was studying for the bar exam, he wrote a business plan for an Internet business that would film live concerts and stream them on TV and the Web. Though he'd been hired at Pryor Cashman, LLP, a New York entertainment law firm where he'd served as a summer associate, Corwin put the job aside when he got a call from a venture capitalist who'd seen the plan. "They wanted to do our first round of angel financing," he says. "So I called the head partner at Pryor Cashman and quit before I'd even started."
LiveMusicChannel.com ended up getting three rounds of financing and making Corwin a millionaire—at least on paper. Less than a year later the tech bubble burst, and investors' interest in funding Internet ventures waned. Corwin eventually made a deal for the company that was less lucrative than he had originally planned, but ultimately, he was happy with the end results. "My friend Clara Markowicz and I had a few Aeron chairs, one Avid video editing system and a couple cameras," he recalls. "That's when we decided to start Original Media and become producers."
In 2007, in a move that will prove to be a defining moment in Corwin's career, he sold a majority stake in Original Media to Endemol, a television and digital media colossus. As part of the deal, estimated at around $50 million, Corwin now runs Original Medial as president while reporting to a board of directors.
Today, the business consumes Corwin's waking hours. He lives in Chelsea, where his wife, Olivia, takes the lion's share of responsibility for raising their one-year-old son. "I do what I can, but my wife definitely has the primary child-raising duties," he says. "I'm always working."
But Corwin believes there's a payoff ahead for all his hard work. "The industry is chaotic right now, but within chaos there is always opportunity," he says. "My goal is to stay at the cutting edge of content creation and exploitation and hopefully be a part of defining its future."