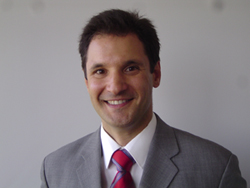 Pablo Ferraro-Mila MCJ '96
Read an Interview with Pablo Ferraro-Mila.
Pablo Ferraro-Mila is one of the founding partners of Gonzalez & Ferraro Mila, a leading Argentine law firm that began operations on February 21, 2005. His firm has already been involved in some of Argentina 's top transactions, both locally and internationally.
Ferraro-Mila has studied and worked in the United States , Europe and Latin America , gaining extensive international experience in a wide range of corporate and commercial transactions, including mergers and acquisitions, corporate finance and debt restructurings. In addition, he has been involved in international capital market transactions, derivative products and securitizations.
Ferraro-Mila is admitted to practice law before the Bars of the City of Buenos Aires , the Supreme Court of the State of New York and as a Solicitor of the Supreme Court of England and Wales . Before forming Gonzalez & Ferraro Mila, he was a junior partner with Estudio Beccar Varela in Buenos Aires. He has also worked at the law firms of Cravath, Swaine & Moore in New York , Allen & Overy in London , and Allende & Brea, in both the Buenos Aires and New York offices.
Ferraro-Mila graduated with honors from the University of Belgrano School of Law (Buenos Aires) in 1993. He was a fellow at University of Oviedo in Spain in 1991. In addition to his year at the Law School as a Fulbright Scholar, which led to a Master of Comparative Jurisprudence in 1996, Ferarro-Mila holds a Master in Business and Corporate Law from Universidad Austral (Buenos Aires), which was awarded in 2004.
A frequent contributor to legal journals and law reviews, Ferraro-Mila's most recent publications include The Transfer Process of Control Shareholdings, published by Lexis Nexis in 2006, as well as an article entitled "Due Diligence in Corporate Acquisitions" (RDCO— Business Law Review, Lexis Nexis, Nbr. 214–421).
Interview with Alumnus/Alumna of the Month
Pablo Ferraro-Mila MCJ '96
What is your area of specialization, and how did you come to work in this area?
My practice is currently focused mainly on international transactional work, in particular mergers and acquisitions, corporate finance and debt restructurings; however throughout my career, I have also been involved in capital market transactions, derivative products and securitizations, as well as in advising both Argentine and international companies in a wide range of corporate, financial, contractual and business matters. I even had the chance to participate in a few major arbitration and litigation cases, which helped me broaden my experience in the legal profession. I firmly believe that in order to become a good specialist, you must first practice in different areas of the law so as to become a good generalist. So this is how I ended up doing what I do now. After a few years of practice, I was lucky enough to be able to choose from experience what I like the most and specialize in it. However, the learning process is never ending, so in order to enjoy it more and more every day, you must constantly update.
What prompted you to open up your own firm? What were the greatest challenges you faced in doing so?
I decided to establish my law firm (Gonzalez & Ferraro Mila ) mainly due to a desire for greater autonomy in my practice. Also, I guess that the decision was due to a combination of different factors, which include having an entrepreneurial approach to the legal profession, feeling ready to take the challenge, and having the guts to go for it, combined with a big dose of good timing and of even better luck. Together with my partner Mariano Gonzalez , we took the big step of professional independence at the age of thirty five. Although it was a well thought decision which we felt ready to take, it was still a big leap.
The greatest initial challenge in establishing our own firm was managing workflow, which thankfully was quite intense from the very beginning. All other practical aspects of setting up a new firm are fairly manageable.
Another difficulty in starting my own practice was finding the right niche with clients. Both my partner and I were trained in big law firms in Argentina and abroad, so once we got our foot in the door, we were confident that clients would be pleased with our services. However, it still took a lot of effort to find the right entry point with sophisticated clients that were used to being served by the largest and most prestigious law firms.
Finally, our main focus in starting our own firm was to create a stimulating, intellectual work environment, to enjoy a varied and interesting practice, and to have control over, as well as responsibility for, our own professional destiny.
Now after a year of having consolidated our practice together with a team of smart lawyers and excellent staff, we both confirm that not only it was the right thing to do, but also the best professional venture we've ever undergone. Only time will tell, but we are definitely very pleased so far.
What do you enjoy the most (and like the least) about having your own law firm?
What I enjoy the most about having my own firm is a combination of many factors, including going everyday to a place where I like to work, sharing such a place with the people I like to work with, having a certain degree of control over the work I do, developing our own client relationships and having an ownership stake in the business.
Besides, since the day we started, we've been lucky enough to participate in major transactions, do well financially and build our own reputations in the legal community. Professionally, there is probably not much more we could ask for, including a sense of accomplishment, which is huge and something that we'll have forever.
What I probably like the least is having to deal with the administrative management and control of the office. Even though we have support staff in many of these matters, owners need to have some degree of involvement in the administrative issues of the business for it to run smoothly in the long term.
How did you end up having such a varied and impressive international background?
Having a strong international practice was my aim from the very beginning. So I assume it was just a mix of having clear goals, putting quite some effort into it, and a lot of good timing and good luck.
While still in law school in Argentina , I won a fellowship to study for a year at University of Oviedo School of Law, in Spain. When I came back to Argentina, the results of my studies abroad helped me get a job at Citibank's legal department in Buenos Aires, which in turn led to an offer from a major Argentine law firm with offices in New York; after a few months with them, I ended up with a transfer offer to the New York office.
Once in the US, I did the Master of Comparative Jurisprudence (MCJ) program at NYU School of Law between 1995-1996 with a Fulbright Scholarship. After passing the New York bar in the summer of 1996, I accepted an offer to work as an associate for a year with Cravath, Swaine & Moore in New York and thereafter, for two years at the US Law Group of Allen & Overy in London.
Life brought me back to Argentina to work for another major law firm after six years of international studies and work experience abroad. I worked with Estudio Beccar Varela in Buenos Aires for about five years and became a partner.
How do you balance work and life?
Although I have always liked what I do and taken my work very seriously, I try to maintain a balance in life, such as spending time with my friends, my loved ones and especially with my wife. She is a great supporter and companion, and as I firmly believe in the personal and family project we began building together a couple of years ago, I try to share with her as much of my life as I can.
Sports are also a big part of my life, mainly golf and martial arts. I hold black belts both in Shorin-Ryu Karate and in ITF Taekwon-do. I train regularly and deeply enjoy exploring the different aspects of each martial art. Serious martial arts training is also helpful to keep a good physical and emotional balance, which in the current stressful times we live in, is quite handy.
How did your education at NYU School of Law prepare you for the career that you have had?
Coming from a civil law jurisdiction initial education, the MCJ program at NYU School of Law was my first academic contact with the common law system. As I said previously, I always knew that my legal practice was to become mainly international. Learning the common law system, the legal principles and the case study methods in depth at NYU School of Law prepared me to not only better understand how the system works, but also the way common-law-trained lawyers think and analyze the legal issues posed in a particular case. To this day, and probably throughout the rest of my career, I shall interact with common-law-trained lawyers (mainly from the US and the UK). Thanks to my studies at NYU School of Law, combined with the other experiences abroad, I feel that the channel of communication is quite fluid for legal advise purposes.
What is your favorite memory from your time at the Law School?
In order to sound serious and responsible, I could tell you that my best memories are of preparing extensive papers within short deadlines, studying for finals, and attending the great lectures, among others.
Seriously now… of course I can't deny that I still have quite a few good memories of all the academic aspects of Law School, but definitely my favorite memories of my time at The Law School come from the time I spent with my MCJ group. It is amazing how close a bond you end up making with such an international and diverse group of people, and in quite a short period of time (the program is only 9 months long). I mainly remember the outings with the MCJ group, the good conversations in the study groups, a few weekend trips with my closest friends, the MCJ parties at Mercer Hall, just to mention a few.
I still have a few very good friends from the MCJ and we keep in touch regularly. From the exchanged correspondence so far, it seems that we can't wait to meet with the rest of the group to celebrate our 10 th Anniversary MCJ-NYU School of Law Reunion in New York this coming April 8th.
If you could choose a different profession, what would it be?
Most likely, acting. And although it doesn't ensure happiness, if being rich and famous comes with the package, I certainly wouldn't mind.
What advice would you give to current students?
Always believe in yourselves and that all efforts made in life render fruits at some stage. Also, trust me on the deep truth of one of my favorite quotations: Nam et ipsa scientia potestas est (For also knowledge itself is power), Sir Francis Bacon (1561–1626).