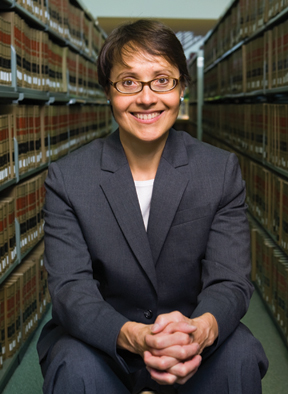 Jenny Rivera '85
Professor of Law, City University of New York School of Law
It took a law school education to convince Jenny Rivera '85 to become a teacher. The New York City native enrolled at NYU School of Law to pursue public interest law. During her studies, Ms. Rivera was struck by the role professors can play in engaging students more deeply and personally by pairing curriculum with real-world examples. "A light bulb went off," says Ms. Rivera. "I knew how satisfying it was when something suddenly made sense to a student, and I wanted to be part of that experience."
Now 25 years after receiving her J.D. from NYU, after a circuit court clerkship, a clerkship for then-district court judge Sonia Sotomayor, and earning her LL.M. at Columbia, Ms. Rivera is a professor of law at the City University of New York School of Law. She is also founder and director of the Law School's Center on Latino and Latina Rights and Equality (CLORE). Recognized as the first of its kind in the nation, CLORE focuses on issues impacting the Latino community in the United States, with the goal of developing progressive strategies for legal reform. CLORE also educates lawyers, law students, scholars and the general public on the status of Latinos and Latinas, as well as to advocate for expanded civil rights in the areas that affect the growing Latino population.
Whether Professor Rivera is guiding CUNY Law's first-year law students through the finer points of civil procedure and legal writing or teaching 2Ls property law or a course on Latinos and Latinas and the struggle for equality under the law, she aims to present the legal doctrine in a way that engages students on both academic and practical levels.
The real life examples Professor Rivera brings to the classroom are made richer by having a career that spans both inside and outside of academia. After graduating from NYU Law, the Root-Tilden Scholar spent several years working for organizations such as the Legal Aid Society and the Puerto Rican Legal Defense and Education Fund, and served as the first Latina administrative law judge of the New York State Division of Human Rights.
She started teaching in 1994, when she took a position as associate professor of law at Suffolk University Law School in Boston. In 1997, she joined the CUNY faculty where she was appointed full professor and has spent over a decade teaching a wide range of courses. But in 2007, Professor Rivera again felt the pull of practice. She took an 18-month leave of absence to serve in New York Attorney General Andrew Cuomo's office as Special Deputy Attorney General for Civil Rights.
"I was looking for direct practical work that would allow me to put my legal skills to work on social justice issues and inform my teaching and my scholarship." The position gave Professor Rivera the opportunity to immerse herself in a variety of civil rights issues. Though the specifics of the cases remain confidential, she says the experience gave her "tremendous insight" into the demands placed on the office—as well as the office's limitations. "You have to be very harsh about choosing which cases you take," she says. "It's a hard balancing act."
In the classroom, Professor Rivera said she keeps mundane legal topics fresh by using real-world examples from her career and from the headlines. "It's important to move from the abstract to the concrete," she said. Her teaching style is modeled, she said, after those teachers and mentors that engaged her as a student and a junior faculty member. One example Professor Rivera remembers is when Professor Paulette Caldwell brought to life an employment discrimination class by using examples from a Supreme Court argument held during the semester. "It was so useful to hear how the attorneys approached the case and how they interacted with the justices. It brought a whole new perspective to the material, in a way that captured our attention."
When Professor Rivera began Administrative Law in 1995, she knew students often found the subject dry. But, she knew that it was imperative for lawyers—and in particular public interest lawyers—to be well-versed in administrative law so they could deal effectively with government agencies and the administrative review process. To contextualize the law for students, she accentuates her lesson plans with experiences from her time in private practice and as an administrative law judge, as well as from the news. For instance, several years ago Professor Rivera discussed a Bush administration decision to forego regulations mandating a variety of workplace ergonomic requirements debated under the Clinton era. "The students seemed quite taken by the fact that a change of administration could have such immediate impact," she says. "They instantly understood the power of the agencies and began to think more critically about how government works."
A frequent author on scholarly articles about Latinos and Latinas and the law, Professor Rivera reflected that "Growing up, my mother would bring me with her to picket housing projects that were closed off to Latinos," she says. "At an early age, I understood that we didn't have access to all the opportunities in the City because we were Latino. That really affected me." In looking back at her career, she reflects that "teaching students to use the law to foster social justice gives me hope and inspiration about the future."

Professor Rivera, who lives in the Bronx with her partner, Audie Serrano, founder of Immedia Mobile, a mobile application development company, said she finds the combination of the teaching and scholarship tremendously satisfying" she says. "Now as the director of CLORE I also have the opportunity to focus on social justice issues, through practice-based work community education programs and academic endeavors. I am fortunate to have a Law School community and faculty colleagues who value this work and support civil rights project focused on the Latino community. The students are a tremendous source of the energy and passion of what we do."