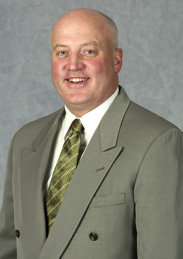 Bill Daly '90
Read an Interview with Bill Daly.
For the latest news on the NHL Collective Bargaining Agreement negotiations, click here: www.nhlcbanews.com
William L. Daly joined the National Hockey League on December 13, 1996 and has quickly become one of the most influential figures in hockey. As Executive Vice President and Chief Legal Officer, Mr. Daly is the top legal advisor to NHL Commissioner Gary B. Bettman '77 and his right-hand man on almost every important League issue.
Mr. Daly takes the lead role in administering and negotiating the League's collective bargaining relationships with the NHL Players' Association and NHL Officials' Association, advising the Clubs and League office staff on all legal matters, and coordinating League litigation matters. Additionally, Daly administers League-sponsored pension plans and League-wide insurance programs, and monitors state and federal legislative initiatives that impact League business.
In 2000, he assumed responsibility for overseeing the operations of NHL International, one of the strongest growth divisions of the League. NHL International is responsible for and oversees, among other things, the NHL's relationship with the international hockey community, organization of the NHL's participation in international competition (including the Winter Olympics and the World Cup of Hockey) and the League's overall efforts in the marketing of NHL hockey worldwide. Mr. Daly was caretaker for the NHL's successful involvement in the 2002 Winter Olympic Games, and in fact, brokered the deal with the International Ice Hockey Federation and NHLPA facilitating NHL player participation. He also played a lead role in the League's landmark marketing/co-branding agreement with the Salt Lake Organizing Committee—the first of its kind between a professional sports league and an Olympic organizing committee.
Prior to joining the NHL, Mr. Daly was an attorney with the New York law firm of Skadden, Arps, Slate, Meagher & Flom, LLP for six years. His focus with Skadden was litigation, labor and antitrust issues relating to sports. In addition to his work for the NHL, Mr. Daly also represented the National Football League and the National Basketball Association on a variety of legal and collective bargaining matters.
Beyond his duties with the NHL, Mr. Daly has served as a member of the Sports Law and Antitrust Law Committees of the Association of the Bar of the City of New York and authored a number of articles addressing legal issues relating to professional sports.
Interview with Alumnus/Alumna of the Month
Bill Daly '90
What is your area of specialization and how did you come to practice in this area?
Sports Law—specializing in antitrust, labor, and contract law. I requested a case assignment my first year out of law school which involved representation of the National Football League in an antitrust and labor-related litigation with NFL players..
Describe a case or matter that you worked on that you found particularly challenging or rewarding.
A grievance arbitration under our CBA (Collective Bargaining Agreement) with the Players' Union comes to mind. This case involved whether a player who breached the last year of his player contract could become a free agent at the stated expiration of his contract or whether alternatively, his contract was effectively "tolled" for the duration of his non-performance. The arbitrator ruled that the player must sit out a year of performance before he could qualify for free agency.
You joined the NHL in 1996. What major changes have you seen in professional athletics over the years? What do you think has contributed to these changes?
Professional sports have continued to evolve into "big business" and plays a more prominent role in the broader entertainment industry than ever before. Exposure, growing popularity, and the amount of money involved all have contributed to these changes.
What impact has international recruitment had on professional athletics?
International recruitment, at least in hockey, has led to the globalization of our sport. There is certainly increased interest in the NHL on a world-wide basis, and ultimately a better product because of the deeper talent pool from which we draw our players. Today, approximately 35% of NHL players were born outside of North America.
What is the most rewarding aspect of your job?
I get to work in a sport I love and have always had a passion for. I love coming to work everyday.
Your job sounds exciting and glamorous. Is it?
At times it is but like all other jobs, it also requires a lot of time and hard work.
Who are your role models in the legal profession?
Frank Rothman and Shep Goldfein who were my mentors as a young lawyer at Skadden, Arps. I owe everything I know today, as well as my current position with the NHL, entirely to them.
What was your first job out of law school?
I was an antitrust associate with the law firm of Skadden, Arps in New York. I was fortunate to spend about 90% of my time on matters relating to professional sports.
What has contributed most to your success?
Hard work and good fortune. I have found that the two are not unrelated.
How do you balance work and life?
Sometimes not as well as I should, but I have a good mentor in my boss, Commissioner Bettman. He is perhaps the hardest worker I've ever met, but he always makes time for his family.
What advice would you give to current students?
There is no substitute for hard work, commitment of purpose, and passion for what you are doing. If you can't have fun with what you're doing, you should be doing something else.