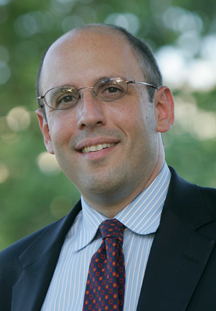 Paul Schiff Berman '95
Dean, Sandra Day O'Connor College of Law, Arizona State University
For the dean of a law school, Paul Schiff Berman '95 has an unusual background: Just after completing degrees in anthropology and theater at Princeton University, he spent several years working as a theater director in New York City. The two occupations may seem worlds apart, but Berman says they have much in common.
"As a director, you want to create space in the room for everyone to be creative and have lots of ideas. And when someone brings an idea to the table, you want to put it on its feet as quickly as possible and run with it," says Berman, who is entering his third year as dean of the Sandra Day O'Connor College of Law at Arizona State University in Tempe. "As a dean, I'm trying to do exactly the same thing."
Indeed, Berman was recruited in 2008 by ASU President Michael Crow specifically to take an entrepreneurial approach to the law school's future. Crow charged Berman with inventing a new model for 21st century public legal education. "He said if I could dream up new ideas, he would back them," says Berman, adding that the prospect lured him from a faculty position at the University of Connecticut School of Law to a part of the country he'd never seriously considered.
Since Berman took the job, ASU's law school has launched more than 25 initiatives, including a bachelor's degree program in Law, Policy and Society and the Diane Halle Center for Family Justice, which brings together students in law, social work, nursing, psychology and criminology to work on holistic solutions to domestic violence issues. "Law students will realize the client's legal problem is only one part of his or her needs," says Berman. "That's an important lesson for future lawyers."
Berman himself entered law school after realizing that he wanted to be more directly engaged in political and social issues than his theater career allowed. A New York native, he decided to attend NYU School of Law in part so he could continue directing plays as time permitted. And though he directed two more plays while at NYU, his experience in law school quickly convinced him of how much he enjoyed legal discourse. Berman particularly appreciated NYU's training in this regard: No matter your initial position on an issue, he says, you are pushed to express several other ways of looking at it. "I think that approach teaches an independent ethical value: the idea that all these points of view deserve to be articulated," he says.
Two NYU professors: Ronald Dworkin, the Frank Henry Sommer Professor of Law, and William Nelson, the Judge Edward Weinfeld Professor of Law, provided inspiration for Berman's decision to enter academia. In Professor Dworkin's colloquium on political philosophy, Berman soaked in the experience of hearing professors direct their remarks to one another—rather than to students—at "a very high level of academic discourse." Professor Nelson first raised the idea that Berman might consider becoming a professor, based largely on the promise he saw in his inclination to combine his background in cultural anthropology with the law. "He then helped advise me as I entered the teaching market, as he has with many students both before and after me," says Berman. Other important mentors were Christopher Eisgruber, now Provost at Princeton University, and Burt Neuborne, Inez Milholland Professor of Civil Liberties.
Following his graduation from NYU, Berman held two clerkships, one with Chief Judge Harry T. Edwards of the U.S. Court of Appeals for the D.C. Circuit and the other with Supreme Court Justice Ruth Bader Ginsburg. In the year between those experiences, he returned to New York to work as a pro bono associate for Sullivan and Cromwell LLP, where he focused on prisoners' civil rights cases. "During that year, I saw in a very tangible way how a lawsuit can proceed in an extremely civil, quick and efficient manner when both lawyers do what their professional obligations require they do," he says. "I also saw how the litigation process can be frustrating, time-consuming and inefficient when lawyers use obstructionist tactics for no particular reason other than to delay."
Today, Berman spends his days in a rush of events and meetings with students, faculty and alumni, in addition to teaching first-year civil procedure. Though his time is often tightly scheduled both during the day and at night, Berman, age 44, makes it a habit to leave the office by 5:30 to at least spend dinnertime with his six-year-old son, Julien, and his wife, Laura Dickinson, who is on the law faculty at ASU and directs its Center for Law and Global Affairs. Between them, the couple has two books slated for publication in 2011. Berman's book, Law Beyond Borders: Jurisprudence for a Hybrid World, is being published by Cambridge University Press. Dickinson's book, Outsourcing War and Peace, is to be published by Yale University Press.
When Berman speaks to students, whether at ASU or elsewhere, he encourages them to take a wide view of their possible career paths. "Don't assume your first job will be your last job, and follow your passions and interests wherever they lead—even if you're not sure where they'll end up," he advises. "Whatever you do, do it at a high level and then see what doors open."