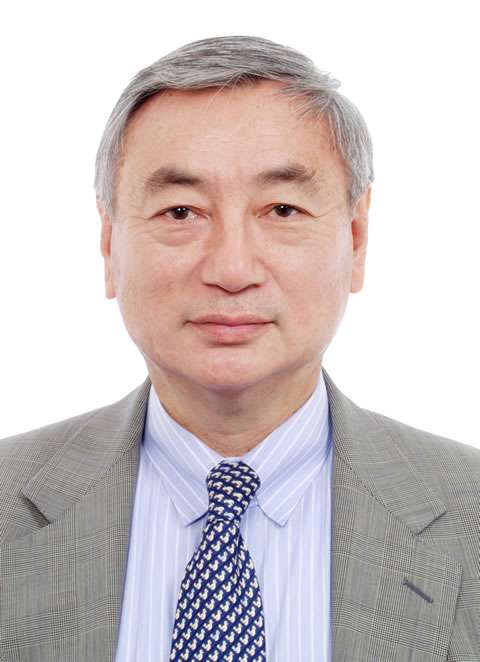 Paul S. P. Hsu LLM '69
Read an Interview with Paul S. P. Hsu
Widely recognized as an expert in cross-border economic and commercial transactions, Mr. Hsu's specialty practice areas include corporate strategic planning, Asia Pacific regional economic cooperation, intellectual property rights, and financial services. He also participates actively in Asia Pacific regional activities, such as APEC, as well as the activities of WTO and OECD within the region.

Mr. Hsu is currently Chairman and CEO of PHYCOS International Co., Ltd. PHYCOS was founded on the premise that opportunities for business and government relations can be identified and developed into meaningful solutions to the development of capital market, such as mergers and acquisitions, venture capital, and restructuring. This is accomplished with a thorough understanding of regulatory environments, local laws and public policy, coupled with an innovative approach towards business development. Mr. Hsu feels strongly that PHYCOS must be more than a consulting company. By partnering with a network of regional attorneys and regulatory experts, PHYCOS is able to offer its clients both insightful analysis and precise execution.

Mr. Hsu's current positions include:
Chairman and CEO of PHYCOS International Co., Ltd.
President of the Epoch Foundation
Member of the Trade and Investment Review Board of the Industrial Development Committee, Ministry of Economic Affairs, R.O.C.
Director of the Board of the Chinese International Economic Cooperation Association
Founding Member of the Evian Group Advisory Council
Member of the Brookings Institution's CNAPS Advisory Council
Member of the Dean's Advisory Council, Sloan School of Management, MIT
Member of the Fletcher Board of Overseers, the Fletcher School of Law and Diplomacy, Tufts University
Member of the Board of Advisors of the Fletcher Forum of World Affairs
Mr. Hsu is an adjunct professor at the National Chengchi University, teaching the executive MBA course of "New Service Business Model Creation Seminar". Mr. Hsu formerly served as a Senior Partner of Lee & Li and an adjunct professor of law at the National Taiwan University.
Born in Hong Kong, Mr. Hsu received an LLB from the National Taiwan University, an MA from Fletcher School of Law and Diplomacy of Tufts University, and an LLM from New York University School of Law.
Interview with Alumnus/Alumna of the Month
Paul S. P. Hsu LLM '69
What is your area of specialization and how did you come to work in this area?
My area of specialization includes, but is not limited to, corporate strategic planning, public policies, Asia Pacific regional economic cooperation, intellectual property rights, commercialization of know-how and technology, new business model development, and financial services. I came to work in these areas first as a legal advisor and eventually broadened the work as a business consultant as well.
You've helped many international companies establish themselves in Taiwan as it has moved from a developing economy to a high technology and service-oriented economy. As Taiwan grows and develops, how does your work change?
In alignment with the track of evolution of Taiwan's economic development from an import-substitution and export-oriented economy, to the phase of developing technology industry, and now with focus on a high value-added knowledge-based service industry, the investment projects have also evolved. At present, one of my endeavors is to explore opportunities in China. My role also shifted from pure law practice to a broader range of consulting work with an emphasis on the greater China area.
As a professor of Law at the National Taiwan University, what is your favorite class to teach and why?
My favorite courses would be "Contemporary Legal Issues on International Business Transactions" at the law school of National Taiwan Univeristy, and "Development of New Business Models in the Service Industry" at the executive MBA program of College of Commerce, National Chengchi University.
After teaching law school students at the National Taiwan University for more than thirty-five years, for the past few years, I have continued to lecture at the executive MBA program at National Taiwan University and then at National Chengchi University. The content of the course I have been teaching at the executive MBA program combines law, business and other discipline to introduce new business models for the service industry, which Taiwan and Asia as a whole is desperately in need of.
The reason for switching from teaching law to teaching business is based on my interest of developing more young-to-mid-aged professional talents to face the challenges of the globalization of economy and the fast changing economic and business environment.
What are some of the biggest challenges you face in your work?
Among the biggest challenges I faced in my work is to exert my efforts, along with that of my many colleagues, to influence the changes in the regulatory environment, including government policies, laws and regulations, and the most important of all, the mindset of the policy makers.
What led you to the NYU School of Law and how did your experience here inform your career?
One of my main reasons to study at the NYU School of Law is that I learned that many of the professors at the NYU School of Law were concurrently practitioners at well-known New York law firms who not only have excellent academic credential but also have abundant practical experiences acquired from their practices.
My experience at the NYU Law School as well as working experiences in New York helped me to develop a fresh vision of what I did later on in my career. When I had to face a decision of developing my career plan, I decided to focus on issues that are relevant and vital to the economic development of developing nations.
What do you miss about New York?
New York provides such a diversified life style and is a rare melting pot of business and culture activities that are totally internationalized. I remembered when I first had an interview with the admissions office of NYU School of Law, I asked "Where is the campus?" and the gentleman looked at me and said: "The whole New York City!"
What is your fondest memory of New York?
I totally enjoyed the cultural diversity.
What has been the most rewarding aspect of your career thus far?
Teaching as well as managing the Epoch Foundation (www.epoch.org.tw) to help younger generations acquire state-of-the-art knowledge of technology, management, and the future development of the country and/or the community where they belong to, and at the same time, widening their vision about the world and about their own future.
What is the future of your career?
To continue to do what I have been doing, to help myself and others to create innovative business models, and to develop an entrepreneurial spirit among the younger generation.
How do you maintain a balance between your work and the rest of your life?
There is no particular formula, it just worked out naturally.
What advice would you give to current students?
My advice to current students is to open your heart and mind and get ready to be a part of the brave new world.