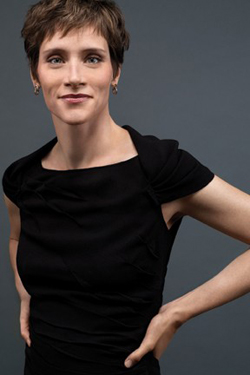 Nancy Mahon '89
Senior Vice President, MAC Cosmetics; Executive Director, MAC AIDS Fund
Nancy Mahon '89 likes to use a basketball analogy to explain the role of the MAC AIDS fund. "We're the small point guard in the basketball game of fighting AIDS," she says. "Muggsy Bogues was 5'3", but he ended up being a terrific player for the Charlotte Hornets, in part because he took great outside shots. We do the same thing when it comes to AIDS funding."
The MAC AIDS Fund gives away $25 million a year to support AIDS-related initiatives in 67 countries around the world. Ms. Mahon oversees the fund's grantmaking strategy, which supports programs that other non-profit groups might find too controversial. Recently, for example, the fund gave $100,000 to a needle exchange program in Washington, DC. Dirty needles are blamed for about one-fifth of HIV infections in that city, according to the DC Department of Health.
The fund is a relatively small player compared to organizations such as the Bill and Melinda Gates Foundation, which has donated $1.8 billion to support AIDS prevention. But $25 million is enough to make MAC the third-largest corporate donor to AIDS-related causes—and Ms. Mahon takes pains to make donations where they will have the biggest impact.
This year, for example, MAC AIDS Fund will give $2 million to programs supporting AIDS prevention in the Caribbean, which has the second highest rate of HIV infection in the world (behind sub-Saharan Africa). "There's not a lot of money from other funders on the ground there, so $2 million will go a long way," she says.
In addition to running the MAC AIDS Fund, Ms. Mahon serves as senior vice president of MAC Cosmetics, which is owned by Estee Lauder. Ms. Mahon draws on MAC Cosmetics' marketing and public relations experience—including its relationships with celebrities ranging from Fergie to Ru Paul and k.d. lang—to draw media attention to its philanthropic endeavors.
The relative glamour of her current position is a far cry from her experience just after law school, when she spent five years working with prisoners living with AIDS. She then joined George Soros' Open Society Institute, where she oversaw grant making related to prison reform, domestic violence and gun control.
In 2000, she took a job as executive director at God's Love We Deliver (GLWD), a New York City nonprofit that provides nutritional and health support to people with AIDS. During Ms. Mahon's tenure GLWD expanded its mission to include support to people with cancer and other life-altering illnesses, and doubled both its budget and the number of clients it reaches. The MAC AIDS Fund was GLWD's largest corporate supporter, and its chairman recruited Ms. Mahon to join MAC in 2006.
The demands of her current work can make it hard for Ms. Mahon to leave room for her personal life. But since last spring she's spent several hours a week coaching her six-year-old son's T-ball team (she and her partner, Susan Trerotola, also have a three-year-old daughter). "It's enormously gratifying," she says. "Working for social change is a long-term process. But when you're coaching six year olds, you see progress really quickly; a kid can be totally unable to hit the ball one week and then whack a hit the next."
Ms. Mahon says her commitment to social justice reflects the values of her parents, a lawyer and a social worker. In fact, both Ms. Mahon's father, Arthur J. Mahon '58, and Ms. Mahon were selected as Root-Tilden scholars. "I am so grateful to have been selected, both in terms of the debt relief and, beyond that, the sense of community, idealism and passion about public interest issues at NYU," says Ms. Mahon. "The commitment to public interest is a deeply rooted part of the culture." She also worked as an attorney engaging in individual advocacy to give prisoners access to AIDS medication as well as in the legislature working for medical parole. Furthermore, research she conducted while working with prisoners allowed her to write a report that was published in the American Journal of Public Health.
Ms. Mahon speaks highly of the education she received at NYU School of Law, reeling off the names of professors—John Sexton, Diane Zimmerman, Steve Kelban, Stephen Gillers—who supported and challenged her. She is also grateful for the training she received as a law clerk on the district and appellate levels, not to mention her experience working on the Law Review. "It beat all of my editorial ego out of me—which has been a real asset!" The skills she gained—and the friendships she developed—remain crucial to this day. "Really value the relationships you have with professors and classmates," she says. "The classmates of today are your friends—and job referrals—of tomorrow."
—Michaela Cavallaro