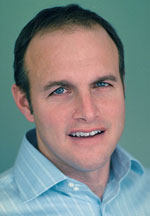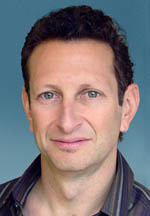 Cliff Chenfeld '85 and Craig Balsam '86
Read an Interview with Cliff Chenfeld and Craig Balsam.
In 1990, Cliff Chenfeld and Craig Balsam founded Razor & Tie, which has become one of the fastest growing independent entertainment companies in the United States, successfully selling audio and video products through direct response television advertising, traditional retail distribution, and smart, e-commerce based Web sites. Razor & Tie, a vertically integrated company, encompasses a record label, a home video company, a media buying company, a major label distribution, an experienced marketing, promotion and sales team, a direct marketing operation, and a growing database of entertainment consumers.
Chenfeld received his JD from New York University School of Law in 1985. Prior to forming Razor & Tie, he practiced law at the New York-based law firm Sullivan & Cromwell. Chenfeld is active in political, philanthropic, and community affairs and coaches a number of youth sports teams.
Balsam received his JD from New York University School of Law in 1986 after graduating from Emory University. Prior to forming Razor & Tie, he practiced law in Manhattan at Robinson, Silverman, Pearce, Aronsohn and Berman (now Bryan Cave). He is active in political, philanthropic and community affairs, through both Razor & Tie and his activity on the Board of Trustees at LREI (Little Red Elisabeth Irwin High School) and by his support of the performing arts at New York City's City Center and Off Broadway's MCC Theater. In addition, Balsam coaches a number of youth soccer and baseball teams.
Interview with Alumnus/Alumna of the Month
Cliff Chenfeld '85 and Craig Balsam '86
What was your vision when you first came up with the idea of forming Razor & Tie?
Cliff and Craig: Our initial concept for Razor & Tie was to create a company that could market music through TV advertising to a very broad demographic, thereby reaching a much younger demo than was usual for the time. In the late 80s and early 90s, most direct response TV advertising for music catered to the over 50 set, with projects like Zamphir (the pan flutist) and Slim Whitman being the norm. We felt that TV provided a great reach for a younger demographic, and fortunately, we were correct.
Describe recent legal developments in your industry; where do you see Razor & Tie in five years?
Cliff and Craig: Much has been made of the woes of the recorded music industry over the past three years and most of it focuses on the issue of illegal downloading. We believe that the root of much of this downturn is the "corporatization" of the music industry; that is, the consolidation of six majors to (ultimately) three, as well as the bottom line only approach to new music—which is all but useless when it comes to artist development. All of this consolidation and desire for immediate profits will only assist independently owned companies like ours in growing, by creating opportunities in seeking musical talent, marketing our products, and finding highly qualified people to staff our company. In addition, we have been successful in expanding Razor & Tie; we now own one of the largest media buying companies in the entertainment business and have made successful forays into kids' music and DVDs. We expect to continue to grow as we develop into a fully-integrated entertainment company.
What is the most rewarding aspect of your job?
Cliff and Craig: It's a great feeling to create a product like Darrin's Dance Grooves or Kidz Bop and have literally millions of people buy and enjoy it. Likewise, when we sign an artist and watch him/her flourish, find their audience, and become more and more successful with each album they release, it is tremendously rewarding.
As entrepreneurs, it is fulfilling to use the Razor & Tie platform to pursue our ideas and interests. We certainly make our share of mistakes; but if we have an idea for a new product or a desire to venture into a new area, Razor & Ties gives us the resources to follow through. And of course, being in charge of our lives is key. We work hard but are able to focus on our families and work our jobs around their needs.
Who are your role models in the legal and business professions?
Cliff: I don't think we have role models per se, although I am a big fan of Craig. I respect anyone who is in charge of their life and isn't afraid of taking chances, and is successful in business but still able to maintain perspective and other interests.
Craig: Attorney General John Ashcroft – just kidding. I can't say I've thought much about role models in the legal profession as we have been running our business since 1990.
What were your first jobs out of law school?
Cliff: I was a law clerk to Judge I. Leo Glasser in the Eastern District of New York Federal Court. I then went to Sullivan & Cromwell for a short time.
Craig: I worked in the litigation department of Robinson, Silverman, Pearce, Aronsohn and Berman, which is now Bryan Cave.
Describe a case or matter that you worked on that you found particularly challenging or rewarding.
Cliff: My legal career was not really filled with too many of them. Actually, my most rewarding legal experience was probably the clinical work that I did while at NYU, where I saw law actually used to benefit those who really needed help. Clerking for Judge Glasser was fascinating, but the work I did at firms becomes a bit hazy.
Craig: I only practiced as a litigator for a short time. It is interesting to have experienced litigation as an attorney (representing the client), and again in our own business (as the client). It is definitely easier to have the proper perspective in the role of attorney; but in most other respects, it's nice to be the client.
How do you balance work and life?
Cliff: Craig and I work very hard but with technology and the growth of our company, we can work at odd hours and make sure that we are home most nights with our kids.
Craig: Cliff and I each have three children and live in Manhattan. It is a tremendous advantage to live near where you work; it provides many opportunities to see your children during the work week. Self-employment also helps when it comes to taking time off to spend with the family—it's good to be the king.
What attributes do you admire in each other?
Cliff: Craig is a highly driven, detail oriented person who is passionate about what he does, as well as being a perfectionist. He is generous to his friends and cares about his community.
Craig: Cliff has a very good perspective on things. When making decisions that seem pressing and urgent to me, Cliff is able to look at things in the long term first and then work his way backwards to the present; it is an excellent way to make decisions as it removes much of the pressure of the daily grind. Cliff is also very good at recognizing trends in our industry and popular culture—which has served us well in this business. He's also a heck of a nice guy.
If you could chose another profession to be in, what would it be?
Cliff: I'd be working to insure that we have a regime change in the United States.
Craig: I'd like to be a game show host.
What aspects of your legal education enabled you to accomplish your level of success?
Cliff and Craig: We learned a great deal in law school and in the just two and half years that we practiced; much of that was how to work hard and conscientiously, attack a problem, spot issues, and think through a strategy before implementing it. For the first five years of our business, when we were in search of EBIDTA, we did our own legal work—and believe us, what a savings!
What advice would you give to current students?
Cliff: You should really do what makes you happy. It is a cliché, but it is the most important thing to remember. If you were admitted to NYU Law School, you are likely a smart, talented person who has many options open to you. Find something in the law that you think will make you happy and if you can't, then use your legal training and experience to move into an area that you will like. Don't think you can do it when you are older, because it is generally much harder. Craig and I made our switch when we were about 30; I think it would have been much more difficult at 35.
Craig: Plan a course for your career and then steadfastly refuse to stick to it—great things can happen.