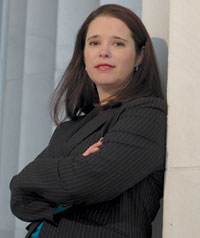 Christina Sanford '00
Attorney-Adviser, US Department of State,
Office of the Legal Adviser, African and Near Eastern Affairs
Christina Sanford '00 gazed out the window of the SUV at Juba, South Sudan on July 10, 2011, and took in the sights of a country in its second day of sovereign life: metal trailers converted into temporary hotels, mud thatched huts that still housed most of the population and everywhere cranes working to transform this dusty town along the White Nile into a capitol city.
She leaned back in her seat, still sunburned from the independence celebrations, and began to cry. The tears flowed in part from pride in the enormity of the five-year effort she participated in to birth a new nation and end a civil war. Yet they also flowed from sorrow that she was on her way to the airport and once again leaving a people whom she had come to love and a nation whose fate was still far from certain.
"Crying is only for people who won't be coming back," said the driver, trying to reassure her that this wasn't goodbye.
He was only half right. She would no doubt return to South Sudan in her capacity as a U.S. State Department attorney-advisor for the Horn of Africa. But the nature of her job is such that as soon as one crisis is averted she must turn her attention to a new crisis in a new country working on behalf of a new people whom she will inevitably come to love and leave.
In that sense Sanford's job is a radical departure from the career she envisioned when she won a Root-Tilden-Kern Scholarship to attend NYU School of Law in 1997. The scholarship recipients are required to commit to a career in public service in exchange for free tuition. For Sanford, who had grown up poor with a mentally disabled sister in Mountain View, California, that meant one thing: social justice advocacy on behalf of the American poor at the local level.
"I didn't even want to be a lawyer," she recalls. "I wanted to be an advocate for child poverty issues and saw legal skills as critical to that work."
She threw herself into advocacy at NYU Law and, by her second year, had risen to become managing editor of the Review of Law and Social Change, a journal founded by student activists to respond to American social inequities. In fact, she was so devoted to the Journal that she scheduled one job interview during Early Interview Week—with the State Department—so that she could get on campus and into the dorms early, allowing her to get back to her editing responsibilities.
She landed the State Department summer internship, which eventually turned into a job offer. But she was reticent about the prospect of an overseas-focused job. It was so far outside her experience that she didn't even own a passport. Steven Kelban, then-director of the Public Interest Law Center and Root-Tilden-Kern Program saw the opportunity differently.
"I was anxious because the work was so different than anything I had been interested in before," says Sanford. "But Steve encouraged me to explore new paths."
She accepted the job with the idea that at the very least it would serve as a short-term bridge to domestic policy work. She went in for her first day on September 10, 2001, and was told that her primary responsibility for the next two years would be to oversee the disbursement of living allowances for American Foreign Service workers and something called the evacuations portfolio. Crisis management would represent the final 10 percent of the job.
The next morning she arrived to work just as the second plane struck the World Trade Center. "From that moment on I have never seen the department in a state of calm," says Sanford. Her relative lack of responsibilities worked in her favor in the immediate aftermath of the attacks as the staff was overwhelmed with work.
Within days Sanford was working on the critical task of evacuating American embassies and consulates. "I had my hair in a ponytail and looked like an intern," says Sanford. "I had to learn fast and not be afraid to say, 'I don't know, but I'll find out.'"
That combination of competence and transparency quickly won her the trust of her superiors, who over the next two years put her on such critical details as attending Response Task Force meetings and coordinating with the Department of Defense. Then, in early 2003, she was asked to serve as special assistant to William Howard Taft IV, the State Department's legal adviser, as the Bush Administration was gearing up for war in Iraq.
"Suddenly I'm writing speeches about the law of war," says Sanford, who turned that assignment into an accelerated master class in both the mechanics of the State Department and the laws of war. She was rewarded for her efforts that summer, when she was asked to help coordinate the disbursement of the $18.9 billon Congress allotted for the reconstruction of Iraq.
Sanford wanted to see that money put to work, and in the spring of 2004, volunteered to go to Baghdad to serve as chief of the U.S. Embassy's legal office. She arrived in the summer, just days after the interim government took over power from the Coalition Provisional Authority. She was only 29 years old and her job was to help coordinate Iraq's first free election just as the country was descending into chaos.
Sanford's office in the American Embassy was housed in the Republican Palace, its plastic crystal and Styrofoam marble betraying a regime that was mostly trading on the illusion of grandeur by its last days. Meanwhile, she shared a converted shipping container behind the palace with a roommate. There was little privacy. The power frequently went out. More alarmingly, violence became a defining feature of her daily life.
"We were mortared twice a day, sometimes more," recalls Sanford. "You develop one of two responses to those conditions: You either walk around disturbed or else with a sense of suspended disbelief." Sanford chose the latter and would often find herself waiting out attacks in the basement of the embassy or her trailer, irrationally focused, she now realizes, on lost hours and the long night of work ahead.
For Sanford, the ultimate measure of her tenure would be the January 2005 elections. "Even though I did not overwhelmingly support our decision to go to war, I felt that once we were there we had a responsibility to do the best we could," she says.
Election day arrived with the polls nearly empty and many in the media anticipating wide-scale violence. Sanford and her colleagues in the embassy set up a projector tuned to CNN and hoped the story would change. Lines started forming at the polls in the mid afternoon and by evening people were dancing in the streets waving purple fingers signifying that they had voted.
Sanford left Iraq in the summer of 2005, and worked for the next year on Iraq policy, which included traveling with the Iraq Study Group and advocating for Iraqi debt forgiveness. Her commitment to the reconstruction effort was recognized in 2006, when she was awarded the Service to America Medal, a government-wide honor given by the Partnership for Public Service and Atlantic Media Company.
Her attention, though, was already shifting to the Horn of Africa, where over the next five years she would work in Somalia, Ethiopia, Eritrea, Chad, Kenya, Uganda and, most intensely, the effort to bring stability to Sudan and help South Sudan achieve independence.
Now, once again, she finds herself leaving a country that on the one hand is a newly sovereign nation and on the other still faces threats including violence, mass poverty and hunger. Next, Sanford will turn her attention to the famine that is afflicting 12 million people across Africa. But first she will return home, where even though she remains passionate about domestic policy, she often struggles to re-acclimate herself to the concerns of daily American life. "Even though I grew up largely poor, I could still go to the corner store and turn on the lights," she says, noting the impossibly stark contrast between African and American life. "Meanwhile, the majority of people in South Sudan are still living in 100 degree heat in mud thatched tukols."