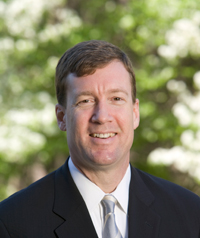 Samuel Buell '92
Professor of Law, Duke Law School
Samuel Buell '92, a professor specializing in criminal law and the regulatory state at Duke Law School, has been asked the same question from all sides in the years following the financial crisis: Doesn't the criminal justice system privilege white-collar criminals?
Buell understands why people think it might. He, too, has read the waves of public commentary arguing that corporate criminals receive undue favor. How else to explain why seemingly so few executives were prosecuted in the wake of bringing the global economy to the brink of collapse?
What's more, he is the perfect man to ask: As an assistant US attorney, he helped head up the Enron prosecutions, and he prosecuted violent criminals ranging from New York gangs to the Boston crime lord Whitey Bulger.
So he recently took it upon himself to examine the evidence to find out if the system's critics are correct—as well as what it might mean if they are not. The answer he arrived at is no: corporate criminals are no more advantaged than street criminals.
Perhaps even more provocatively, he has concluded in a working paper titled "Is the White Collar Offender Privileged?" that to simply hold the widely accepted position that the system is rigged is to implicitly argue for radical changes to the law and society.
The reason: More aggressively prosecuting the kind of behavior that contributed to the financial crisis would require the criminalization of corporate recklessness, a move that would arguably transform the modern free market system.
"What interests me about white-collar crime is the difficulty we have as a legal system—and as a society—in being able to specify what is a crime and what is not," says Buell. Indeed, it is precisely this desire to clarify what constitutes a corporate crime that compelled Buell to walk away from a career as a federal prosecutor just as it was reaching its apex.

Buell was first drawn to criminal law at NYU in Professor James Jacobs's first-year criminal law class. "I identified with what was going on in the cases and felt like this is where the law meets the ground," says Buell.
Jacobs immediately recognized the makings of a gifted prosecutor in the young Buell. "Even as a law student, Sam Buell looked and sounded like a seasoned prosecutor," says Jacobs. "He was mature, thoughtful, ethical, and 100 percent professional. It was easy to predict a brilliant career."
He showed an aptitude for the law in practice immediately. During a summer internship in the US Attorney's Office for the Eastern District of New York, Buell was given the opportunity to assist in a federal trial involving drug dealing and guns.

"That internship turned me onto not just being a prosecutor but specifically being a prosecutor in that office," he says. "What came into that courthouse every day through the US Attorney's Office and otherwise was an incredible mosaic of human stories."
Buell graduated first in his law class with commendations for scholarship, character, and contributions to the law review. He took a clerkship with Judge Jack B. Weinstein, also of the US District Court for the Eastern District of New York in Brooklyn. Then he went to Washington, DC, for a year, where he served as an associate with the corporate firm Covington & Burling. Most notably, he met his wife Erika '97, then a paralegal at Covington and now a corporate attorney who also teaches at Duke.
All the while, Buell kept in contact with the US Attorney's Office for the EDNY. In 1994, they invited him to interview for an opening in the office. US Attorney Zachary Carter '75, now a partner at Dorsey & Whitney, asked Buell in the interview what kind of cases he would be interested in pursuing as a prosecutor. Buell said white-collar crime and corruption, because he believed, as he does now, that they corrode public confidence in government and markets.

He was offered the position. But when he arrived at the office, he found himself more interested in the destruction wrought by gang violence and homicides on communities.
"You had the worst possible kind of crimes being committed by offenders who were, in the gang context, extremely sophisticated, some of them for years evading arrest or prosecution," says Buell, who notes that he quickly came to believe that he could have a powerful impact working on these types of cases.
Indeed, he worked for three years in the Violent Enterprises Unit, including two years on a case involving a murderous Jamaican gang that took him from New York to Los Angeles to Miami and yielded several murder convictions.
"If we hadn't done anything about those people, then no one would have and they would have kept on killing," says Buell.

Then in 1998, Buell and his wife, Erika, who had transferred from the University of Virginia School of Law to NYU Law when Buell was hired by the US Attorney's Office, decided to move to Boston. Erika had been offered a job at Hale and Dorr there, and, as they were both from New England, they wanted to be near their families as they started their own.

So Buell was able to get a position in the organized crime unit of the US Attorney's Office in Boston. Most of the resources of that unit were being devoted to the Whitey Bulger case, arguably the most significant organized crime prosecution in the city's history. Buell's job was to take over the investigative and grand jury part of the case.

"[The case] sprawled over two or three decades' history of Boston and involved tentacles ranging from murder, extortion, public corruption, and alliances and warring between crime groups," recalls Buell. He remembers how meaningful it was to return the long-lost bodies of several murder victims to their families.
He worked on the Bolger prosecution for three years ending in September 2001, when he was drawn into the 9/11 investigation focusing on the two planes that originated from Boston. Not two months later, Leslie Caldwell, a former assistant US attorney who had been his supervisor in Brooklyn, called. She had just become chief of a special taskforce to investigate the collapse of Enron Corporation, and she wanted to know if Buell would join her team.
"I sort of laughed and said that was crazy, I have a wife and child here and a house–it was just not in my concept of what I was going to be doing for the next couple of years," recalls Buell. But that night his wife encouraged him to reconsider, observing that it might be the most interesting case that he would ever have the opportunity to work on.

"Literally, the next Monday I was in Washington," says Buell. "I don't think I came up for air for two years."

Books have been written about Enron's political, economic and legal significance. For Buell it signaled that American society was being profoundly shaped at almost every level by the nexus of business, corporations, and law and that, as a lawyer interested in public policy, he must become expert in its impact.
So in 2004, with Enron preparing to go to trial, Buell decided to change careers and enter academia. His reasons were not purely professional, he acknowledges. His family was exhausted after being without him during the relentless grind of preparing the case. But he was energized to think more theoretically about the law. And perhaps most significantly, he was drawn to scholarship because Enron had raised for him the high-stakes question of how the legal system should approach white-collar crime in an era when corporate behavior has become fundamental to almost every corner of American life.
"Now these business cases don't just happen in a little corner of society and show up on the business page," Buell says. "These are cases that potentially have national impact and are front-page news problems."
He has written both scholarly and popular articles on white-collar crime over the last several years—teaching first as a visiting professor at the University of Texas at Austin School of Law, then on the faculty of Washington University in St. Louis, and now at Duke. At the same time, he has emerged as a public voice of reason, often striving to investigate critical questions like whether the justice system is really slanted toward white-collar criminals and how far we should go in punishing them. He is now repeatedly called by reporters to comment on these questions, and he understands why. "At the root of our shared uncertainty about white-collar crime are un-worked out questions about where this behavior fits in the moral architecture of society," says Buell. For all of Buell's accomplishments as a prosecutor, his greatest impact as a lawyer may be yet to come as he grapples with the legal, social, and political implications of those questions.