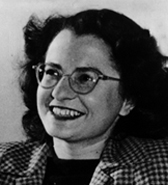 Cecelia Goetz '40, LLM '58
1917-2004
New York University School of Law's Alumnus of the Month Program traditionally functions as a forum to feature alumni currently making significant contributions to the law community. However, this month an exception has been made to honor an alumna who passed away earlier this year. September's posthumous Alumna of the Month is the Honorable Cecelia H. Goetz Spiegel '40.
Given the success of women today in the field of law it is easy to assume that it has always been the case. It is difficult to imagine a time when women's participation in the legal community was not welcome. It was alumnae like Goetz who laid the path for a more inclusive legal profession. Goetz's story is a story of firsts. The following provides a glimpse into an extraordinary alumna who led an incredible life.
Goetz's life in law began at NYU School of Law where she excelled in her academic pursuits. Longtime friend, Edna Glassman Trubin '40 recollects "It was difficult to be a woman in the Law School in 1940, but Cecelia accepted this as a challenge and did everything well." Goetz proved to be up to any challenge and graduated as the salutatorian of the class of 1940.
As a student at NYU School of Law she joined the Law Review and later became its editor-in-chief. She is said to be the first female editor of a major law review in the country. On the Law Review, Goetz worked closely with Herbert Rubin '42 and the Honorable Rose Luttan Rubin '42, forming a lifetime friendship. Judge Rubin recalls "Both my husband, Herbert, and I each had the good fortune to work under Ceil's leadership. She was tireless. She was focused. She extracted the best from each member of her staff, setting standards which influenced us for our entire careers."
In spite of her remarkable academic success, Goetz found that not many jobs were open to women. Herbert Rubin explains, "Cecelia Goetz's life was truly the law. Her concentrated experience as Editor-in Chief of the Law Review could not be followed by jobs in the private or judicial systems as a clerk to a judge. That was totally unavailable at the time. Limited opportunities came be to available in the federal government in Washington at the beginning of World War II when men were being drafted or otherwise joined the armed services. In Washington, her special skills were quickly noted. She was employed in the Solicitor's Office of the Justice Department, the office of lawyers for lawyers."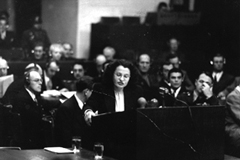 At the Department of Justice, Goetz became the first woman ever to be offered a supervisory role. She declined this in favor of joining the prosecution team at the Nuremberg Trials. She had been following the reports of human rights abuses during World War II and very much wanted the opportunity to take part in bringing the perpetrators of the abuses to justice. To achieve this took persistence on her part. The War Department did not want women appointed to senior level positions. It was Brigadier General Telford Taylor who recognized her credentials and pushed for her appointment.
Goetz spent two years in Nuremberg with the Office of Chief of Counsel for War Crimes, as an associate counsel in the prosecution of the Flick and Krupp cases. Decades later upon reflecting on all of her achievements she still considered the time spent there as the most important work in which she had ever been involved. In retrospect, it was quite an impressive accomplishment considering the barriers that existed. At that time many law schools did not even admit women.
Goetz, as a prosecutor at Nuremberg, was indeed a role model for future women lawyers. Chief Judge Judith S. Kaye '62 remembers, "…long before I knew her as a friend, that photograph of her presenting argument in Nuremberg was seared in my mind. What an inspiration she was for all of us."
In 1951 Goetz moved to Washington, DC. She worked as assistant chief counsel to the Office of Price Stabilization. She was the first woman to reach such a high level in that agency. She next served as special assistant to the Attorney General, Tax Division.
Goetz moved back to New York in 1953 and returned to NYU School of Law in 1958 to earn an LLM in taxation. 1958 also marks the year she married Jack Spiegel. Together they raised two sons, Matthew and Robert. She balanced family and career while working for various law firms in New York before joining Herzfeld & Rubin. She became a partner there in 1964, specializing in complex anti-trust and commercial issues. Goetz remained at Herzfeld & Rubin until being appointed a United States bankruptcy judge in 1978. She was the first woman bankruptcy judge in the Eastern District of New York.
Goetz was an active member of the law community. She was a founding member, and former district director of the National Association of Women Judges as well as past president of New York State Association of Women Judges. In addition, Goetz served as director of the Women's Bar Association of the State of New York. Over the years, she also was an integral member of numerous other bar associations and organizations.
Judge Rubin recalls Goetz's commitment and service, "Ceil's participation in the organized bar and the women's rights movement was intertwined with her work as a practicing lawyer and judge. Like her contemporaries who experienced and overcame the same obstacles, she was a role model and support for countless women lawyers."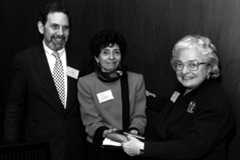 Her achievements and dedication have not gone unnoticed over the years. NYU School of Law honored her with the Judge Edward Weinfeld Award in 1991. In addition, the New York County Lawyers Association presented her with the William Nelson Cromwell Association Award in 1994.
Perhaps the greatest tribute to Goetz is the fact that this fall fifty percent of the newly enrolled J.D. students are women. This achievement was made possible due to the perseverance and leadership of trailblazers like Goetz.
Goetz has made a place for herself in history and in the hearts of those who had the privilege of knowing her. Her presence will be greatly missed and her contributions will not be forgotten.