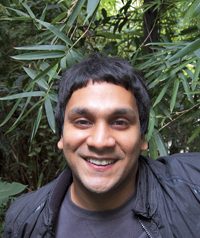 Rajeev Goyal '06
Author, The Springs of Namje
Before attending NYU Law, Rajeev Goyal '06 served as a Peace Corps volunteer in Namje, a remote village in Nepal, at a time when the country was caught in a Maoist war during the 1990s and early 2000s. With the support of the villagers, Goyal successfully organized the building of a water pump system, an effort that freed women and children from the burden of spending hours each day carrying water. Years later, Goyal applied the lessons he learned in Namje to his lobbying work on Capitol Hill, eventually earning the Peace Corps a $60 million increase in funding, the largest dollar-amount increase in the organization's history.
Goyal, who is pursuing a master's degree in international agriculture and rural development at Cornell University, recently published The Springs of Namje: A Ten-Year Journey from the Villages of Nepal to the Halls of Congress. He spoke with Public Affairs Officer Michelle Tsai about the experiences in his book.

In your book you say that you arrived in Namje thinking that technology and money could solve many of the world's problems, but that you learned that this is not exactly the case. What happened?
When I was a teacher in Namje, two out of 18 kids passed high school. A couple years after the pump started working, it was 32 out of 38, because the kids had this extra free time and their parents weren't having to carry water and could help with their schoolwork. What I learned is that you solve problems, like advancing education, but new, more complex ones emerge. Bringing water to the village also opened up a slew of problems. Now thousands of miles of roads are being expanded into the villages, and wealthy industrialists and investors are coming in and distorting land prices. In my book, I describe how one ropani, about 5,000 square feet, could be bought for $50 in 2003 when I was in the Peace Corps, and in 2011 could be sold for two million rupees, or $30,000.
How do you begin to solve this land issue? What we've been trying to stimulate are sustainable economic ideas. What are the ways in which you can use land and water and precious natural resources sustainably? And how can people earn a living off of it? It needs to be more valuable for the villager to keep their land than to sell it.
What was it like to return from Namje and, 11 days later, start as a 1L at NYU Law?
I started tort law and contract law and I was trying to understand the material, but I struggled to find the relevance for the landscape and the people I cared about.
Then in my second year I did the International Human Rights Clinic with Smita Narula and we wrote a paper positing the thesis that the cause of the Maoist conflict was caste discrimination and that the consequence was even more aggravated discrimination against the Dalits, the people regarded as "untouchable." It got a lot of attention and was cited on the floor of the European Parliament. That was a point where I saw how these things can converge very powerfully.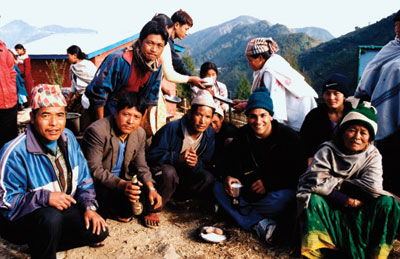 In your book you write about selling Nepalese hats on Houston Street while at NYU Law and wiring the money you eventually made—$4,000—back to the village. How did that happen?
Women in the village used to sew these beautiful woolen hats. When I was leaving, I said to them, "I could sell a few of these for you." On the day I was leaving, there were dozens of bags filled with these colorful hats waiting for me—400 hats would make their way to the West Village. I started to meet the Nepalese in New York City who sold hats and crafts. I found out you could sell in front of the church on Houston Street, and started doing that on weekends. A ridiculous thing, probably, but these hats were a way to stay connected to the people in Namje.
How were you able to be so successful in attracting support for the Peace Corps in Washington?
The political lesson I learned in Nepal is that authenticity is an undefeatable thing. When you meet villagers, the thing that struck me was how real and honest they were. That was the approach that I tried to take in Washington. I was so passionate about the Peace Corps that there was no pretense involved for me.
When we were building the water project, a villager told me that in order to get anything done, I had to go to the highest power. In Washington these lawmakers want the most grass roots interaction possible, and if you can get access, and just walk around, you pretty much can meet anybody—even in the men's room in the Russell Senate building. I met Larry Summers, then President Obama's national economic adviser, Peter Orszag, then the director of the Office of Management and Budget [editor's note: Orszag is currently a Distinguished Scholar at NYU Law], Senator John McCain, and Senator John Kerry. I've talked to all of them about the Peace Corps. I didn't know if they'd remember who I was at first, but I'd talk to them five times in a week and then they did remember.
There was a network of people who were former Peace Corps volunteers who were influential, who had access to members of Congress and went to the same parties. Sometimes it's just an ordinary person who badgers their member of Congress to the point where they have to vote the right way. That's the beauty of politics, and that's the lesson I learned in Namje: The anchors go all the way down to the lowest villager, who often has power to reach these very high-level people.
What advice do you have for NYU Law students who are passionate about public service?
Look beyond a career explicitly in the law. Get international experience. Learn languages. The law is fundamentally about language and interpretation of language. If you want to practice in another country and not work through translators, you can get a lot more done.