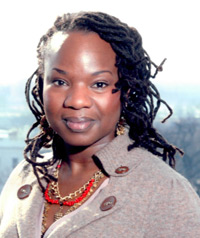 Tatia Miller '02
Regional Legal Advisor, United States Agency for International Development
As Tatia Miller '02 packed up her Washington, DC, apartment recently, she tried to imagine her new life in Islamabad, where she would be a legal adviser for the United States Agency for International Development (USAID). The picture was still fragmentary. She occasionally read newspaper accounts of terrorist attacks in Pakistan's capital, and her pre-assignment training had emphasized caution in striking up casual conversations in restaurants and at the market. On the other hand, colleagues from the agency told her that the food, shopping, and ex-pat parties were small rewards that made the restricted living conditions bearable.
Then there was the sheer responsibility she would assume: She would be one of two lawyers who, along with a team of dedicated development professionals, would make sure that the expenditure of millions of dollars in US humanitarian aid in the region complied with international and federal laws.
Yet for all this uncertainty, Ms. Miller felt calm, her anxiety outweighed by her passion for helping people who have been devastated by disaster. "For me, it's been such a long road to get to this point that I'm just incredibly eager to get to post," says Ms. Miller, who left for Islamabad at the beginning of November.
That road, which has taken her from defending corporate clients in internal investigations to helping rape victims in the Democratic Republic of Congo prosecute their attackers, began for Ms. Miller at Loyola University in Chicago, where the anthropology major learned how, despite customs and traditional rules, disaster can tear at the fabric of societies. "Anthropology laid the foundation for this direction in my life," says Ms. Miller. "It made me ask myself how I could help people in these situations regain control over their lives."
That line of inquiry led her to Washington, DC, in 1996, after she graduated from college. She took a job at the Georgetown University Law Center library, where she was introduced to international law as a means to effect social change. Ultimately, she chose to attend NYU Law because of the school's strong reputation for human rights and civil liberties work.
When Ms. Miller arrived at NYU in 1999 she found mentors—and opportunities to put her ambitions to work. Professors Andreas Lowenfeld and Linda Silberman taught her the fundamentals of international law. That in itself was significant to Ms. Miller, who remembers worrying that, as a student from a small college, she might flame out in such a prestigious law school. "But what I loved about these professors is that they treated me very seriously, were tremendously encouraging, and saw my potential," she says.
At the end of her first year, she completed a summer internship as a UNESCO Oliver Tambo Human Rights Chair, where she conducted research on human rights issues in South Africa. "That experience fleshed out some of the challenges of development work for me," says Ms. Miller. "At the time, South Africa was experiencing some of the highest rates of rape in the world, the AIDS epidemic was at its height, and I was able to talk to people in my office who were teenagers during the Soweto riots."
She knew then that she wanted a career in international law. But she also knew that such jobs were difficult to land. Moreover, Ms. Miller, like many of her classmates, had to pay off student loans. Working with NYU's career counselors, she decided that the most efficient way to gain the legal experience that an institution like the United Nations might find attractive and to get out of debt was to secure a position at a corporate firm.
So she targeted the Manhattan offices of Debevoise & Plimpton because of its reputation for both international litigation and pro bono human rights work. The firm brought her in as a summer intern after her second year of law school, and then, when she graduated from NYU in 2002, hired her as a litigation associate. Ms. Miller's hunch about the firm paid off. Within a few years, she was helping to advocate for detainees at Guantánamo Bay. The work was meaningful to Ms. Miller, who researched, among other things, how to get prisoners information about their families.
Still, with the majority of her often 12-hour workdays devoted to oil, gas, and insurance cases, Ms. Miller knew she would have to leave the firm if she wanted to move into full-time development work. So in 2007, she took a position as a staff attorney with the American Bar Association's Rule of Law Initiative (ROLI), which develops programs to support legal systems and professionals in developing countries. There was some risk in accepting the job. Title aside, she would be doing more work as a grant writer and program manager than as a lawyer. Then there was the financial hit. "I took a huge cut in pay to go public interest," says Ms. Miller. "But it was a fantastic exposure to the business side of international development."
In 2008, ROLI dispatched her to the Congo to set up a program to help local prosecutors combat an epidemic of rape that had terrorized women across the country. To date, the program has provided legal assistance to 1,100 survivors of sexual violence and filed more than 500 complaints with police. "It was profoundly important for me to see that these women, whose lives had nearly fallen completely apart, had some evidence that their society hadn't disintegrated into an utter anarchy, that there was still a society and legal system in place to protect them," says Ms. Miller.

Still, Ms. Miller hungered to practice law again. When a friend told her about the regional legal adviser position at USAID, it seemed like the perfect opportunity to join her legal training with her development experience to help some of the most vulnerable people in the world.
As Ms. Miller finalized her plans to move to Islamabad, her mother and grandmother flew to Washington to see her off. "Relationships with close family are incredibly important to me," acknowledges Ms. Miller, even though her new career in foreign service may mean that she won't be living on the same continent with any of her close family for the next several years.
After Islamabad, she will go on to a post in Dakar for four years, and then another yet-to-be-determined posting. She is single and hopes to find a partner willing to follow her and perhaps raise children abroad. But these uncertainties will continue to be tempered by the purpose she finds in her work. "It pains me to see abject poverty, and I have to ask myself, 'What am I doing about it?'" says Ms. Miller. "Fortunately I can now answer, 'I'm working for an agency that is trying to alleviate that poverty.' It doesn't take care of everything, but it's something to know that my work is helping."