Bruce Yannett '85
Partner, Debevoise & Plimpton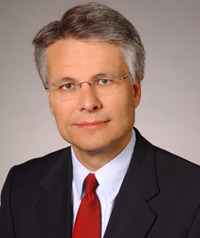 When the US Securities and Exchange Commission began investigating the industrial giant Siemens AG in 2006, only a few weeks had passed since a bribery scandal had rocked the company in its native Germany, eventually spreading to scores of other countries. Siemens officers were allegedly bribing local government officials around the world, at an estimated $50 million annually, to secure lucrative contracts. Many industry analysts speculated that the fallout would hobble, if not kill, the multinational electronics company, which employed more than 450,000 people across 190 countries. To deal with authorities here, where Siemens trades on the New York Stock Exchange, Siemens needed an experienced white-collar defense attorney with a deft touch.
The Siemens audit committee's hiring of Debevoise & Plimpton partner Bruce Yannett '85 as independent counsel exceeded all expectations. Mr. Yannett's team resolved the case in a fraction of the time typical for international corruption investigations and, in doing so, helped foster a new level of cooperation between German and US authorities. The successful outcome was a testament to the skills Mr. Yannett had developed in his 25-year career in criminal law.
Mr. Yannett is an expert in white-collar crime who specializes in representing clients under investigation by the government. He often works as an independent counsel, in which case he conducts an internal investigation to uncover the facts, and reports his findings to his client's general counsel or board. In other instances, he serves as a defense attorney, which includes the added responsibility of advocating on behalf of his clients in court.
No matter his role, Mr. Yannett particularly enjoys taking a set of facts that the government has presented against his clients and presenting those same facts in a light that challenges the foundation of the government's case. That task, he says, is an exercise in logic, reasoning, and psychology that he first learned how to tackle as a law student at NYU.
Mr. Yannett became interested in the law after graduating magna cum laude from Brown University, when he worked for two years alongside experienced attorneys on the staff of Congressman Timothy Wirth. However, like a lot of 1Ls, Mr. Yannett entered NYU with the idea that the law dealt in fixed facts. Burt Neuborne, Inez Milholland Professor of Civil Liberties, disabused him of that assumption by teaching him that to practice law was to interpret the facts. "This lesson was enormously helpful in helping me understand what motivates a particular judge," recalls Mr. Yannett. The late Professor Bill Hogan, in turn, demonstrated to Mr. Yannett the power of the Socratic method in helping judges and juries to challenge their preconceived notions.
Keen to put these skills to use, Mr. Yannett graduated from NYU Law and clerked for Judge Edward Weinfeld of the US District Court for the Southern District of New York. A year later, he was offered positions in the Southern District of New York US Attorney's Office and as an associate counsel in the Office of Independent Counsel for the Iran-Contra affair in Washington, DC. Torn between the two, Mr. Yannett sought Judge Weinfield's perspective. "He said, 'Go to Washington and be a part of history,'" recalls Mr. Yannett. Indeed, Mr. Yannett relished his experience working on the team that prosecuted Oliver North and others whom the government alleged facilitated the illicit sale of arms to Iran.
After two years, he moved to the US attorney's office in Washington, DC, where he worked as a prosecutor in the federal and local courts. During his three-and-a-half years there, he prosecuted 20 jury trials, ranging from minor drug offenses to money laundering to anti-terrorism cases.
In 1992, Mr. Yannett made a career-altering decision, joining Debevoise & Plimpton's new white-collar crime group. His switch from prosecution to defense was driven by a desire to provide for his family—his wife, journalist Karen Stone Yannett, and their then-infant daughter—as well as the opportunity to draw more fully on the skills he'd developed at NYU. "When you think like a prosecutor, there's a tendency to just draw negative inferences from facts," says Mr. Yannett. "On the defense side, however, you have to anticipate the prosecutor's negative interpretations and preempt them before they get presented as fact."
No other case demonstrates Mr. Yannett's skill in neutralizing prosecutors' positions as well as the Siemens one. Mr. Yannett and his team cooperated with German officials and conducted a thorough investigation that found widespread corruption. Their efforts resulted in a negotiated settlement a mere two years after Siemens hired Mr. Yannett that allowed Siemens to plead guilty to lesser accounting charges instead of bribery. Siemens paid a record-breaking $1.3 billion in fines to the SEC, US Department of Justice, and German authorities. Had the company been found guilty of bribery, it would have paid many billions in fines and would probably have lost the ability to win future contracts, effectively ending its business.
"It was the most challenging and rewarding case that I've handled," says Mr. Yannett. "The sheer size of the case, along with the international element, made it an enormous challenge."
It also elicited an unexpected gesture of gratitude. Last summer, while hiking in Germany with his daughter Elise, a 20-year-old junior in college–his wife was at home with the couple's twin son and daughter, who are in middle school–Mr. Yannett fell, shattering his pelvis and fracturing his spine. He spent two and a half weeks in a German hospital, unable to sit or stand for any length of time, and therefore unable to fly home to the United States. But upon hearing of his plight, the CEO of Siemens AG readied the corporate jet and had Mr. Yannett flown back to New York.
"When you do the type of work that I do, you generally hear, 'Thank you very much and we hope we never see you again,'" says Mr. Yannett, who is still recuperating in New York. "The appreciation from my clients tells me that—notwithstanding the pressures in our profession, notwithstanding the fact that clients, for the most part, are shopping their outside counsel representation by price—the importance of the human element can't be underestimated."