Dean Esserman '83
Chief of Police, Providence, RI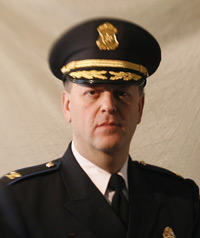 Dean Esserman '83, the police chief of Providence, Rhode Island, practices law enforcement the same way that his father once practiced neighborhood medicine in Manhattan. For Mr. Esserman's father that meant caring for patients in their homes. For Mr. Esserman, it means forging personal ties between police officers and the citizens they serve.
Indeed, as a young man Mr. Esserman was so inspired by the personal interest his father took in patients' lives that he planned to become a doctor, too. In high school he trained as an EMT, often working side by side with police officers. That experience had a profound effect: Mr. Esserman was so impressed by how fully immersed police officers were in community life that midway after starting Dartmouth College as a pre-med, he decided to change course, and graduated with a major in history.
Mr. Esserman enrolled at NYU Law with an intuitive belief that social justice was born more from understanding social conditions than from doing good deeds. Professor David Richards helped firm up this idea by introducing him to mens rea – the premise that understanding the intent behind a crime is a cornerstone of a just legal process.
"Learning about mens rea," recalls Mr. Esserman, "gave me an understanding of the philosophy of punishment in a free society."
After graduation, Mr. Esserman was hired as an assistant district attorney in Brooklyn, where he worked for three years. Then, in 1987, he accepted a temporary transfer to the U.S. attorney's office for the Eastern district to work on narcotics and conspiracy cases. That year, he co-investigated and co-prosecuted two cases, and was in the process of submitting his papers to make the move permanent when the New York Transit Police asked him to become their General Counsel.
"They created the job for me," says Mr. Esserman, who had impressed the Transit Police during an internship with the agency while at Dartmouth and then during a one-year position after completing his undergraduate degree. His initial task was to defend the agency against allegations that plain-clothes officers were making false arrests. Mr. Esserman helped clear the officers of wrongdoing and then took on the task of overseeing the agency's disciplinary department, as well as its Criminal Law Education Division. He welcomed the responsibility, noting that, at the time, the New York Transit Police were the sixth largest police force in the nation.
At the same time, he developed formative relationships with Chief William Bratton and New York City Police Commissioner Lee Brown, who both saw police chief material in Mr. Esserman. The two older men took him to dinner atop the World Trade Center in 1991 and told him that they had put his name forward to become assistant chief of police in New Haven.
Faced with the prospect of leaving New York, Mr. Esserman asked his girlfriend Gilda Hernandez, a transit police detective, to leave her job and join him in New Haven. "She was the toughest and best cop I ever met," he says. She said yes, and the two were married the next year.
The move also marked a turning point in Mr. Esserman's career. He was in his mid thirties and leaving his life as an attorney to become a policeman. So, in 1991, at the behest of the state, he entered the police academy as a cadet, while at same time he assumed his position as assistant chief of police.
Mr. Esserman returned to New York in 1993 to serve as Chief of Police for the Metropolitan Transportation Authority (MTA) Metro North. In that role, he led an agency-wide terrorism threat-assessment study and implemented a multi-million dollar security upgrade at Grand Central station.
Then, in 1998, the new mayor of Stamford, Connecticut, asked Mr. Esserman to help him revamp the city's police force as chief of police. This was his first opportunity to shape law enforcement for an entire community. His idea -- inspired by his father's medical practice -- was to develop a community-based policing program centered on the premise that if police officers developed stronger personal relationships with their constituents, then crime would go down. Mr. Esserman believes that strategy is largely to thank for the 50 percent drop in crime during his three years on the job.
Mr. Esserman briefly moved into the private sector in 2001 to serve as executive managing director of Thacher Associates, a New York based corporate integrity and compliance firm. But in late 2002, the new mayor of Providence called. The police department, the mayor said, was riddled with corruption and he wanted Mr. Esserman to clean it up as the new chief.
For Mr. Esserman, the offer was an opportunity to apply the methods he had developed in Stamford to a larger and more urban environment. So he moved up to Providence in early 2003 and was soon joined by his wife—now a school administrator—and three children.
Mr. Esserman has once again overseen a drop in crime through the creation of several neighborhood-based police substations, where officers serve extended terms that can last several years. Mr. Esserman says such intimate policing can be personally taxing. He makes it his policy to visit all shooting victims in the hospital. He recently called on a 19-year-old girl who had been shot by her boyfriend. These visits fuel a sense of moral outrage in him about violent crime that he says is a necessary ingredient to fomenting real change.
"My father was a doctor who helped people," says Mr. Esserman, "and I have come to realize I can pursue his goals of social justice through policing."