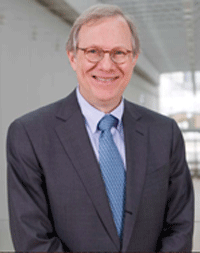 David Thurm '78
Chief Operating Officer
Art Institute of Chicago
David Thurm '78 likes to remain open to experience. That drive to embrace the new helps explain the career arc that took him from a large corporate law firm to the New York Times, where he held 10 positions over 27 years, and ultimately landed him his latest role, chief operating officer of the Art Institute of Chicago. "It's been fun to keep constantly changing," says Mr. Thurm. "Once you've experienced the thrill of having your battery recharged when you start something new, the idea of doing the same thing year after year starts to seem strange."
Originally Mr. Thurm hoped for a career in the movies. He'd been a serious film buff since his undergraduate days at Harvard when he watched 700 films in three-and-a-half years and worked briefly for legendary director Otto Preminger. Mr. Thurm thought he could carve out a secure career in the notoriously unpredictable film business by practicing entertainment law. So after a brief stint working for 20th Century Fox, he applied to NYU School of Law, and served a summer internship with an entertainment law firm in Los Angeles.
As a law student, Mr. Thurm relished reading cases and separating critical details from inconsequential ones. He particularly appreciated the expertise of late Professor Alan Latman, who taught copyright. At the time, new technology—VHS tapes—had shown existing copyright laws to be out of date. Professor Latman was involved in drafting the new Copyright Act, and, says Mr. Thurm, did an excellent job of bringing into class the real-world issues faced by the law's authors. "One of our final exam questions was about the Sony case: Is videotaping a copyright violation? It was really fun to have an exam dealing with practical questions that hadn't been adjudicated yet."
Mr. Thurm got a few job offers from Hollywood firms after graduation. But by then he'd decided a broad law career was more appealing than specializing in entertainment, so he accepted an offer to work as a litigator for New York firm Rogers & Wells, now London-based Clifford Chance. "At the time, Rogers & Wells had a fairly advantageous partner-associate ratio, so right from the beginning you were working one-on-one with partners, and you were very close to transactions," says Mr. Thurm.
He was happy at Rogers & Wells, where he developed a full litigation practice as well as a sideline assisting a partner on TV and movie deals for an overseas client. He had no plans to change jobs, but a fateful call from a headhunter lured him to a position in the general counsel's office of the New York Times. "The Times offered me a wonderfully broad practice that ranged from mergers and acquisitions to working closely with the magazine group on transactions," Mr. Thurm says.
After six years at the Times, Mr. Thurm became interested in the projects being run by the paper's management side and pursued a new role as the company's director of administration and production. The position required him to assume a dramatically different set of responsibilities, but he felt well prepared for the change. "The skills that I used in management are the ones that you need as a good lawyer," he says. "You get really good at listening closely to what people say and understanding what's really important."
Still, Mr. Thurm's first major task in his new role tested those skills. The Times's new plant in Edison, New Jersey, was over budget and far behind schedule. Thurm's task: Get the plant up and running—without having any employees who reported directly to him. "This experience taught me how to work with individuals and build teams," he says. "I learned that it doesn't matter whether you're officially the boss if you can galvanize people around a goal."
Mr. Thurm's success prompted the Times to give him another big job: overseeing the design and construction of its next new plant, in College Point, Queens. Using the same team that had turned around the Edison project, Mr. Thurm was able to bring the College Point plant in ahead of schedule and under budget. What's more, he was successful in changing the culture at both plants from one of antagonism between labor and management to one of collaboration, innovation and empowerment—largely by implementing sophisticated data-gathering efforts and teaching employees on the floor how to analyze the numbers they produced.
In less than two years, productivity increased by 30 percent, waste dropped by 20 percent, and the Times's printers started winning international color printing competitions. "It was one of the most satisfying things I've done," Mr. Thurm says. "Earlier in my career, I measured success by the size of the deals I worked on. But having pressmen fired up about solving problems and really feeling great about their work—it was tremendous."
Both of those experiences made it possible for Mr. Thurm to succeed at his next big project. He oversaw the management and construction of the Times's 52-story headquarters building, designed by renowned architect Renzo Piano, which opened on Eighth Avenue near Times Square in 2007. The building has won accolades for its design, as well as for technological innovations like computerized louvers that control the flow of light into workspaces.
Now Mr. Thurm is relying on his ability to mobilize employees and foster innovation in his new role as chief operating officer of the Art Institute of Chicago, where he's responsible for everything from fundraising and spending to marketing and construction. Like many cultural institutions, the Art Institute—by square footage the second-largest museum in the country—has suffered from declines in its endowment due to the recession. Shortly after his March 1 start date, Mr. Thurm had to institute a painful round of cost-cutting, including laying off 65 of the museum's nearly 700 employees. "I brought what I had learned at the Times, which is a real sense of the importance of the core mission," he says. "We did not touch any curatorial or conservation position, so the changes were invisible to the public walking in the door and the scholars who follow our publications."
Mr. Thurm's transition to his new job remains in progress. His wife, Andrea, and his youngest son, James, 16, have recently joined him in Chicago. (The couple has two other children—Amanda, 25, a graduate of Johns Hopkins, and Matthew, 22, an aspiring independent filmmaker.) He relishes the task ahead.
"All your experience is cumulative," says Mr. Thurm. "My training as a lawyer has helped me to understand what information is important and what is background noise. Nothing ever gets done by one guy coming in as a troubleshooter. I can use my background to tap into the organization's strengths and help people work together."