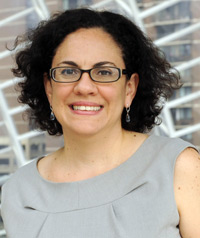 Lourdes Rosado '95
Associate Director of the Juvenile Law Center
Lourdes Rosado '95, the associate director of the Juvenile Law Center, is working on the final stages of a 10-year case that will send two crooked judges in Luzerne County, Pennsylvania, to prison; overturn the convictions of thousands of children; and, she hopes, spur legislation that will win juveniles in the state an unwaivable right to an attorney.
The sweep of Ms. Rosado's effort captures the breadth of her mission, which is no less than to win stronger legal protections for minors, without exception. It's as simple—and as game-changing—as that.
Ms. Rosado's been at it since 1991, when she decided, at age 28, to leave a fledgling career in business journalism to pursue social justice work. One of the first confidants whom she sought out for advice in making this move was the late Jill Chaifetz '89, a Swarthmore classmate, who at the time was a career counselor at NYU Law's Public Interest Law Center, and later went on to lead New York City's Advocates for Children.
Ms. Chaifetz extolled NYU's tradition of public interest law, and encouraged Ms. Rosado to apply for a Root-Tilden-Kern Scholarship, which provides full tuition for three years of law school to students who promise to pursue a career in public service. Ms. Rosado won the scholarship and entered law school, looking for the right cause.
"NYU was the perfect choice because it steered me towards incredible opportunities," says Ms. Rosado. In her first year, she heard and met guest lecturers who had forged careers advocating for issues ranging from welfare reform to the death penalty. She was soon drawn toward juvenile justice work and won a first-year summer internship at the Juvenile Law Center in Philadelphia.
She was impressed by JLC's holistic approach to child advocacy, which focused simultaneously on the criminal justice and social welfare systems. However, her decision to devote her career to child advocacy wasn't sealed until the following summer, when she worked on the case of a teenager who had been suffocated by guards at a military-style boot camp, where he had been sent for a minor drug offense.
"I was deeply troubled to see such a young kid killed by the people who were supposed to help rehabilitate him," says Ms. Rosado, who was awarded NYU's Judge Aileen Haas Schwartz Award for her student work on behalf of children. "I remember looking at his autopsy pictures and thinking that I wanted to devote my energy to making sure that these places keep kids safe."
Ms. Rosado clerked after graduation for the US District Court for the Eastern District of Pennsylvania. She subsequently served for two years as an E. Barrett Prettyman Juvenile Justice Fellow at Georgetown University Law Center, where she earned an LLM in trial advocacy. Then, in 1998, her husband, Jan Boswinkel, a former trader on Wall Street, who had also decided to make a career change, was accepted to the University of Pennsylvania School of Medicine. Ms. Rosado, in turn, started looking for work in Philadelphia.
Serendipitously, a staff attorney position opened up at JLC. "It was my dream job," says Ms. Rosado. "Most shops have a specific emphasis: policy work, direct representation, training, or writing. Here, though, we get to do it all."
Indeed, shortly after arriving in the office, Ms. Rosado received an email from a concerned mother, which became the first puzzle piece of the sweeping Luzerne case. The woman wrote that Luzerne County judge Mark Ciavarella had sent her 13-year-old son to a detention center after a two-minute hearing, during which he had no legal representation. The boy had then been beaten at the center by other kids.
Ms. Rosado fought the case for five years, and by 2004 had managed to get the boy's conviction overturned, and the judge to go on the record promising that he would never let another minor appear before him without an attorney.
"At that point we thought our work was done in Luzerne," says Ms. Rosado, who that year was promoted to senior attorney. So she turned her attention to building out JLC's national profile and, over the next few years, focused on appellate advocacy and helping the center file briefs in 22 states.
Then, in 2007, a second mother from Luzerne County called the center. Her daughter had been convicted without representation by the same judge—Ciavarella—for poking fun of her school principal on her MySpace page. Ms. Rosado was deeply concerned. "You don't incarcerate kids who don't have records for minor offenses," she says. "It's against the law and it's bad policy, because the recidivism rates for these kids are extraordinarily high." The JLC team investigated, discovering that the number of children the judge had sentenced without representation was 10 times the state average.
They pursued the case for two years. In 2009, the US Attorney's office charged Ciavarella and his superior with accepting millions of dollars in kickbacks from a private detention center in exchange for sentencing children to serve time there.
The judge is now awaiting sentencing, and the state has expunged the records of 6,500 minors for what it has termed a "travesty of justice." Meanwhile, Ms. Rosado, who, along with her colleague Marsha Levick, was named Citizen of the Year by the Philadelphia Inquirer, is pursuing legislative reform that would guarantee Pennsylvania minors an unwaivable right to counsel.
"There's a chance that we might never have learned about the corruption scheme," says Ms. Rosado, explaining the importance of the new law. "But many of these kids would never have been sent away if they'd had an attorney present."
Looking forward, Ms. Rosado says that she is increasingly focused on policies designed to prevent at-risk children from entering the criminal justice system in the first place. In thinking about these children, she can't help but think of her own 12-year-old son, whom she and Mr. Boswinkel, now a pediatrician, are raising in the Philadelphia suburb of Havertown. "All we want for these kids is what any parent wants for their children," says Ms. Rosado, "for them to be safe and to have every opportunity to grow and succeed."
Photo by Peter Tobia