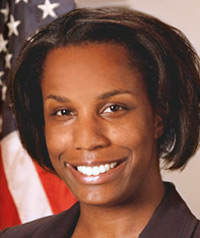 Tanya Southerland Narcel '00
Resident Country Director,
Millennium Challenge Corporation
In the past 18 months, Tanya Southerland Narcel '00 has huddled with President Abdoulaye Wade of Senegal and Secretary of State Hillary Clinton at the US State Department, cozied up to NBA star Ronny Turiaf for a photo op, and stood knee-deep with stakeholders in a rice paddy in the north of Senegal.
Ms. Southerland Narcel is the resident country director in Senegal for the Millennium Challenge Corporation (MCC), a US government agency created in 2004 to tie foreign aid to good governance, social investments, and promotion of economic freedom. And she believes her ability to move fluidly between that nation's poor and the highest levels of international diplomacy and business is central to the success of her mission in Senegal.
Sometimes Ms. Southerland Narcel feels that the job was invented with her in mind. She first fell in love with the Senegalese people in 1993 while studying abroad in the country during her junior year at Brown. That youthful love affair, and a year as a Fulbright Scholar in Senegal, contributed to her decision to apply to the four-year, joint JD and MPA program at NYU Law and Princeton's Woodrow Wilson School of Public International Affairs. "Studying law at NYU was a deliberate attempt to place law in a toolbox of skills that I could use to understand and improve conditions in developing countries, especially those in Africa," says Ms. Southerland Narcel.
One of two invaluable mentors at NYU was the late Professor Thomas Franck, under whom she served as a junior fellow in the Center for International Studies and who taught public international law. His trust in her commitment and ability "gave me confidence in my ability as an international lawyer." Meanwhile, her other mentor, Visiting Professor Derrick Bell, reinforced Ms. Southerland Narcel's belief that a functioning legal structure that protects citizens' rights and controls government excess is a prerequisite for sustainable development.
Ms. Southerland Narcel, a Root-Tilden-Kern Scholar, took advantage of NYU Law's ample public interest and international opportunities to pursue on-the-ground public international experience while still a law student. During her first year, she was part of a student group that went to Cuba for comparative legal studies. She also had summer internships at the U.N. International Law Commission in Geneva and at the International Criminal Court Treaty Conference in Italy. Ms. Southerland Narcel points out that her student work—which also included volunteering at NYU's Center for International Cooperation—helped her develop valuable relationships in the international legal community.
Yet she decided not to go immediately into public international work after graduating from NYU and Princeton in 2000. Instead, she accepted a position as a corporate associate at Cravath, Swaine & Moore. "Given other public international opportunities on offer, many people questioned that decision, but I made it very deliberately," she says. "As economic development is less about aid and increasingly about trade and private sector engagement, I knew I had to first really understand what the legal side of business looked like."
Ms. Southerland Narcel worked at Cravath for two years. Then, in 2002, a friend handed her C.V. to a Commerce Department official at a cocktail party. A week later, he offered her a job as a staff attorney managing the West Africa portfolio. Her task? Develop greater economic development and investment in West and Central Africa by improving legal predictability in and between civil law and common law countries such as Ghana, Nigeria, Mali, Senegal, and others in the Economic Community of West African States.
"It was too fascinating an opportunity to turn down," she says. "I'd be dealing with legal issues in West Africa—alternative dispute resolution, investment codes, intellectual property, judicial ethics, harmonization of laws—all things I could not have significant exposure to at Cravath."
While she was at the Department of Commerce, her country portfolio grew, as did the types of legal issues she worked on. In addition to training commercial service officers on the rule of law in China and South Africa, she improved ADR practice in West Africa, judicial case management in Angola, procurement transparency in Morocco, and trade prospects for Moroccan and US businesses alike. Three years later she was offered a job at the newly created MCC in its general counsel department to draft and monitor compliance with the international treaties (compacts) and related agreements governing MCC assistance in developing countries. Fluent in French and proficient in Spanish and Portuguese, she served as counsel on Mali, Morocco, Mozambique, Benin, Nicaragua, Cape Verde, Georgia, and Senegal compacts. When the position of resident country director for Senegal opened up four years after that, she was a logical fit.
Her agency oversees $540 million in American aid in Senegal. The MCC monies make the American government the largest bilateral donor in Senegal and give her office significant weight with the Senegalese government. Now, only a year and half into the job, she is focused on various road rehabilitation and irrigation infrastructure projects.
Ms. Southerland Narcel says the job can be all consuming. She is increasingly diligent about setting time aside to focus on her two daughters, ages four and six, whom she is raising with her husband Fabrice, the general manager of a Dakar-based country club who also works as a housing specialist at the American Embassy. Senegal, she says, is her family's home for now, and she is committed to America's effort to improve its future.
Already her elder daughter is expressing interest in her mother's work. Ms. Southerland Narcel would love her children to follow in her footsteps. More importantly, though, she hopes her example will help light their passions. "If you are really passionate about something, then the universe manifests what you need," she says, "I've always been passionate about what I do, and opportunities have abounded, for which I feel incredibly fortunate."