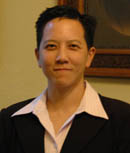 Lisa Kung '97
Read an Interview with Lisa Kung.
Lisa Kung is director of the Southern Center for Human Rights (SCHR), one of the most respected civil and human rights law firms in the country. Based in Atlanta, the Center was created in 1976 to respond to the deplorable conditions in prisons and jails in the South and the United States Supreme Court's decision that year allowing the resumption of capital punishment. Since its creation, SCHR has used an aggressive and creative mix of litigation, public education, advocacy, grassroots organizing, and work with other organizations and individuals to protect the civil and human rights of people prosecuted in the criminal courts—including those facing the death penalty—and confined in the prisons and jails of the South.
Kung joined the Center in 1999 as a staff attorney, focusing on litigating prison and jail conditions in Georgia and Alabama. She was lead and co counsel in a number of major cases, including class action litigation challenging extreme overcrowding and poor medical care in various jails; guard brutality at the Georgia prison incarcerating the state=s most seriously mentally ill men; the lack of indigent defense in Coweta County, Georgia; and on behalf of all women incarcerated in Alabama. Kung became the Center=s director in January 2006.
While at NYU School of Law, Kung was editor in chief of the Review of Law and Social Change. Following Law School, Kung was a Rockefeller Brother Fund Fellow at the Vera Institute of Justice in New York City. She then returned to Atlanta to work at the Law Center for the Homeless as a Soros Justice Fellow. Her undergraduate joint degree in physics and philosophy is from Emory University. She was recently named by American Lawyer as one of the nation's top 50 young litigators.
Interview with Alumnus/Alumna of the Month
Lisa Kung '97
What is your area of specialization and how did you come to work in this area?
Most of my work has focused on class action litigation challenging prison conditions and other civil litigation, seeking to stop criminal justice practices that target poor people and people of color. I do it for two reasons: First, because the criminal justice system has been the lynchpin of white supremacy in the South since Reconstruction, so it's the most obvious place to do anti-racist work. Second, because freedom is a habit—or a practice, in Buddhist language—and the archipelago of prisons, jails, detention centers, surveillance systems and probation and parole offices that has been built up in the name of public safety has gone a good ways towards destroying that habit.
You have recently completed your first calendar year as director of the Southern Center for Human Rights. How has the transition from staff attorney to director been and what has been the biggest challenge in your new role?
The former director (and now president and senior counsel) Steve Bright has built a truly extraordinary organization. My one greatest challenge is to build on the Center's history and reputation without succumbing to it.
How do you remain positive and avoid burnout, when much of your work centers around clients who are facing a life of imprisonment and/or the death penalty?
The short answer is that burnout comes when you lose faith; you don't lose faith if you're winning; so keep winning.

The truer answer is more complicated. In movement work, burnout is an overbroad term. It's sloppy. We say "burnout" to explain a range of things that happen when people leave the movement: people from wealthy families deciding to lean back into their privilege; women who drop out because their organizations do not support motherhood; those who are startled when they discover the full power of the forces against us; people who must leave the work because of the very real effects of secondary trauma; and so on. I think it's important first to recognize what kind of "burnout" is most likely, and then take steps to counter it.
What is the most rewarding aspect of your job?
There's nothing better than being part of such a highly functional, effective team. The lawyers, investigators and organizers at the Center are an incredibly competent group of people who have created a culture of working hard, smart and from the heart. I thank my lucky stars every day.
Being a champion of civil and human rights, your work often reveals systemic failures in our country's criminal justice system. Has your attitude towards our legal system changed since your days at NYU School of Law?
Should I admit I knew nothing about the legal system when I came to NYU? I knew only that there is some correlation between law and power, and I hoped law school would have something to say about how to move power from the elites that held most of it, to everyone else.
When I started at the Center as a staff attorney in 2000, the Center was in the middle of a series of lawsuits challenging the lack of adequate counsel to poor people facing criminal charges. These indigent defense cases would never have carried the day on their own. They were brought as part of a broader campaign that included grassroots organizing, coalition building, legislative lobbying, and a full out media onslaught. While we were pushing for indigent defense reform in Georgia, Xochitl Bervera '02 was in Louisiana working with Families and Friends of Louisiana's Incarcerated Children (FFLIC) and the Juvenile Justice Project of Louisiana (JJPL) to shut down the notorious Tallulah Prison for juveniles. Using a similar combination of organizing, lobbying, broad coalition building and media, they shut down Tallulah and forced the state to revamp its juvenile justice system. At the same time, Vanita Gupta '01 was in Tulia, Texas leading the NAACP Legal Defense Fund's effort to expose that town's patently racist criminal justice system. Again, it was the mix of smart litigation, grassroots organizing and media that made such an impact.
Our win in Georgia (the state created a statewide public defender office as a result) alongside the Tallulah and Tulia victories, was a lesson in what it takes to force systemic change in the criminal justice system. Lawsuits open the door. It takes a good deal more to walk through it.
Who are your role models in the legal profession?
Steve Bright, Professor Bryan Stevenson, Connie Rice '84, Professor Tony Amsterdam, Ellen Barry '78 and William Kunstler.
What drives you to be such a strong advocate for civil and human rights?
It's a funny thing to ask. What I wonder is what drives lawyers to be such strong advocates for the fantastically rich people and corporations they represent? I mean, you really don't need much motivation to advocate for people who are being subjected to the brutality and utter indifference to human suffering that is so much a part of our criminal justice system.
What was your first job out of law school and what was the most important thing you learned while there?
NYU's Rockefeller Brothers' Fund fellowship sent me to the Vera Institute of Justice for a year. They are very, very good at working from inside the system to change the system. The people at Vera who are good at this are temperate, forgiving and patient. I learned I am temperamentally ill-suited for working inside the system. It was an important lesson.
How do you balance work and life?
Having to balance work and life assumes the two are separate, which they're not. It is true, however, that it's not always obvious how to keep work from taking up your life. Since work isn't going to get any smaller, that leaves doing what I can to make life bigger: stay curious about the world, eat only good food and avoid tedious people.
How did your years at NYU School of Law prepare you for the career you have had thus far?
I learned how to talk in that voice privileged white people use to get what they want. My partner hates it, so I've had to cut back.