Portions of this dedication have been published in Volume 60, Issue 1.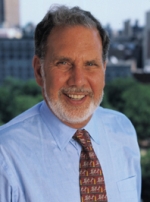 On March 27, 2003, the NYU Annual Survey of American Law dedicated its 60th Volume to then-Dean of New York University School of Law and now-President of New York University, John Sexton. Speaking at the dedication in Sexton's honor were Senator and former First Lady Hillary Clinton, Judge Guido Calabresi, Judge Sonia Sotomayor, Professor Arthur Miller, Professor Harold Koh, Professor Susan Stabile, Professor Norman Dorsen, Professor Bill Nelson, and R. May Lee. The tributes are published in Volume 60, Issue 1.
John Edward Sexton, the fifteenth President of New York University, also is the Benjamin Butler Professor of Law and NYU Law School's Dean Emeritus, having served as Dean for 14 years. He joined the Law School's faculty in 1981, was named the School's Dean in 1988, and was designated the University's President in 2001.
President Sexton is a fellow of the American Academy of Arts and Sciences and a member of both the Association of American University Presidents and the Council on Foreign Relations. He presently is the Chairman of the Board of the Federal Reserve Bank of New York. While Dean of the Law School he was President of the Association of American Law Schools, and he was the founding Chairman of the Board of NASD Dispute Resolution.
President Sexton received a B.A. in History (1963) from Fordham College; an M.A. in Comparative Religion (1965) and a Ph.D. in History of American Religion (1978) Fordham University; and a J.D. magna cum laude (1979) from Harvard Law School.
He is an author of the most widely used legal textbook on any subject, a text on Civil Procedure. He also is the author of Redefining the Supreme Court's Role: A Theory of Managing the Federal Court System (a treatment of the Supreme Court's case selection process) in addition to several other books, numerous chapters, articles and Supreme Court briefs.
Before coming to NYU, President Sexton served as Law Clerk to Chief Justice Warren Burger of the United States Supreme Court (1980-1981), and to Judges David Bazelon and Harold Leventhal of the United States Court of Appeals (1979-1980). For ten years (1983-1993), he served as Special Master Supervising Pretrial Proceedings in the Love Canal Litigation. From 1966 to 1973, he was a Professor of Religion at Saint Francis College in Brooklyn, where he was Department Chair from 1970 to 1975.