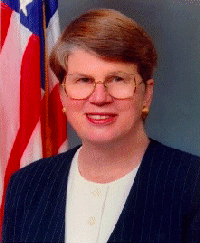 In 1998, the NYU Annual Survey of American Law dedicated its 55th Volume to United States Attorney General Janet Reno. Speaking at the dedication in Reno's honor were, among others, Florida State University President Talbot D'Alemberte, Boston Police Commissioner Paul F. Evans, and Secretary of the U.S. Department of Health and Human Services Donna E. Shalala.
Biography courtesy of the Department of Justice
Janet Reno is the first woman Attorney General of the United States of America. Nominated by President Bill Clinton on February 11, 1993, Reno was sworn in as the nation's seventy-eighth attorney general on March 12, 1993.
Janet Reno was born on July 21, 1938 in Miami, Florida. Her father, Henry Reno, came to the United States from Denmark. For forty-three years, Mr. Reno was a police reporter for the Miami Herald; he died in 1967. Jane Wood Reno, Janet Reno's mother, raised her children and then became an investigative reporter for the Miami News. She died in 1992 at age seventy-nine. Janet Reno has three younger siblings.
At age eight Janet Reno moved with her family to twenty acres on the edge of the Florida Everglades. There her mother built the house where Janet Reno would live until she moved to Washington to become Attorney General. This house survived the fierce battering of Hurricane Andrew in August 1992.
As a child Janet Reno was encouraged by her mother to pursue outdoor activities such as horse back riding, camping, sailing and scuba diving. She attended public schools in Dade County, Florida, and was a debating champion at Coral Gables High School. In 1956 Janet Reno enrolled at Cornell University in Ithaca, New York, where she majored in chemistry, became president of the Women's Self Government Association, and earned room and board as a waitress and dormitory supervisor.
In 1960 Janet Reno enrolled at Harvard Law School, one of only sixteen women in a class of more than 500 students. She received her LL.B. from Harvard Law three years later. Despite her Harvard degree, Janet Reno had difficulty obtaining work as a lawyer. One of Miami's biggest firms denied her a position because she was a woman. Fourteen years later that same firm made her a partner.
In 1971 Janet Reno was named staff director of the Judiciary Committee of the Florida House of Representatives. She helped revise the Florida court system. In 1972 Janet Reno sought election to a seat in the state legislature and was defeated. In 1973 she was named counsel for the state senate's committee responsible for revising the Florida Criminal Code. In 1973 Janet Reno accepted a position with the Dade County State Attorney's Office, which has Jurisdiction over the Greater Miami area. She quickly succeeded in organizing a juvenile division within the office.
Janet Reno left the state attorney's office in 1976 to become a partner in a private Miami law firm. In 1978, Reno's former boss, the state attorney, stepped down prior to the end of his term. Florida Governor Reubin Askew then appointed Janet Reno State Attorney for Dade County. She was elected to the Office of State Attorney in November 1978 and was returned to office by the voters four more times.
As State Attorney, Janet Reno was responsible for an office with 940 employees, an annual budget of $30 million, and a yearly docket of 120,000 cases. Reno's office regularly prosecuted cases involving homicide, child abuse, rape and other violent crimes; drug trafficking cases; and matters involving white collar crimes. She established a career criminal unit that worked with federal officials and local law enforcement to arrest and convict career criminals and sentence them to substantial prison time.
Janet Reno also focused attention on prevention programs that enabled children to grow in a safe, constructive environment. She helped reform the juvenile justice system and pursued delinquent fathers for child support payments.
Reno also helped establish the Miami Drug Court, which has been a model for courts around the country. The Drug Court provides alternative punishment for nonviolent offenders who have a substance abuse problem. More than half of those who have completed the program remain free of drugs.
As Attorney General of the United States, Janet Reno has identified several key priorities:
Reducing crime and violence by incarcerating serious, repeat offenders and finding alternative forms of punishment for first-time, non-violent offenders.
Focusing on prevention and early intervention efforts to keep children away from gangs, drugs and violence and on the road to strong, healthy and self-sufficient lives.
Enforcing the civil rights laws to ensure equal opportunity for all Americans.
Using the law to ensure that the waters, land and skies of America are protected from pollution.
Building a Department of Justice that reflects a diverse government of the people, by the people and for the people, making integrity, excellence and professionalism the hallmarks of the Department.
Janet Reno now lives in Washington and is frequently visited by family. She likes to hike and canoe as she explores the Washington area. Janet Reno enjoys reading poetry and music ranging from opera to country-and-western.